This is, I think, going to be a weekly thing, and it's going to be filled with randomness. It's mostly just an excuse to get a bunch of little things out of the way all at once. I did manage to cram a review in here, though.
I hate mornings.
Whoever invented 6:00 a.m. needs to be taken out back and taken care of, if you get my meaning. I didn't get in nearly as much sleep as I wanted to over the weekend, and I doubt I ever will. Is it sad that I'm looking at the prospect of a couple extra hours of sleep as a humongous perk of homeschooling? Because I'll admit that it's one of those things I'm really looking forward to when we start. Oh, hey! You want to do math in your Hello Kitty pajamas? No prob, kiddo! But that said…
I love BB cream.
I just needed to get that out of me. Love. I don't know if I have a favorite brand. Right now I'm going through a tube of e.l.f.'s BB, but I also adore Dr. Jart+, Clinique, and L'Oreal. I'll probably adore the next BB I try, too.
I don't let my morning go by without a quick skincare sesh, which makes my routing a thousand times more bearable. I've lately been using a cleansing oil instead of just rinsing my face with water in the mornings. I'll follow that with a retinol treatment and moisturizer and eye cream. Of course, with retinol you want to make extra sure you're protecting your skin with sunscreen, so the BB is my one and done, giving me another dose of moisturizer, sunscreen, and a light coverage foundation. I pop some dark shadow onto my lash line with a flat liner brush, some tinted balm on my lips, and I'm done.
Fighting the impulse to buy stuff
There are so many good deals going on today, and I've only just been perusing Amazon and Gilt City. Amazon's Deal of the Day is 50% off on denim. I love my jeans. I LOVE jeans. I consider them a great investment for any wardrobe, so tend to spend a little bit more on good denim than I would other things. Mine is kind of rounded out at the moment, so I don't think I'm looking to add more pieces.
Gilt City, meanwhile, has some deals I'm eyeballing for BaubleBar, Boxed, Estée Lauder, and Sesame Gifts. Three of these look like things I could use for Christmas shopping, and the other would be for stuff I get anyway. I keep thinking about the October Birchbox and all the nice Estée Lauder skincare that was included… 30% off would not be unwelcome. I'm still using the sample of Advanced Night Repair eye serum.
Ulta also has a B2G1 sale going that includes the L'Oreal BB I mentioned above, so I'll probably grab that while I can.
Oh, and while I was checking out daily deals and lightening deals on Amazon, I came across this…
The Carlisle Cullen Barbie Doll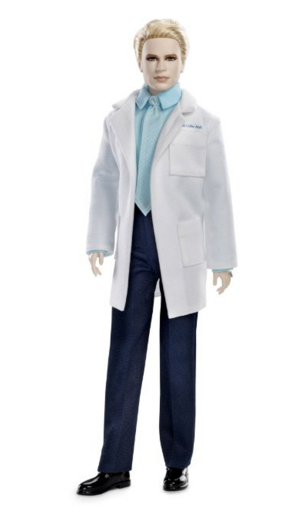 Let's just step back for a moment and fully appreciate the fact that this thing exists, and let's do so with the full mix of both horror and fascination it deserves. Also, and am I the only person who sees Carlisle Cullen and immediately thinks of this Dr. Cooper moment from "Nurse Jackie"?
There's also this mug, which I desperately need in my life.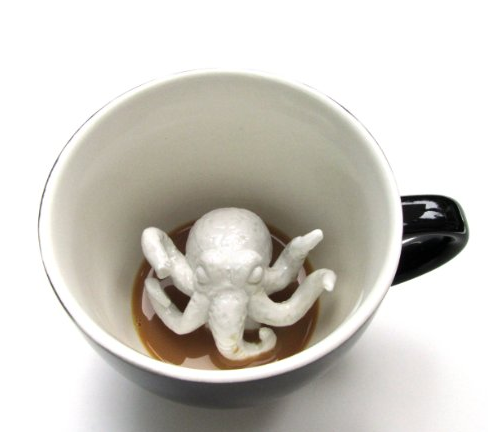 Borden Good 2 Gether
I genuinely can't remember if I've talked about this here or not. I got to try these for free (the first time) through BzzAgent in exchange for my honest opinion. I've found that I really like these little buggers. Granted, I think their idea was that I was supposed to (as a mom) get these mostly for my daughter, but I ended up getting them mostly for me.
I lost about 40 lbs a while back, and I'm looking to lose about 20 more. I started out using Nutrisystem, but I learned a lot during that time about what to eat and when, calorie count, and what to expect for that calorie count. I also realized that part of my problem is that, while I can cook and make wonderful nutritious meals and snacks, I often run into situations where I don't have time to do that, and then things go downhill, so I lost weight by keeping lots of prepackaged quick grab-and-go snacks and meals handy on the off chance I needed them. (I go through a lot of protein bars, shakes, and cans/bottles of vegetable juice as a result.)
These are great because they fit into that grab and go category. For not a lot of calories, I get a good serving of protein, which keeps me feeling full, as well as calcium and other goodness that comes with eating dairy. It also feels like I'm eating a lot, which is satisfying, and the pretzels are a good salty crunchy thing. I was really pleasantly surprised at the bang I got for my calorie buck with these. I think my only gripe is that the pretzels could have been whole wheat, which would have made this even better, so… There's an idea for you guys at Borden.
Other Thoughts
Drug store brands versus high end brands… This seems to be a real argument on other blogs, these days. Personally, I prefer some of each, though I never buy any of it at full price. In my collection now, I have items from Smashbox, NARS, Urban Decay, The Balm, Too Faced, and Benefit. And I love those products, BUT… I've found similar and even better products from e.l.f., Cover Girl, Rimmel London, Maybelline, NYX, Wet & Wild, and L'Oreal. Ditto on the skin care equivalent. I figure I'll go into more detail in a post dedicated to the topic.