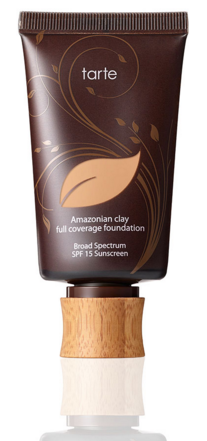 Disclaimer: This post contains affiliate links.
I've already posted about how I ended up using this instead of my usual, and now that I've had a full 24-hours to play with this, I figured I'd give it a full review.
Product
Amazonian clay 12-hour full coverage foundation by tarte. Link, if you're interested in purchasing.
Description from the product website:
An oil-free, 12-hour liquid foundation formulated with Amazonian clay and non-chemical sunscreen filters.
Claims
Provide full coverage for 12 hours.
Provide SPF 15 sun protection.
Weightless texture.
Blendable and buildable.
Adjust to all skin types for longer wear.
Reduces appearance of pores.
Natural look.
Free of parabens, sulfates, and phthalates.
Satin-matte finish.
Other Products Used
Moisturizer
Primer
Application
Powder
Concealer
Coverage
I used a combination of circular motions for all over coverage and stippling over blemishes, and I have to admit that it looked absolutely beautiful in various lighting. This definitely provided a good full coverage that was both blendable and buildable, as the product claims. I didn't need extra concealer for my blemishes, though I did use concealer under my eyes. It did seem to float above my pores a bit, but it didn't really reduce the appearance of them any more than I'd get by using other products I already own. The finish was satin-matte as promised, and it did look very natural. If not for the coverage itself, I'd have guessed I wasn't wearing anything at all. It looks like skin.
Wear
I wore this for Thanksgiving, so this got tested through a pretty substantial meal as well as being in a crowded home (read: sweat). And I kept it on for a good 12 hours. It was really comfortable, and I almost forgot I was wearing it. At about 6 hours I had to blot. That's pretty good, considering that I can get oily at times, so I definitely think it's living up to the claim that it adjusts to your skin type to help it provide truer and longer coverage. When I wore it the day before and the  consultant forgot to moisturize and prime me first, it still managed to wear well– maybe even a little bit better.
At about 8 hours, though, it was getting a tad splotchy. I blended it all back in with my foundation brush, but that ended up requiring me to also refresh my blush a bit. It smoothed out nicely, but it was definitely wearing thinner by this point. I don't consider that to be true 12-hour wear, and it's definitely not as persistent as what I'm used to.
Verdict
I'm not impressed, but I'm intrigued. I'm going to take advantage of Sephora's current online deals to grab this and try it out a little more. I'm still undecided, if I'm honest, but I know that if I hate it, I can always return it and get something else. I'm not happy right away with the wear time on this. It might do better if I skip primer (though I WOULD NOT consider skipping my moisturizer), and I like to test out a new foundation a few different ways before I make a final decision. I also want to see how it holds up to a full day of work. That's the real test of a good full-coverage foundation for me, as it's really the only time I'd wear one. (I don't really do full coverage unless I'm having pictures taken or going to be working a special event. Even with a breakout, I'll normally eek by on a medium coverage foundation or a BB cream, depending on what I'm doing that day.) I really like the finish of this one. It looks amazing on me– better than my usual product, which is also more expensive. My local Sephora carries it, meaning I don't exclusively have to purchase it online. So I want to experiment with it a bit and see if I can make it work.