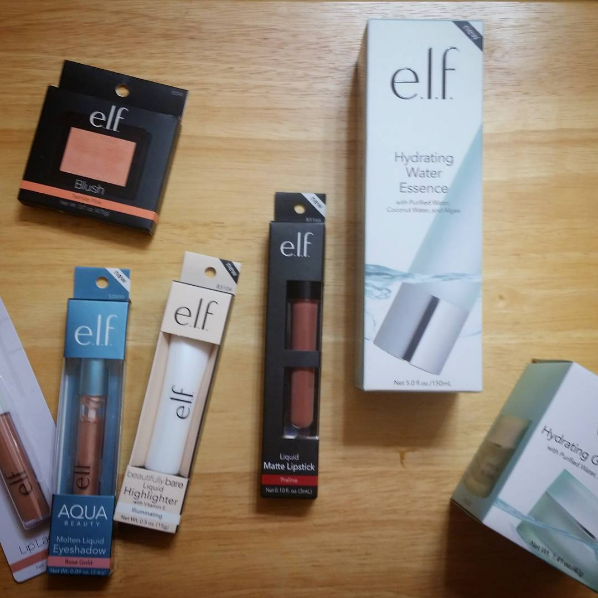 For anyone who missed it on Instagram yesterday, my latest e.l.f. order came in. Since I was too darn lazy to do a full review, I grabbed my phone and did a few first impressions. Now that I have time to sit down, I figure I'll gather everything together and maybe provide just a bit more info, including links to what I got.
As I mentioned yesterday, one of the great things about an e.l.f. haul is that, because everything is so cheap, they really do feel like a haul. I don't typically plop down $300 on a single trip to Sephora, but I can plop down $25-30 on an e.l.f. order and make out like a bandit– particularly if I'm ordering makeup and not skincare.
I was ordering a couple of skincare items this time around, so in truth I only purchased three items. The rest was a four-piece set that e.l.f. included as a free gift with purchase (FGWP). If I'd been shopping a higher end brand, that would have likely meant deluxe samples. With e.l.f., that means four full-size products. I'm going to start with the four items I received in my FGWP.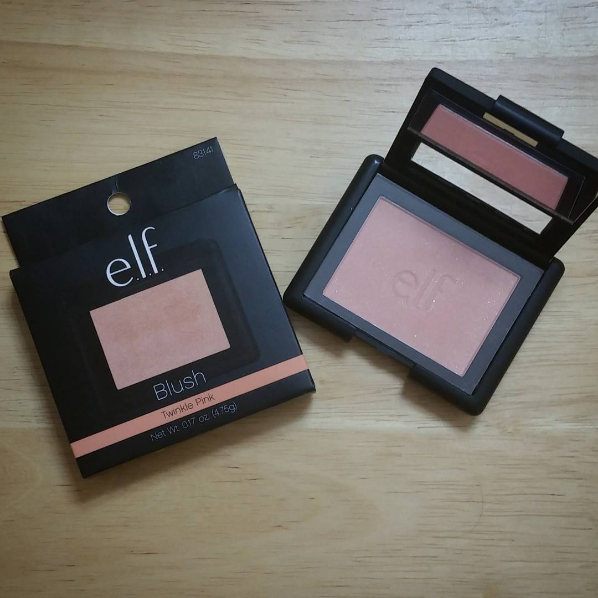 Studio Blush in "Twinkle Pink"
$3
My first impression (which I wrote on my Instagram post) is that this is similar to Benefit's Dandelion Twinkle. After really getting to work with it (and actually compare it to my Dandelion blushes), I can say that it is, but at the same time it isn't. Dandelion is a pale pink, while this is more of a pale pinky peach. This is also a glittery blush, which makes it closer to the original Dandelion (but with glitter) than the Twinkle, which I'd classify as more of a highlighter. Still, there are some similarities I enjoy going on here… Like Dandelion, this is a sheer blush that you can build, making it great for pale complexions like mine. As you build color, it seems like it would work on much darker complexions as well. The glitter is a little annoying, but I barely notice it once I've applied the blush. If you're looking to save some money, blush is one product where you can do that and it won't make a huge difference. The packaging here is also worth mentioning. I've always loved e.l.f.'s packaging, which sometimes makes it look like a more expensive brand than it is. The sleek and clean black packaging for their Studio line products is definitely a nod to what you see with brands like Smashbox, NARS, and MUFE.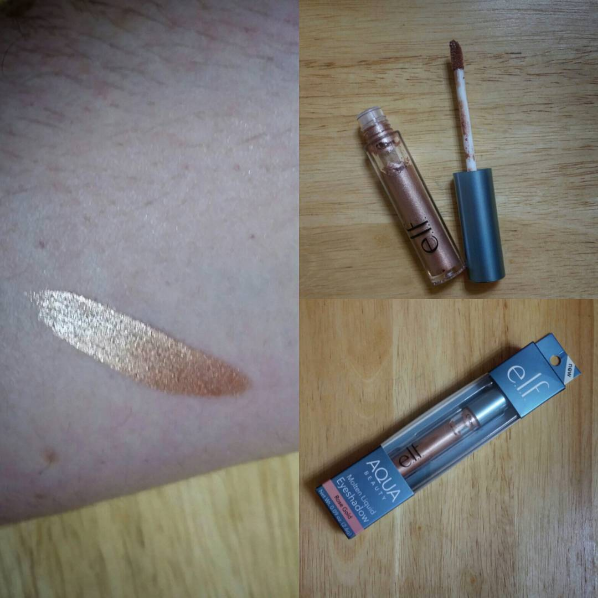 Aqua Beauty Molten Liquid Eyeshadow in "Rose Gold"
$4
I'm not really much a fan of cream/liquid eyeshadows because I have oily lids and have yet to meet a liquid or cream that didn't break up horribly on my lid. I still will occasionally experiment with them if I find an eyelid primer that promises to keep the oil on my lids at bay, but so far I've had no such luck. This didn't really behave any differently, but it did have a nice cooling effect as promised, and it did set beautifully within a few seconds. It just didn't stay that way. I suspect it'd make a great highlighter for my inner corners or could be used for body art if nothing else.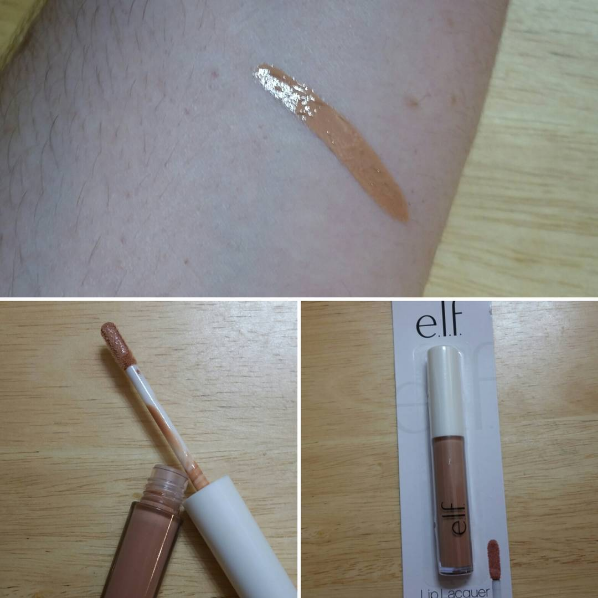 This gloss has the high shine you'd expect while still delivering on color. The formula wears nice and comfortably. I didn't notice any stickiness. It's not overly thick like some glosses can be. This is something I'd definitely wear on its own for an every day look. The shade wasn't for me, at least not by itself, but it looked good layered on top of darker colors for an ombre effect. I definitely want to grab a few more shades of this– particularly the red, wine, purple, and tea rose.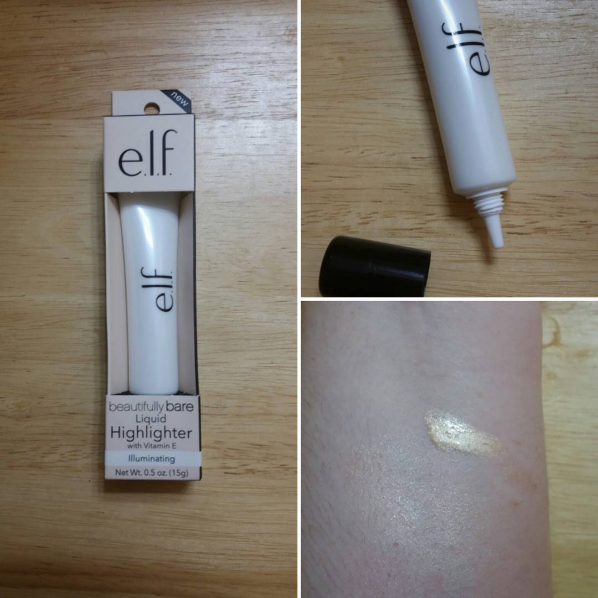 Beautifully Bare Liquid Highlighter
$4
I've not really tried out e.l.f.'s Beautifully Bare line, but I'm all about liquid highlighters right now. They're just SO versatile! You can of course use them the same way you'd use a regular highlighter, but you can also mix them into other products like your moisturizer or primer or foundation. For me, I find my foundation to occasionally be a little too mattifying for my taste, so I'll mix in a few drops of liquid highlighter, and it gives me a gorgeous dewy look. I've also used liquid highlighter on my lips over my lipstick and on my eyes over my shadow to transform the look.
In addition to this, e.l.f. also makes a Shimmering Facial Whip that sells for just $1. Both products are gorgeous, but this one seems to be a little more hydrating than the other. I did pull out my Shimmering Facial Whip for a comparison, but it looks like my tube finally gave up the ghost, so I had to toss it. (And yes, I WILL be purchasing another, but I've got a lot of other liquid highlighters in my stash right now, so I'm going to wait.)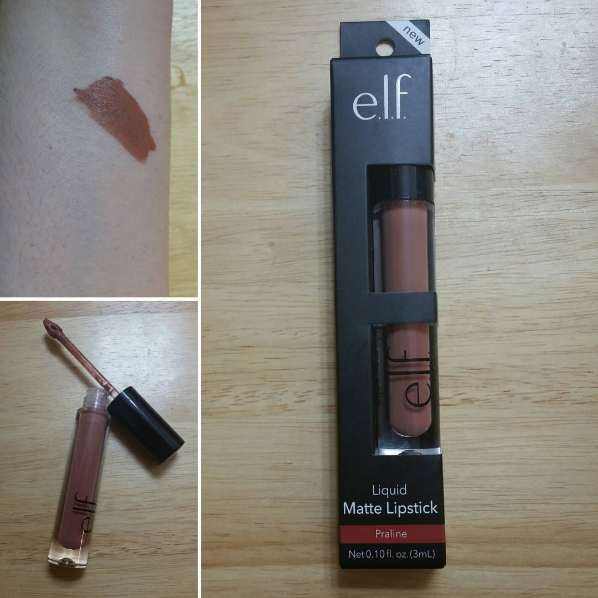 This was the first item I purchased and the one I was most curious about because the second I saw that applicator I thought, "SMASHBOX DUPE!!!" I love the Smashbox formula, and it turns out that I was right about them attempting to dupe it. It's close. It's CRAZY close. And $5 compared to $24 for a full size makes it incredibly tempting.
This definitely hit the mark on the color, finish, and comfort. It looks just as good as the Smashbox, though the shade I picked is a little darker than I thought it'd be. (I fixed it by dabbing some of the above lip lacquer onto the center of my lips, and it looked gorgeous!) I could definitely purchase a different shade of this, and I think e.l.f. could offer a better range. The applicator was close but no cigar. As a comparison, the Smashbox applicator doesn't come out with quite as much product on it, so you have less to clean off before applying, but once the e.l.f. applicator is touched up, it works just as well. The only area where it kinda misses is on transfer. It does take longer to dry down than the Smashbox formula, and even when it's dry, I still notice some transfer. Then again, the Smashbox formula has a little bit of transfer, too.
I'd say that if you have the money to burn and want the better formula, Smashbox still has the better product, but if you can deal with a slightly messier applicator and a little bit of transfer, and if you want to save some money, you could do a hell of a lot worse for $5.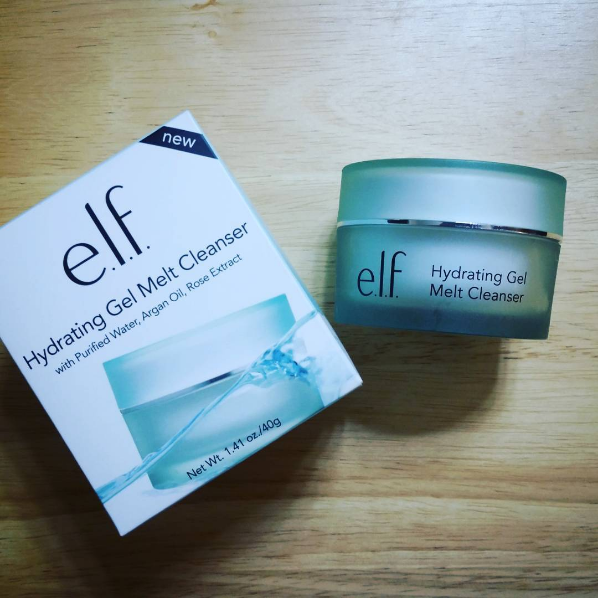 Hydrating Gel Melt Cleanser
$10
This was my second item that I purchased. I'd had a bad experience with a particular first cleanse product, so I decided to try out some new ones. This is one of three new oil cleanse-type products that I purchased. It's going to require further testing on my face, of course, but I've been testing it out on my hands after swatching, and I'm already kinda in love. The skincare line at e.l.f. is pricier than their makeup, and you don't really save a whole lot compared to similar items, but they're still reasonably priced and (from my experience) pretty good. Their packaging is also gorgeous. That said, there are a few products I haven't tried, and I've noticed that some contain ingredients like dimethicone that could be problematic.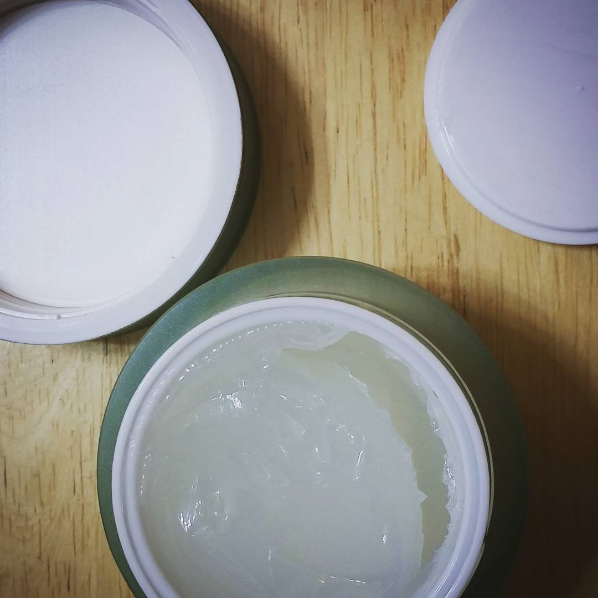 This is a thick gel/balm that works like any other oil cleanser. You apply it to dry skin to break down any makeup and sunscreen, then you splash on some warm water to transform it into a milky cleanser that rinses away. Your face is left feeling slightly moisturized but clean, and if you want you can follow up with a second cleanser to take out any residue left over by the first.
If I had one gripe, it's that I feel like they should include a spatula. It's not a huge deal for me, though, because I already own several. One thing to keep in mind here… A little goes a long way with this product. I actually used too much on my first try, and I'm used to these kinds of products. Would I purchase it again? As of right now, my answer is yes.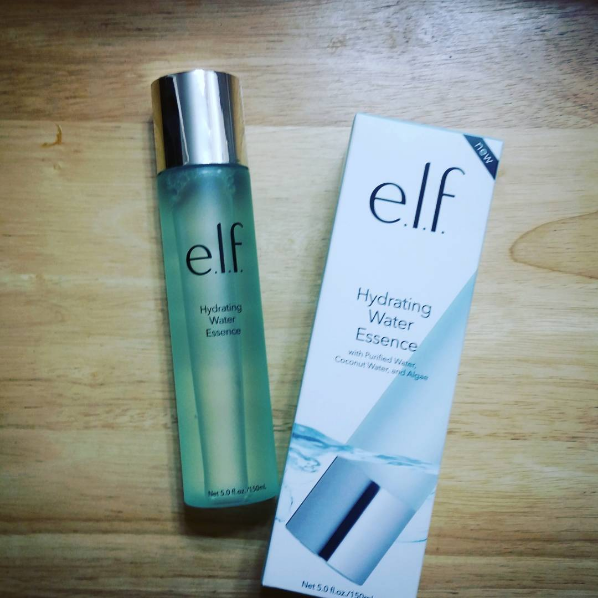 This was the final item I purchased. I've noticed that e.l.f. is really trying to step up their K-beauty game with certain products, and this is one of them. I'm coming close to reaching the bottom of my bottle of Shiseido Pureness Balancing Softener, which I've been using as a first essence/hydrating toner. For those not familiar, it's basically a watery product that's used right after cleansing and actives to restore hydration to the skin and prepare it to absorb all the goodness in the products that follow. I prefer to use a cotton pad for this step, but others use spray bottles or fingertips, which means that "watery" is generally what you're going to go for when it comes to consistency.
Like this cleanser, this is going to require further testing before I can give it a solid review, but my first impression was a good one. I don't notice any major concerns for me in the ingredients list, and in fact there are some goodies in there like niacinamide and coffee extract. One of my biggest pet peeves is the use of dimethicone, which is a cheap way to give skin a "bouncy" feeling, but it also creates a barrier that can make it more difficult for other products to be absorbed. Needless to say, that defeats the whole purpose of using a first essence, so I was happy to notice that this particular product doesn't have it. (If memory serves, some of e.l.f.'s other products do contain dimethicone, so be aware and check ingredients when ordering their skincare.)
So far, I like what I've tried and I look forward to really trying out what I haven't. I'll be sure to get some better reviews of the skincare up just as soon as I get around to testing them out.