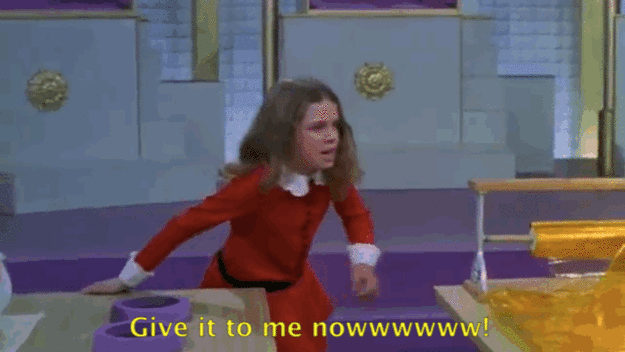 While I feel like I've mostly graduated from cheaper makeup brands to discovering what I truly like and expect from a product and paying a little more for that, I still have some favorites that I shop for in the drug store instead of in Sephora. Believe it or not, e.l.f. still tops that list of brands I'll stop and sift through. (So does NYX and Wet & Wild, though not to quite the same degree.)
I won't get into crazy detail, but among those favorites:
3-in-1 Mascara – I love this stuff, and it's only recently been replaced as my absolute favorite mascara, and by a Sephora Collection mascara of all things. I have a rough time with mascara sometimes. I have super oily eyelids that defy the rest of the skin on my face, which means I can end up with even waterproof mascara smeared under my lower lashes in record time. This stuff doesn't flake or smudge on me at all, despite not being a waterproof formula, and I love the wand.
Eyeshadow/face palettes – If I'm going on vacation, I don't always haul my huge and expensive makeup collection with me. It takes up more space in my bag, and it could get broken. Bad things will happen if one of my Naked palettes is a casualty of travel. I'm just sayin'. So I love that e.l.f. has some fairly decent palettes that are also incredibly cheap. One of my oldest favorites is the Flawless Eyeshadow quad, which is pretty stupid-proof and sells for a whopping $2. The Sculpting Silk Eyeshadow and Clay Eyeshadow Palette are also worthy options at a low price, sitting at $4 and $6, respectively. And if you'd like to include cheek and lip colors, then the Perfect Face Palette will set you back a mere $10.
Shimmering Facial Whip – This is an outstanding liquid highlighter, one of my first and definitely a favorite, and it's only $1.
Essential Lipstick – There isn't a huge range of shades, but it's a favorite cheap lipstick go-to. They're only $1 and nicely moisturizing, so I keep Fearless and Nostalgic on hand at all times. When it comes to a basic lipstick, the only way I'm paying more is if it's a shade I can't find anywhere else or if (like Bite Beauty) it's a formula that's unique.
Lip Liner & Blending Brush – These are more functional than anything. It's a great travel lip brush plus liner, and for only $3 each! I keep Natural, Wine, Red, and Dark Brown on hand, and they go great with just about any lip color I use.
Brushes – While these are not my absolute favorite brushes (that honor goes to Sonia Kashuk), they're a close and affordable second place.
So for reasons you can hopefully see, I do still occasionally venture on over to e.l.f.'s website, whether it's to grab something that needs replacing or to see what's new. Lately, e.l.f. has been killing me with some of their newer products. Some have caught my eye, but there are a few others that I have bookmarked for when I start working more hours and have a solid paycheck to waste. Here's what I'm looking at:
Hydrogel Under Eye Masks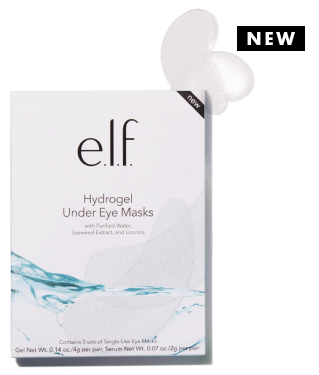 I've noticed e.l.f. venturing into the world of K-beauty, and I haven't had the opportunity to test out any of their attempts. I don't really have any high expectations here. In fact, I doubt their products are going to replace any of my favorites, but I'm also up for being pleasantly surprised, which e.l.f. has done for me in the past.
I'm all about these eye patches some mornings. They're great for plumping up that area when it needs it, but $8 for a pack of 3 seems a little pricey (particularly for e.l.f.) when I can get a jar of 60 for just a few dollars more and free shipping.
Hydrating Water Essence

Again, we have a typical K-beauty item that I might pay less for if I'm getting an actual K-beauty brand, but I'm insanely curious. This contains some lovely anti-aging ingredients and antioxidants and would likely make a good first essence. I mean, hello niacinamide, coffee, hyaluronic acid, and coconut water! #Want
Beauty Shield™ Vitamin C Pollution Prevention Serum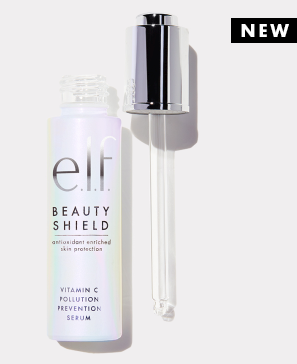 I literally saw this and squealed, "Oh my gosh! E.l.f. has a Vitamin C serum?!?!"
Keep in mind, too, that I'm looking at the ingredients list when I look at their skincare products, and I'm liking what I see in some of them. (Some of them, not so much. Hello? Dimethicone? Really? #TurnOff) I see hyaluronic acid here as well as Vitamin E, though I don't know the concentration of Vitamin C being used here. I do see that it's recommended you store it in a dark place, which is a good sign. Vitamin C is pretty perishable, so if you have a serum that seems to last forever, chances are the concentration isn't very high or it has some other kind of nasty gunk in there that I don't want.
Beauty Shield™ Daily Defense Makeup Mist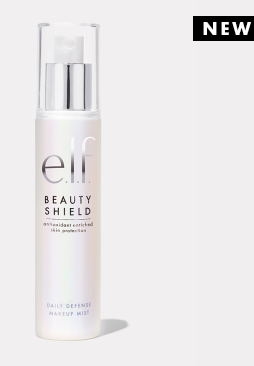 "Formulated without Parabens, Sulfates, Phthalates, or Alcohol." Good start. Also contains allantoin and hyaluronic acid, so this would be a nice hydrating pick me up throughout the day.
Beautifully Bare Natural Glow Lotion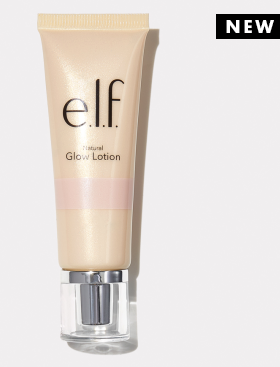 Okay, this is my last skincare item. I'm really into shimmery lotions and such, so I want to see where e.l.f. lands in this category.
Tinted Lip Oil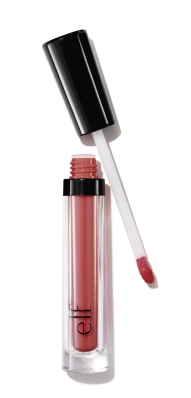 I've seen Julep offer lip oils, but I have yet to jump on this bandwagon and try them out. E.l.f. might be a good way to try it out.
Beautifully Bare Glowing Eyes Eyeshadow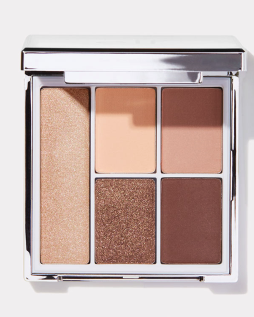 There was no way they were going to sneak in another gorgeous eyeshadow compact and me not want to try it out.
Matte Liquid Lipstick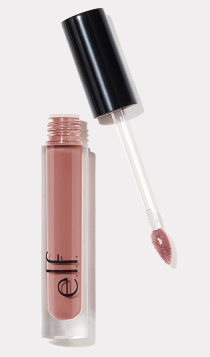 I think this is the product I'm most excited about, because the wand immediately reminds me of the Smashbox liquid lipstick, which I LOVED! If e.l.f. can make a product that comes even remotely close to duping it, I'm sold.