As I told Nadine, I really should be posting my empties, and it's been a while since I updated everyone on my skincare journey as well as a few other things I'm planning to do going forward, so I figured I'd do both.
Empties
I don't have the patience to collect empty bottles and keep them and then throw them all away at once after I take a picture of all of them together, so I'll just take pictures and/or post as I empty something. At the very least, it's photographic evidence that, yes, I'm working through my stash a little bit at a time, and I can give my thoughts on things as I use them up.
CLINIQUE
Pep-Start HydroBlur Moisturizer
$9.50 for 0.5oz / $29.50 for 1.7oz at Sephora
This was one of many deluxe samples that have been sent to me in my Sephora Play subscription, and I actually ended up liking it for a daytime moisturizer. It's nicely hydrating, not too heavy for summer daytime wear, and it works as a moisturizer/primer combo if I'm in a hurry. A little bit goes a long way if I just warm it in my hands and then gently press into my skin.
Aside from still having a nice stockpile of moisturizers to work my way through, the only other thing that's keeping me from purchasing a full size is the packaging. I liked the tube for the deluxe sample, but I really and truly detest jars. I see a jar, and all I think about is the fact that I'm going to contaminate it the second my fingers go into it, and it's going to get under my nails. Ugh… Yeah, I could use a spatula, but then I have to clean the spatula. It's just extra effort I'd rather not have to put up with.
Jars aren't a deal-breaker, mind you, but it's enough for me to hold off while I go through my stash to see if I find something else that I like just as much if not better. If not, I'll get more, and I'll absolutely use it if I get another sample of it.
Cosrx
AHA/BHA Clarifying Treatment Toner
Around $12 for 150ml on Amazon Prime
I'm cheating a bit here, because this bottle isn't 100% empty just yet. There's still a few more uses in it, but I'm down to so little that I'm having to take the top off and pour it into my hands or onto my cotton pad. The sprayer worked its hardest to get those last few drops out of the bottom, but I've decided that its fight is over.
I started out using an AHA/BHA toner from Mizon, which was okay. I like options, though, so I tried out this one as well. Turns out, I like this one better. I like it for many, many things. I like it for a toner to grab anything that my cleansing happens to have missed. I like it for the gentle exfoliation. I like it for the pH boost it gives my skin before I slap on some Vitamin C serum in the morning. I like it for the fact that it already comes in a spray bottle and that I don't have to decant it. Sure, the Mizon smelled better, but this one seems to work better for my skin, and I have adored the improved results from my Vitamin C since I started using it.
As with most Asian Beauty brands, you can find this all over the place with varying prices, but I like the fact that I can get it shipped to me for free and have it on my doorstep within two days, so I'll stick with Amazon Prime. My first bottle lasted around four months with daily use (sometimes 2x per day). I'm good with that.
I've already repurchased it, and the second bottle is sitting under my sink waiting for me to use up that last little bit.
Dr. Jart+
Black Label Detox BB
$36 for 1.5oz at Sephora
I was going to do a full review on this, which is why I have more of my own pictures, but I decided to instead include it here. I first tried this when I got a deluxe sample in a Sephora K-Beauty kit, and I fell in love. As soon as I was done with that, I went out and purchased a full size. It's become my holy grail BB, and I'm now on my second full size tube.
This is my lazy day makeup. It's a moisturizer, sunscreen, and makeup all in one. Unfortunately, it only comes in one shade, so it won't work with all skin tones, but for me it blends out perfectly to a natural finish with just my fingers.
The product is thick, but a little sheer. I still have to use concealer if I have a dark blemish. But the overall effect is my skin, but better (the dream, I know).
Where this product really shines, however, is in what it does while I'm wearing it. This contains arbutin– my favorite thing ever. Between Dr. Jart+ and Benton products containing this, my breakouts have been virtually tamed, and any that do manage to surprise me are gone in days. The red marks they leave behind all but vanish in record time.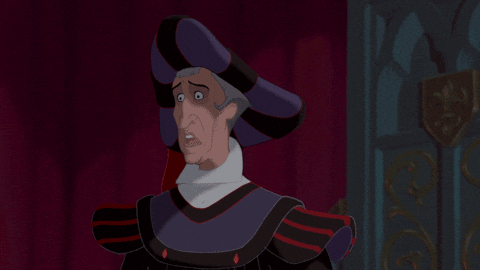 Dr. Jart+ has some other BBs that also contain arbutin. I'll probably try the others out eventually, but for now I'm sticking with what works.
The packaging is worth mentioning. It's the only flaw I've found. The pump is horrendous, but it works with a little coaxing. The biggest problem comes when the product is low. That pump just doesn't want to get that last little bit, and this isn't a squeeze tube.
There's a trick, though. The hard outer shell can be disassembled. Remove the top and screw off the pump. Pop the top from the narrow end of the shell, then pull apart each side. You're then left with the squeezy inner tube, and you can get every last bit of the product. It's annoying but worth it. This stuff ain't cheap!
Also worth noting, you can get this for much cheaper than the Sephora markup if you do a little bit of digging. TesterKorea, for example, currently has it for around $21, but you'll have to pay for shipping, which can be slow sometimes. For some, it might be worth it to simply just toss it in your Sephora cart and let the Flash shipping sort things out, get it in a couple of days, and know that you can return it if it doesn't work out.
Skincare Diary Update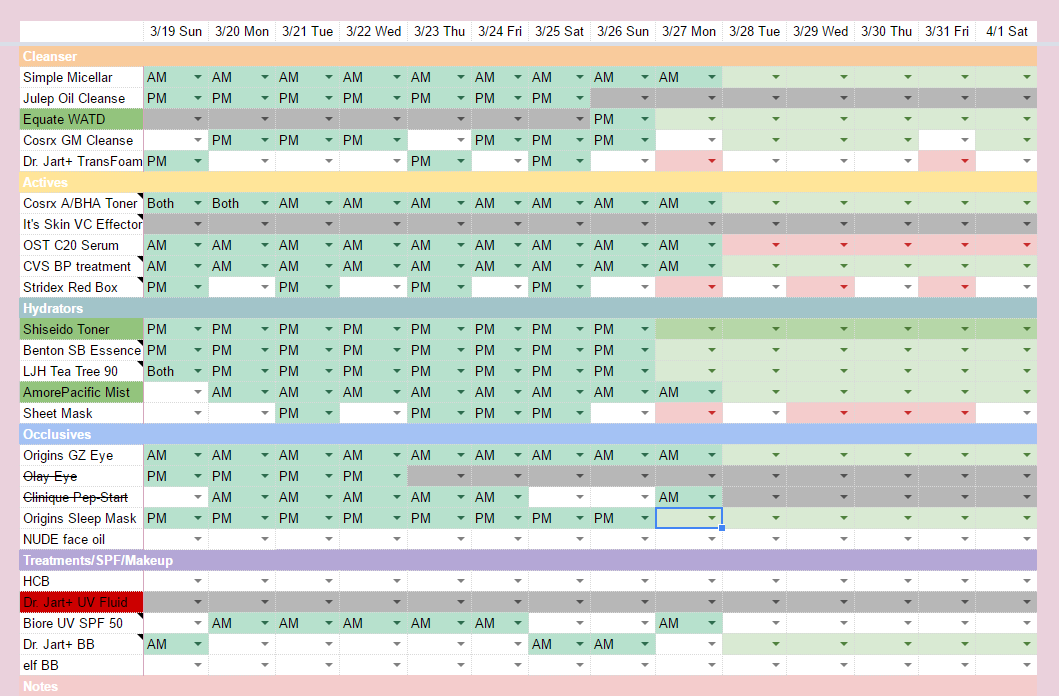 It's been a while since I posted an update here. It's not been particularly exciting, so I figured I'd only post when something exciting did happen.
As you can see, I've been a very bad girl this last week. I introduced two new products to my routine at once, and (once I determined that I liked them okay and that nothing bad was happening) I introduced a new cleanser yesterday. So far, my face hasn't melted off, but this isn't the usual for me. I just needed to make sure my replacement for my Fresh toner would work out before I had to buy some more. Ditto for replacements for my cleansing oil and morning facial mist. So far, I'm not really in love with either one, but they'll do for now.
The Equate dupe for Clinique's makeup remover balm impressed me on the first try, though. With no more cleanser samples left in my stash, I'm burning through some that I've been wanting to try out. The Cosrx Good Morning Gel Cleanser has been a winner, and I purchased a backup tube of that. I've gotten a little bored with the Julep oil cleanser, so I'm branching out a bit on first cleansers. After I've given Equate's product a try, I have a few more contenders waiting.
I'm also trying out sunscreens at this point. I have one sample– the Dr. Jart+, which I need to reintroduce and see if it truly was causing a problem for me. The other, a Japanese Biore sunscreen, is a full size. I ordered two from Shiseido Japan to try out as well, but the Biore one has blown me away.
Reviews, Not Unboxings
I've decided not to do mere unboxings anymore. Instead, since I have only one or two subscriptions, I'm going to do my best to try everything included in the box or bag so that I can instead do a full review. Hopefully, this will give a good idea of the products included in the subscription as well as how well I think the product works.
Hopefully, that wasn't too terribly long. I packed what probably should have been two posts into one. In any case, I think this will be a good way to move forward with a few things and making sure that I'm giving proper reviews on products I go through. In fact, I've just gotten my Beauteque Mask Maven for March, and I'm starting on the first mask tonight. Here's quick look at what's in that: