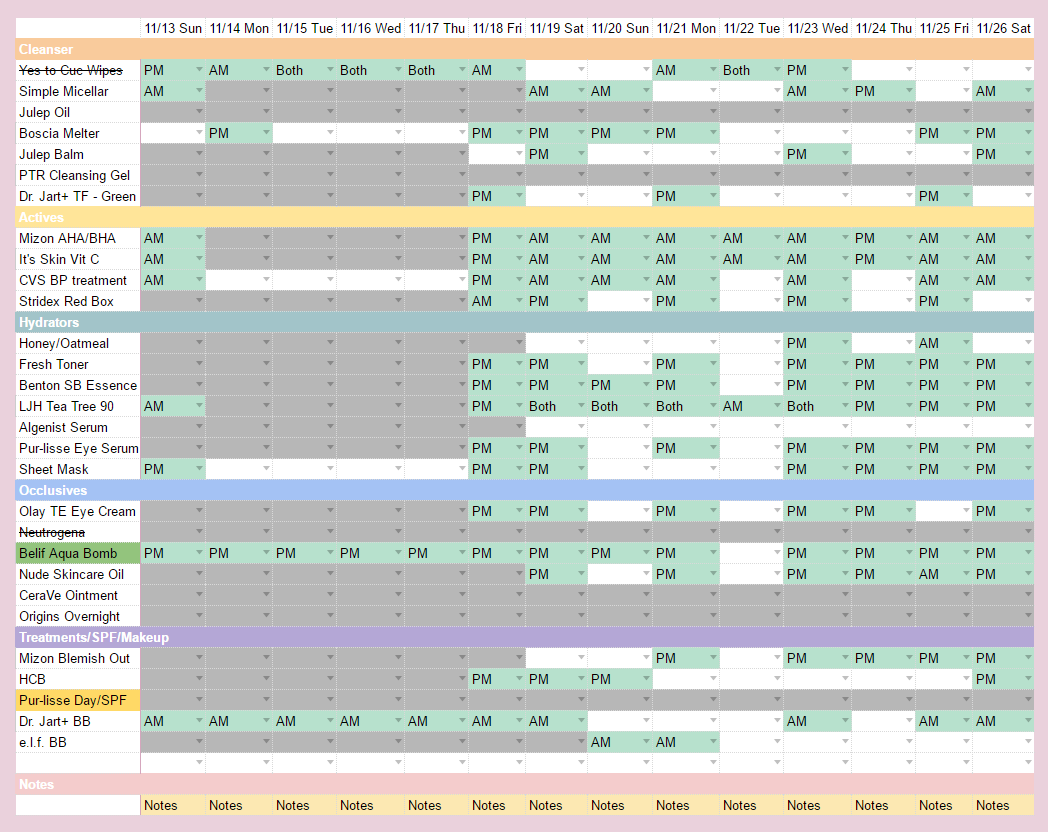 As you can see, these past two weeks have been a little… scattered. I was on cruise that first week in the Bahamas– where it was nice and cool but also rainy and comfortably humid. I was also limited on space and didn't need an army of skincare, so I was stripping myself down to the bare minimum for a few days there. When I came back, laziness kicked in on a few days, so what you see here are a few days where I did practically nothing and other days where I felt like I needed to make up for it.
The weather here in Alabama is still unbelievably dry, since we're STILL going through a drought. It's also still a little unseasonably warm for the same reasons. Layers of hydration with frequent nightly masking is helping out, and I'm just going to finish off this sample of Belif Aqua Bomb (which I've used before but never added to my routine by myself) and add some of my face oil to it. It seems to be working out fine for now, though I might cry when I scrape the bottom of that in a day or two. I'd buy more, but I still have SO MUCH OTHER PRODUCT to get through first.
And now that my traveling is done, I've used up the wipes I purchased for that and am working on using up the last of my Julep stick cleanser. I'll switch back to the PTR foamy stuff after I'm done with that. Ditto on using up the small sample of Boscia Charcoal Makeup Melter (which I'm kinda loving) and then going back to my Julep oil cleanser.
I've been really impressed with the Boscia product, by the way. It'll definitely fit nicely alongside my Julep oil as a HG cleanser. My only gripe is the packaging and the price. I'm going to have to see how long this smaller sample lasts to better judge how a full size would truly stack up to the Julep. And I hate digging things out of jars. I have a spatula for that, but still. I've also got a Shiseido oil cleanser waiting to be tried out, so it'll be a while before I'm buying any oil cleanser at all.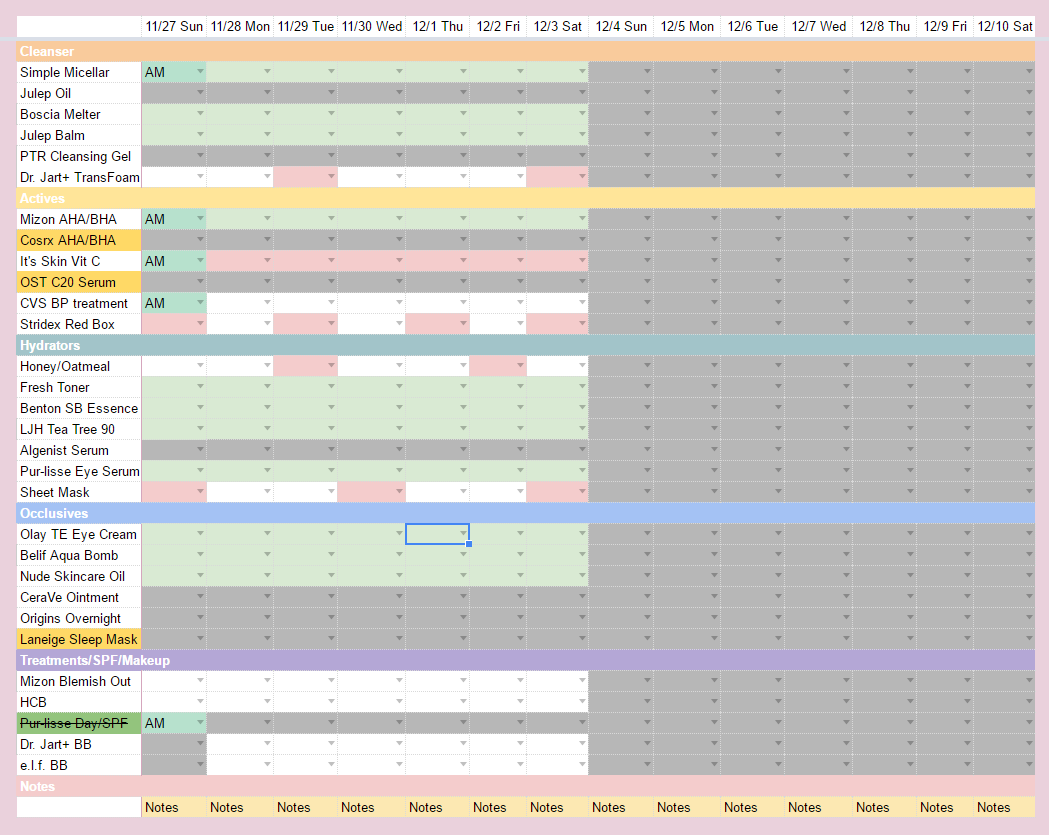 This is my week going forward. I've already entered in my morning routine. Quick note on the color changes, since someone asked me… I cut off the key in my screenshots. Names in yellow are products I've patch tested but have not yet added. Products in green are products added for the duration of this sheet. On the planner, if something has been used, it's in a pretty seafoam, noting if it was used in the morning (AM), evening (PM) or both (Both). Grey means that it's on hold and likely won't be used at all. Light green means that I plan to use it. Pink means that I plan to use it, but it will sit on my skin for a certain amount of time before the next product is applied. White means that I don't specifically plan to use THAT product, but it's there if I need it.
Times… The Dr. Jart TransFoam Clay mask sits for 3 minutes before I break out the konjac sponge. (Since it transforms into a foaming cleanser, it's used in place of a second cleanse.) Stridex (my "BHA" for now) sits for 20 minutes to do it's thing before I add anything on top of that. My homemade honey & oatmeal mask sits for 20-30 minutes and goes before any other layers of hydration since I'd prefer to not wash away my essences with my mask. (The same rule applies to any wash-off sheet masks.) And of course sheet masks are 20-30 minutes– longer if I can get away with it. That's my prime pamper time.
I tried staggering my masks so that they didn't overlap, but I like them at predictable intervals instead. That means that if all of these overlap, my nighttime routine can take over an hour to complete. Usually, this is my sit down and catch up on CW/DC shows time anyway. On nights where I don't have that much time, I can still push the longer stuff to the next night.
I've stopped using the LJH in the mornings. It doesn't do much for me in terms of battling oiliness, and I'd rather just have my "long" routine at night anyway. For now, my mornings are a simple wipe down with micellar water, prep with AHA/BHA toner, vitamin C serum, benzoyl peroxide treatment, and then whatever I'm going to wear as a moisturizer/SPF/makeup. Lately, that has been the Dr. Jart+ Black Label Detox BB– which I'm in love with enough to ditch my e.l.f. once I'm done. I got some samples of two other Dr. Jart+ BBs while at Sephora just to be sure that this is my favorite from the brand, but I've already purchased a full size of the Black Label Detox. My skin looks FABULOUS after using that, but it did cause a little bit of purging in the fist week. Tarte makes a good one, too, but it pales in comparison.
This week, I was going to put my BBs on hold and try out the deluxe sample of Pur-lisse Blue Lotus Essential Daily Moisturizer SPF 30 that I got in one of my boxes. Well, I was… I put it on this morning and instantly hated it. It's way too greasy for my taste, so it'll be a hand cream until it's used up, and I'll go back to using up the Dr. Jart and e.l.f. BBs for the rest of the week before adding another new product.
I'll start testing the Cosrx AHA/BHA toner as an alternative to my Mizon next Sunday. I've seen some mixed reviews, so I'm not sure if I'll like it or not. I like the Mizon a lot, but every couple of months or so I see rumors that it's being discontinued, so I figure it'll be a good idea to have a backup. I find that I don't need it after every cleansing, and the micellar water works fine doing double duty as a toner, but the treatment toner works well to prep my skin for vitamin C.
Speaking of C… I've ordered an alternative to the It's Skin serum I'm currently enjoying. I'm curious to see what a higher concentration does for me, and again… It's nice to have alternates in case something becomes hard to find.