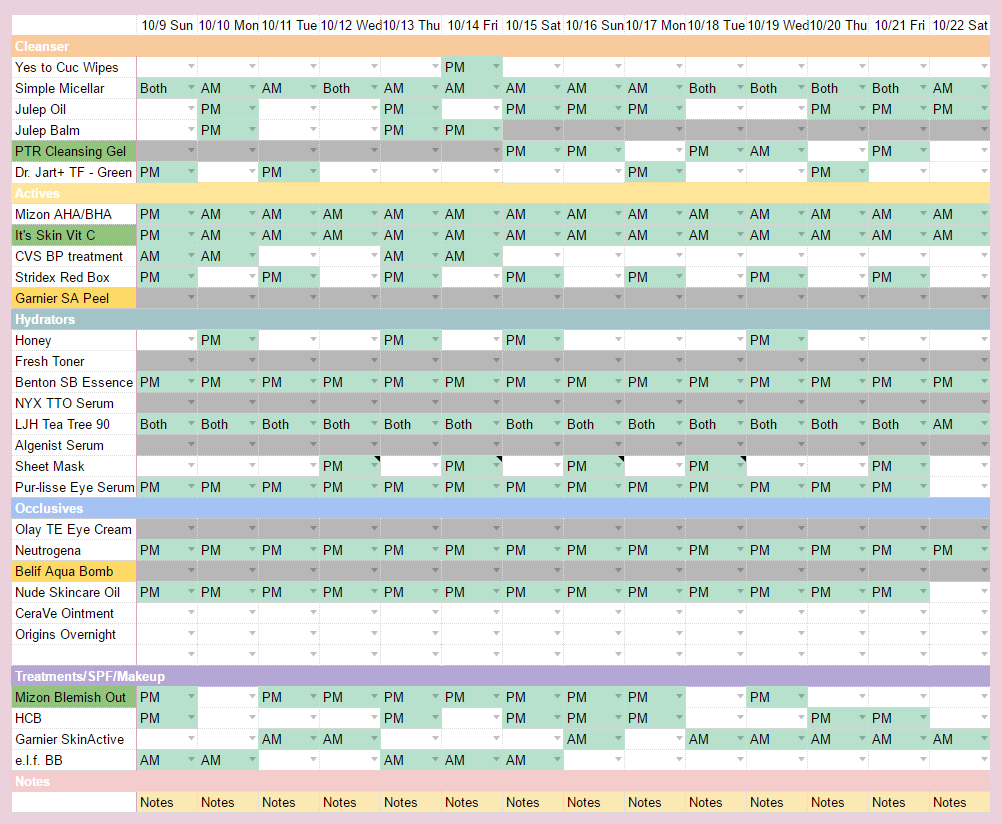 There's really not a lot to report at the moment. The Vitamin C serum is going great. Love it. I will likely stick with it for a while, though there's another brand I definitely want to try– particularly since the other brand is more easily available through Amazon Prime. The It's Skin serum is easy enough to find on Memebox, but I'm a little antsy about depending solely on them for my K-beauty needs. Their inventory changes a lot, and shipping has been a little slow. Hopefully they'll get that hammered out.
I'm not 100% sold on the Mizon pink powder. It absolutely works better than the EradiKate, but now that I've had a bit of time to work with it, I'm not convinced that it works any better for me than my cheap CVS benzoyl peroxide cream for spot treatment. It CAN however be used alongside retinol treatments, so that might be enough to keep me from ditching it.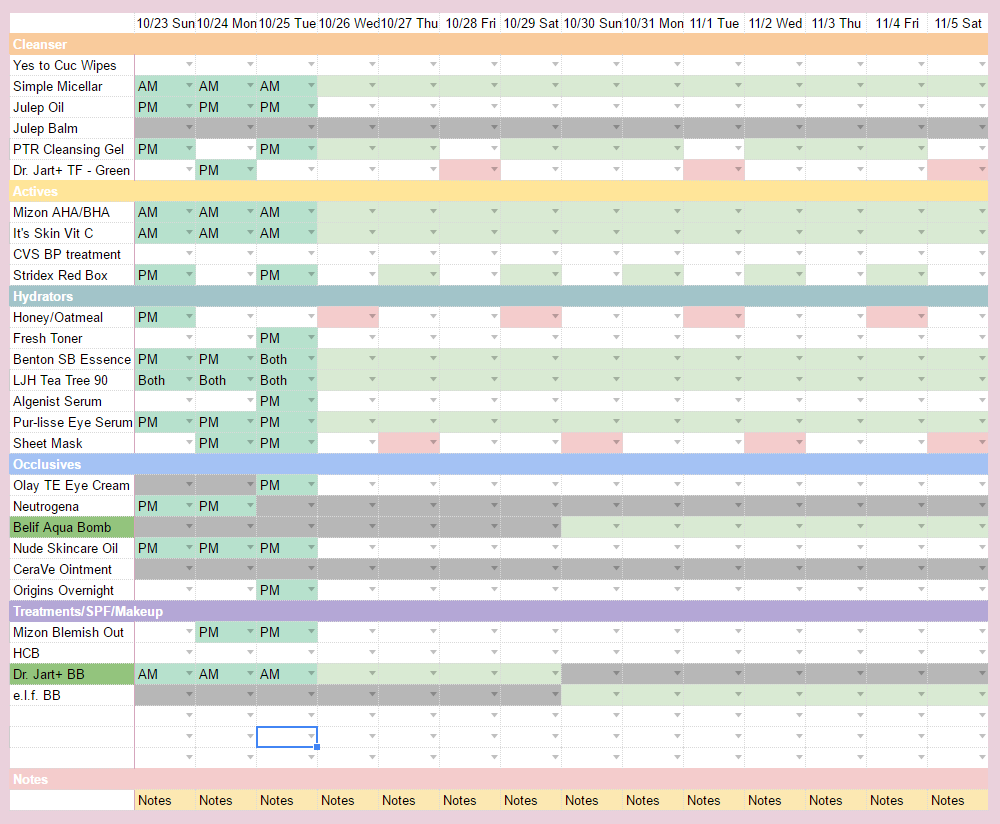 This is this week and the week after– so far. As you can see, I've removed a few things that I'm just not using– particularly the Garnier peel and the Nyx tea tree serum. They're both coming in handy on my arms, but this spreadsheet is primarily keeping up with what's on my face, and they're not going to be used there, so that's that. I've made room for adding other things.
The weather here isn't getting much colder, but it's been dry for a while. We're in the middle of drought conditions, and a couple of night ago, my skin decided it had had enough. It was still tight despite the fact that I'd just used a sheet mask, so I'm using my heavier creams and more hydrating steps to compensate. As of last night, it seems to be working well.
I'm taking this time to test out the Dr. Jart+ BB I've been meaning to get to. So far, I'm loving it and actually noticing an improvement in my skin over the course of the day, so I think we have a winner, though the e.l.f. BB is still a contender for a cheaper option. I think one week will be enough for me to make a determination on this one. I'm already pretty convinced that this is the BB I'll be taking with me on my cruise.
After that, I MIGHT attempt to get in my Belif Aqua Bomb, but the jury is still out. I might save that for my cruise instead of a sleeping mask since it will be hot and humid, and the Aqua Bomb moisturizer will be a good option for that. I might go with a different non-BB moisturizer/sunscreen combo instead, since I've used up all of my Garnier, and I don't ALWAYS feel like wearing makeup.