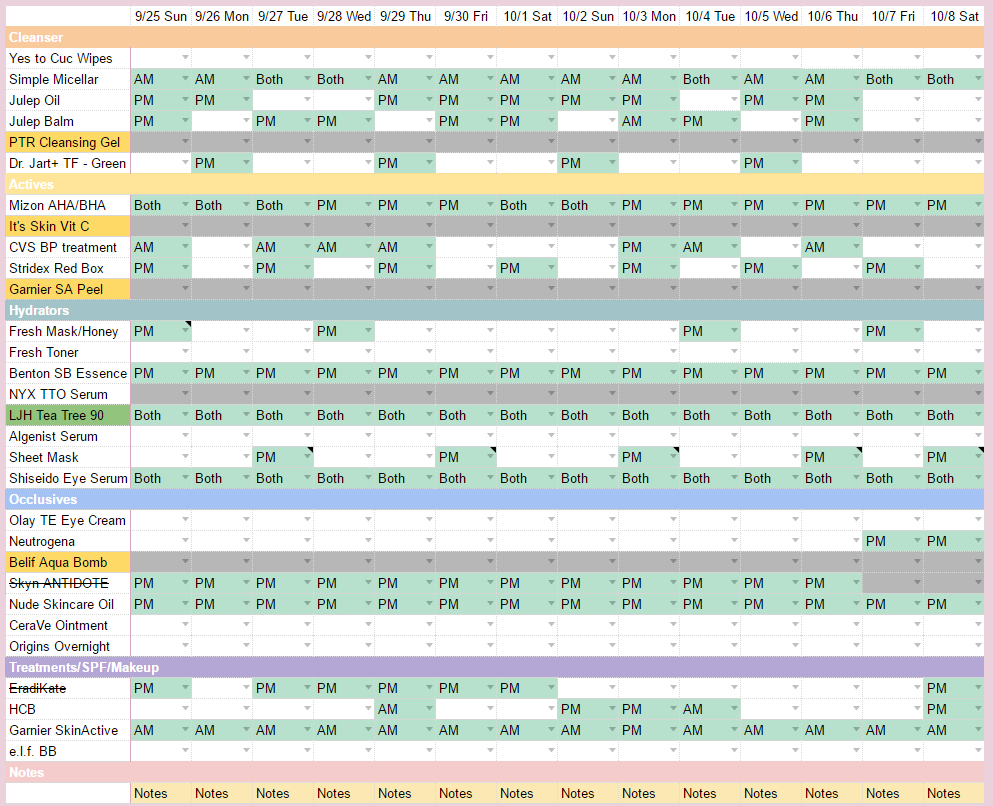 So, uh… It's been several weeks without an AHA product, and my skin STILL does not appear to need additional chemical exfoliation. Hm… I think I'm going to table it for now, though I definitely want to add it (as well as retinol) back into my routine at some point for anti-aging. But for now, I'm cool. I have other uses for the Garnier peel for now (as in, the KP on my arms), and there are other AHA products I'd rather use on my face, so this will be taken from my spreadsheet, soon.
I'll also be removing the Nyx Tea Tree Balance Skin Elixir. It didn't seem to be making much of a difference if any, and the consistency was a little confusing for me. (Is it a primer or a serum? WHEN DO I PUT THIS ON MY FACE?!?!) I like the simpler LJH product better, and so the Nyx product shall be tossed.
As you can see, my skincare routine is still significantly reduced from what it was, but since the weather is FINALLY starting to get a little bit cooler, you'll probably see me start adding things back in, like my sleeping masks and a hydrating toner.
I finally FINALLY used up my EradiKate, and I will not be repurchasing. I just feel like it wasn't working for me, and I feel like that might be attributed to the alcohol content. I have a replacement, though, which I shall get to in a bit. I also used up my Skyn ICELAND The ANTIDOTE Cooling Daily Lotion. I kind of liked it, and it was nice on those really hot days, but as a moisturizer it really wasn't bringing much to the party, and I have other options, so that also will not be repurchased.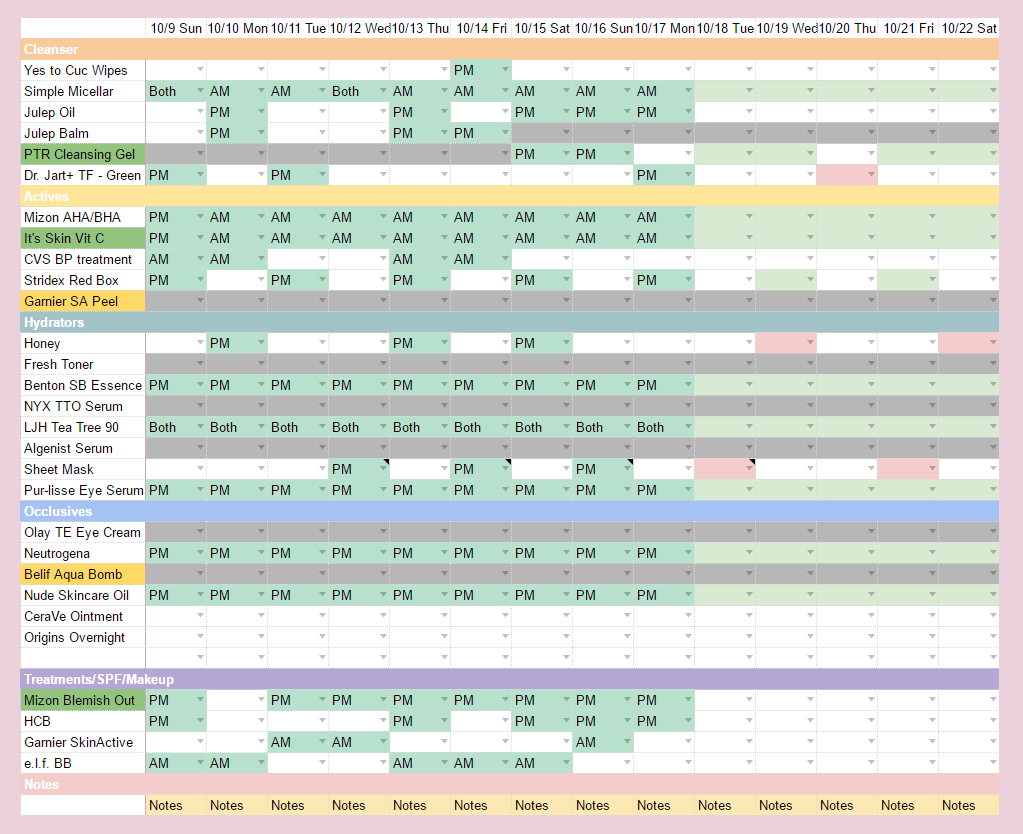 Yes, I'm adding three products in this cycle, but don't yell at me just yet. I added a new vitamin C serum, and I loved it so much right away and saw the effects that I figured it was safe to add in a new cleanser as well, and cleansers really only take about a week or so for me to try out. I'm not crazy about the cleanser, but it'll do, and it gives me a chance to play with my new Nooni marshmallow whip maker while I preserve what's left of the stick cleanser for an upcoming cruise in November. (Because, you know, I really don't want to have to buy a whole new one to use up when I have so many other cleansers on hand to work through.)
I also added in the Mizon pink powder to replace my EradiKate. Since this is a spot treatment, I felt like it was safe to add at the same time as the vitamin C. I mean, a blemish is either going down or it isn't.
Speaking of my cruise… I'll be down to a pretty minimal routine for that. It'll make travel easier, and the heat and moist air is going to mean that I won't need too much anyway. Specifically, I've decided to go with cleansing wipes to remove makeup, my Julep balm cleanser (just water in the morning), a sleeping pack for night, and a sunscreen for the day. I'm going to stash away a couple of sheet masks, too, but that's about it.