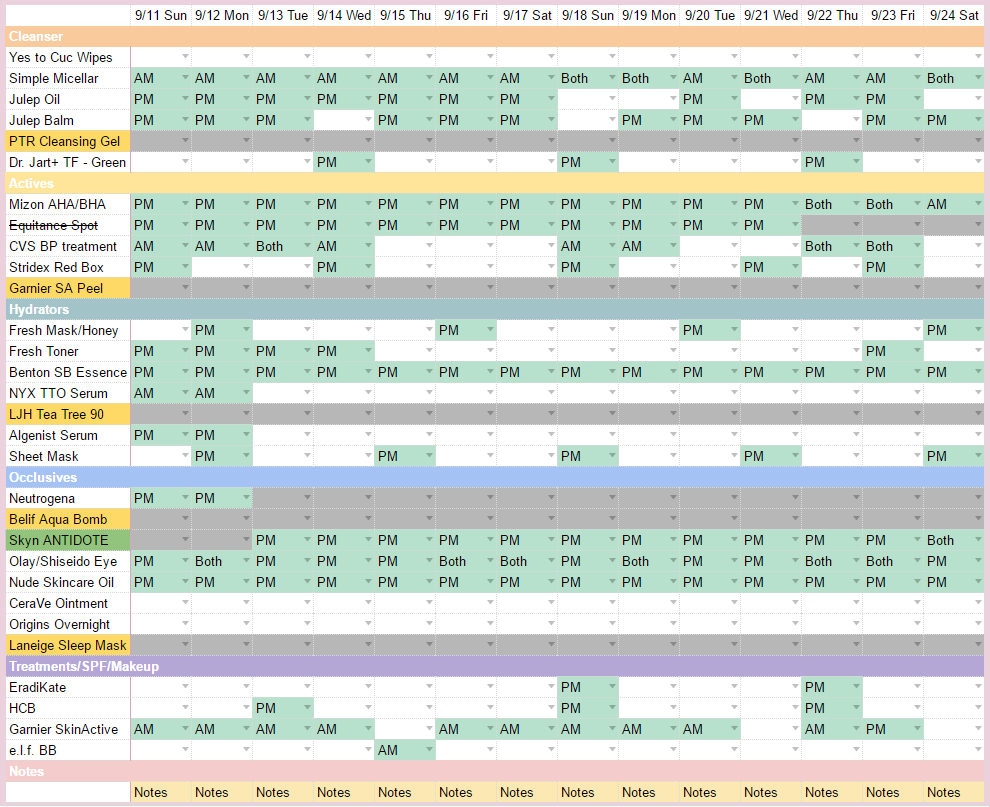 Yes, I went a little nuts with everything. Sort of.
First off, I completely scrapped my previous idea to use this round to introduce my peel. Turns out, I don't really think I need it. With all the other acids I put on my face and my regular use of a konjac sponge, my skin hasn't gone dull not once in these past two weeks without the assistance of an AHA product, so I'll wait a little bit before I worry with it. Instead, I moved on to that Skyn day cream I've been jonesing to try out. (I love it, by the way.)
I do feel like I'm missing the retinol a bit. My pores look a little bit bigger. (Ugh!) It could just be a psychological thing for me, but I'm definitely noticing it, so I'm going to start shopping around for a retinol serum.
I find that I typically don't need a moisturizer during the day in the summer because my sunscreen works just fine, as I already talked about during my review of the Garnier SkinActive. But this works just fine as a nighttime moisturizer, too– particularly when I add a few drops of that NUDE Skincare facial oil to it. It's not too heavy, and it's nicely cooling. My skin likes it. I did use it on a couple of mornings this week because I didn't leave the house and therefore felt like I didn't really need a sunscreen. (I was bad. So bad.)
The other thing I decided to completely change around was the one week rule. I went back to the two week rule. One new product every two weeks, except in the case of cleansers and maybe masks. It's not that I feel like I need more time to make sure that the new product works, but it does give me time to play around with my other products while I'm introducing this one to see how everything else works with it.
Truth is, I removed quite a bit from my regular routine over the past two weeks because I felt like, for now, I just don't really NEED it, and I figured I'd go minimalist and see what happens. It's highly likely that as the weather cools I'll find myself adding all those hydrators back into my routine. I attempted to put some time in between my Stridex uses, but I found that my pores went right back to giving me the finger, so every other day is where it shall stay. It does however work well with the Mizon AHA/BHA toner being used every night and even sometimes in the mornings.
With lighter or no makeup, I'm occasionally using the Simple Micellar Water at night as a first cleanse instead of the Julep oil, since I don't have a lot of heavy makeup to remove. If I'm wearing a lot of makeup, though, I'll use the Julep.
Oh, and I finally used up the Equitance serum, which is getting tossed, not being repurchased, and replaced with a REAL Vitamin C serum that I'll be using in the mornings. (That's part of what I ordered from Memebox, and as soon as it gets here it will be bumped up on testing priority since I have no other Vitamin C products to test out but DO want to keep Vitamin C in my routine.)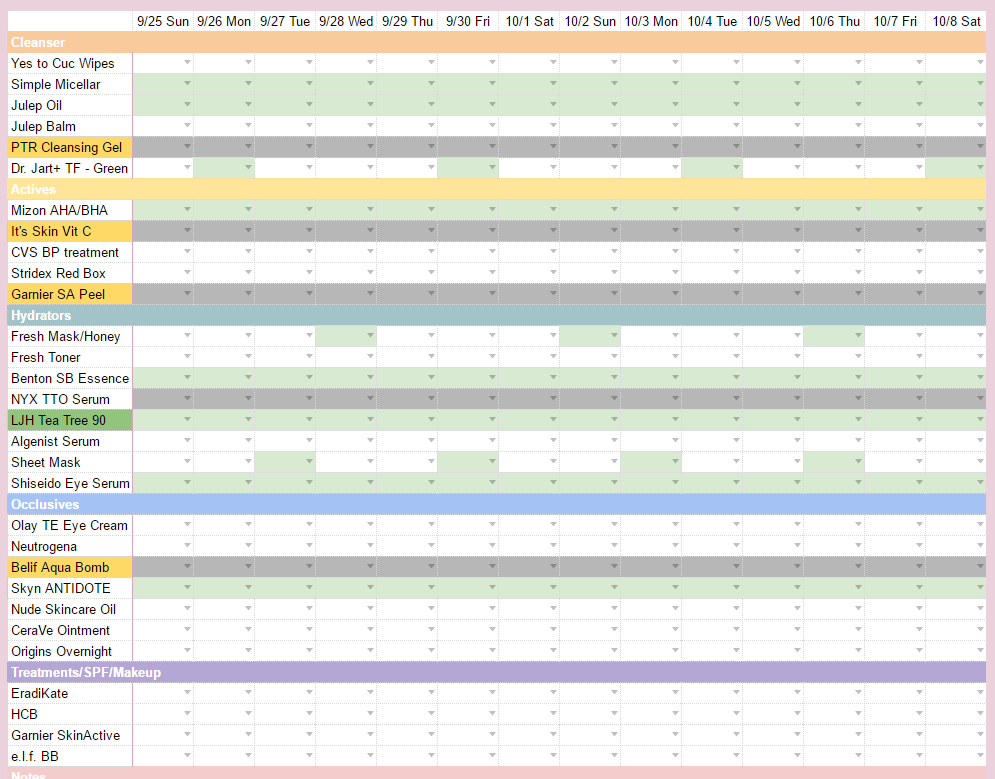 Here's what I'm working with so far in the weeks to come. I'm FINALLY getting to add that LJH essence I've been looking forward to. If it works, I'm not even going to try using up the NYX stuff. It's gone from my regular skincare routine and will only from here on out be used as a primer if I don't end up tossing it entirely.
I also changed up some order on my spreadsheet. My Shiseido eye serum has its own line separate from the Olay eye cream. The Olay has been banished for a while for being too thick, and since I know that the Shiseido and pur-lisse serums work for me, I'll be using those for a while until I feel like I need a heavier cream. Since the serums aren't occlusive, I'm putting them under my Hydrators, and I've removed the Laneige sleeping pack for a bit for the purposes of room. I won't be adding that one for a bit, and in the meantime I've got a sleeping pack I've already opened and am already using when needed.
The mask order up there will likely change, too. I'm going for twice a week with both my Dr. Jart clay mask and my honey mask– maybe more with the honey. Sheet masks are pretty consistently every 3 days unless otherwise needed. Thing is, I don't feel like doing 2-3 masks in one day, so I'm going to play with the masking schedule a bit and see if I can't get them down to just one a day.