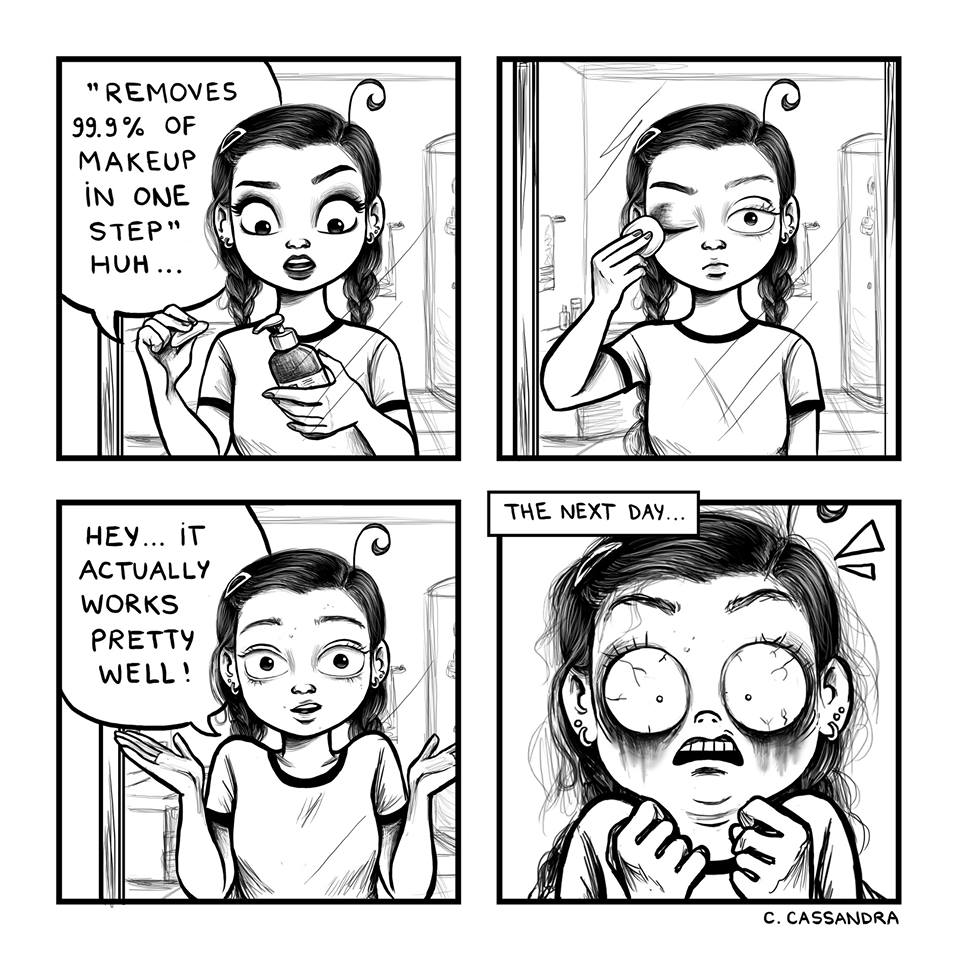 So yeah… I need to talk for a second about this particular comic artist. This is C. Cassandra, and as you can see… She knows me. I don't mean that she "knows" me as in we meet every Tuesday for drinks and bar food while we chit chat about life– though that would be awesome. I mean that she "knows" me in that just about every comic she's put out has hit the nail on the head with my own life experiences. She's amazing, and you should definitely check her out. I just found this one particularly relevant to my eye makeup remover experiences. (Waterproof mascara is a particularly sneaky little abomination.)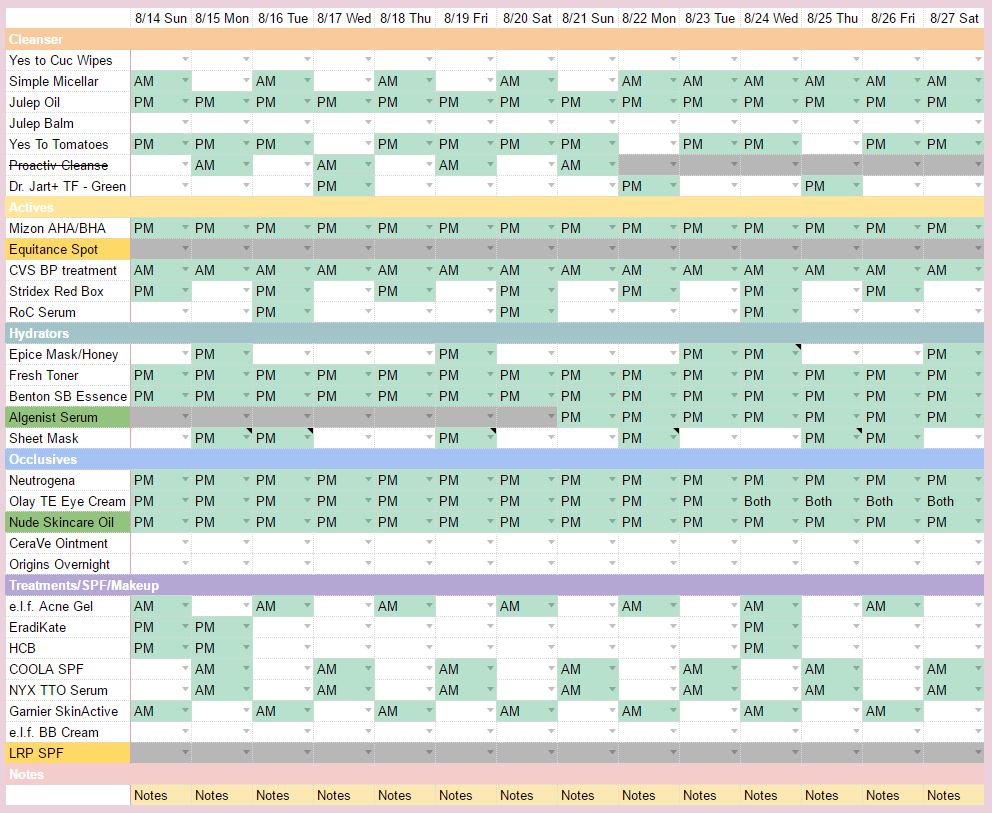 Last week went okay. I skipped my usual clay mask on Sunday so had to move it to Monday, but otherwise… Pretty smooth. I'm still loving the Nude skincare oil, and I'm seriously contemplating buying a full size, but not until after I've gotten through the rest of the oils in my stash. I can really see a difference.
The Algenist serum is another story. I can definitely see more hydration, but I'm not noticing much else after just one week. I could take it or leave it, which is a good thing considering that the full size is over $100. The only way I'd pay that much money for this is if it made me thinner and 22 again.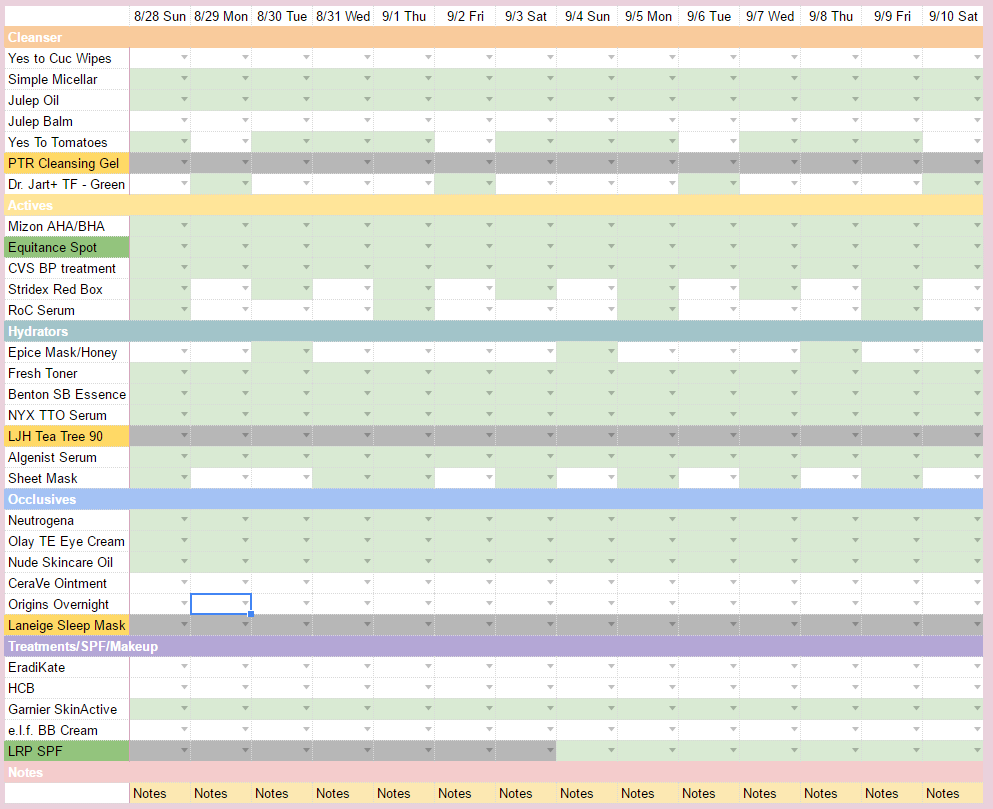 This week, I'm adding a Vitamin C product back into my routine, though at this point I'm thinking that the Nude oil has pretty much eliminated the need. (Seriously, I'm loving that oil.) After that, I'll be using up one of my sunscreen samples. Everything has already been patch tested, of course. You can see I also used up my COOLA moisturizer/sunscreen. The chart here is just a little wrong, though. I won't be using it on top of the Garnier moisturizer that I'd normally use during the day. Instead, I'll be using the Neutrogena in hopes of using that up and being able to move on.
Other products soon to be tested… Laneige Water Sleeping Mask, LJH Tea Tree 90 Essence, and Peter Thomas Roth Rose Stem Cell Bio-Repair Cleansing Gel. After patch testing, I can tell that I'm going to like the sleeping mask and the tea tree essence– particularly while it's still warm out. The Laneige seems to be not as thick as my current Origins sleeping mask. The LJH is a bit more hydrating and will go well with either of my day or night routines, though I might want to try a mist for daytime. The NYX tea tree serum still strikes me as "okay," but I'm kinda over it and tempted to toss it before I'm done. I don't LOVE it. The PTR cleanser should provide a nice, foaming break from my Yes to Tomatoes, and it smells great. It appears to have a pH of 5.5 when mixed with my tap water, which is about what I get with a lot of cleansers.