My ipsy bag this month was later than usual due to the fact that I cashed in some points that were expiring. Also, I noticed AFTER taking pictures that my vanity (that pretty wooden surface I use as a neutral background for most of my photos) has dog hair on it, so you'll have to excuse that. It's one of the pitfalls of having two messy but incredibly cuddle-hungry and sweet white-haired dogs.
First off, let's just take a moment to fully appreciate this month's bag. This was spoiled a couple of months early. People have been anticipating it ever since, and rightly so. This isn't canvas, despite the fact that it looks that way. It's vinyl. The satiny cloth inner lining matches the color on the zipper. There were actually two variations of the bag design this month, with the other having purple hair (shown below). I got the much coveted blue-hair variation.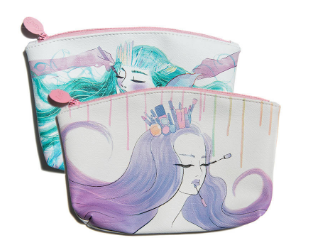 It Haircair
12-IN-ONE Leave In Treatment Link
Full Size $14.99 for 10.2 oz
Sample Size 3.4 oz
Value $5.00
I'm almost never excited about getting hair products in a subscription, and this isn't really an exception to that rule. My hair is dry, curly, and fussy. I'm very picky about what I put on it because I have a few products that work for me after decades (yes, DECADES) of trying to figure out what my hair wants. I tend to stick to those without straying much. That said, leave-ins are one of those items that I can use, so I'll give it a try and see what happens. I will say this… It smells nice, and that's always a plus.
Jersey Shore Cosmetics
Mongongo Lip Conditioner in Vanilla Coconut Cream Link
Full Size
Value $10.00
I've tried Jersey Shore before, thanks to ipsy, and I loved the hand and lip scrub that I got. I wasn't particularly excited about this product when I saw the reveal, but now that I've actually TRIED it, this is my new precious. First of all, let me explain… I have some serious lip balm hoarding issues. It started out being almost as bad as my eye cream obsession, and now it's probably worse because I literally have an open lip balm in every area of the house that I could possibly need lip balm and need to reach for it– bedside, bathroom drawer, office drawer, purse, vanity, living room drawer, etc. You name a room of the house, and I've probably got a lip balm stashed there.
This one… I can't figure out where I want it, because I love it, and I want it in all of those places except for maybe next to my bed. It's super hydrating, and it smells wonderful, like suntan oil. There's no real taste, or at least nothing that I could detect, but it was still clinging to my lips and sealing in the moisture even after I licked them. And it contains sunscreen– that's a big plus.
IT Cosmetics
No-Tug Waterproof Mini Gel Eyeliner Link
Full Size $22 for 0.017 oz
Sample Size 0.012 oz
Value $15.53
Again, here's something that I'm really not all that excited about getting. I have enough black eyeliner, thanks. But IT is a really nice brand, so I'm hopeful that maybe, just maybe, I can finally perfect my wing and/or find a good pencil that stays put in my waterline.
FORMULA X
Nail Polish in Dollface Link
Full Size $10.50 for 0.4 oz
Sample Size 0.13 oz
Value $3.41
This is definitely going to be gifted. I love the color, but I have a gazillion others just like it, and I've yet to try a Formula X polish that I've liked more than my Julep polishes.
Cover FX
Illuminating Primer Link
Full Size $38 for 1 oz
Sample Size 0.16 oz
Value $6.08
This was the one item that I was really excited about when I saw the reveal. I've been dying to try out Cover FX products for a while now, and I love illuminating primers. I'm interested in seeing how it compares to the BECCA one I got a couple months back from Sephora Play. This one also promises brighter skin over time, so we'll see…
bareMinerals
GEN NUDE™ Buttercream Lipgloss in Sugar Link
Full Size 
Value $18
Sorry for the blurry picture. Yes, you're reading that right. This isn't a sample. It's a full size bareMinerals lip gloss. I had some points that were expiring and needed to be used, and this popped up, so I got it. I might keep it. I might gift it. I might decide to do a Topanga-esque interpretive dance with it. I have several unopened lipsticks that e.l.f. cosmetics sent me out of the blue a couple weeks ago, so I'm definitely full up on lip products and the possibilities here are endless. It's not nearly as light as the picture above shows. My camera has not been cooperating lately. This is more of a cross between a true nude and a dusty rose, and it's beautiful.
I'm still mulling over whether or not to spend another 1000 on an Hourglass primer or stick foundation (more likely the primer, since there's less guessing regarding my shade). It's tempting, but I don't want to waste points on a foundation I don't like, and I'm wondering if I really NEED another primer right now.
The retail value of my bag this month without the add-on and without counting the value of the makeup bag is just over $40. (With the value of the lipgloss added in and a dollar for the bag, it's nearly $60.) That's pretty consistent with what I've been seeing over the past few months. This probably isn't my most exciting bag in terms of what I'd like to get, but there are a few things here that will be properly loved.
Ipsy is just $10 per month. If you'd like to sign up, click here to use my referral link.