Yep. The new school year is officially kicking my butt, and I have no clue what I'd do without my critical combination of Google Calendar, YNAB, Google Docs, and Monarch. Thankfully, it's starting to fall into place, and the first FULL week back (last week) wasn't quite so bad. This next week, we get to do science experiments and other cool things, and since I've been focused so much on getting my daughter ahead, we're able to take it a bit easier on days we need to. We're even looking at taking a cruise sometime in mid-September or early October.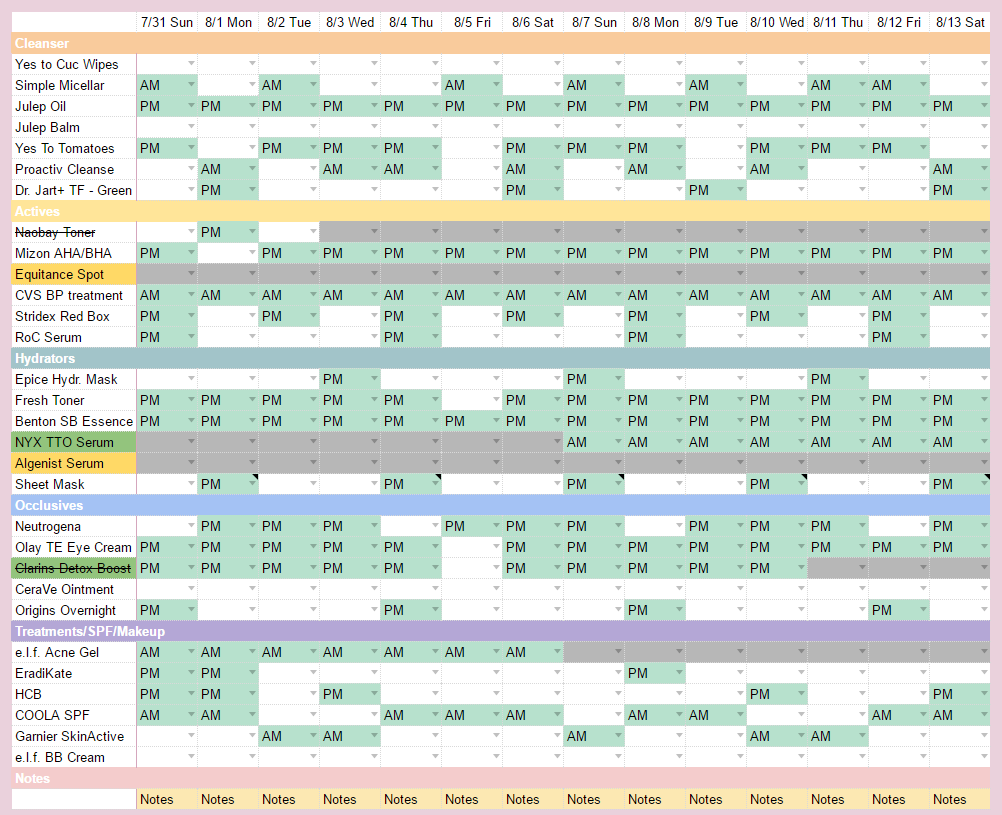 Since I didn't do an update to my diary last week, I'll fill you in on how that week went. It was a little more orderly, as you can see. I did finally use up the last of the Clarins booster, and while I'm sure it'll work splendidly for some, I won't be repurchasing it for myself. It just seemed to make my oily skin oilier, and I didn't notice any real positive benefits of using it.
The NYX serum is one of those things that, two weeks in, is still baffling me a bit. I love, love, love everything that tea tree does for my skin, but I think the Garnier moisturizer had left me a little bit skittish with Dimethicone, which the NYX product also contains. I've not had any issues with clogged pores, mind you, and sometimes I have no issues at all, but the Garnier product did remind me that SOMETIMES it can be a bit temperamental and start pilling if I'm not super duper careful with application and other products I use with it. So far I haven't had any issues with the NYX doing that, so it's really just me being paranoid.
I'm also not sure if I want to wear this over or under my moisturizer/SPF. I haven't really noticed a difference for me in that regard. I feel like the COOLA is thinner, so it benefits a bit more from the NYX going on over it to help seal everything in. The Garnier, meanwhile, is so darn thick that it feels like it should go over the NYX. (Side note: The more I use the Garnier, the more determined I am to never purchase it again once it's been used up.)
I'm having a bit of a "what was I thinking" moment with the NYX more than anything. I don't hate it, but I keep looking at my unopened bottles of LJH Tea Tree 90 Essence and thinking that I'd really rather have that.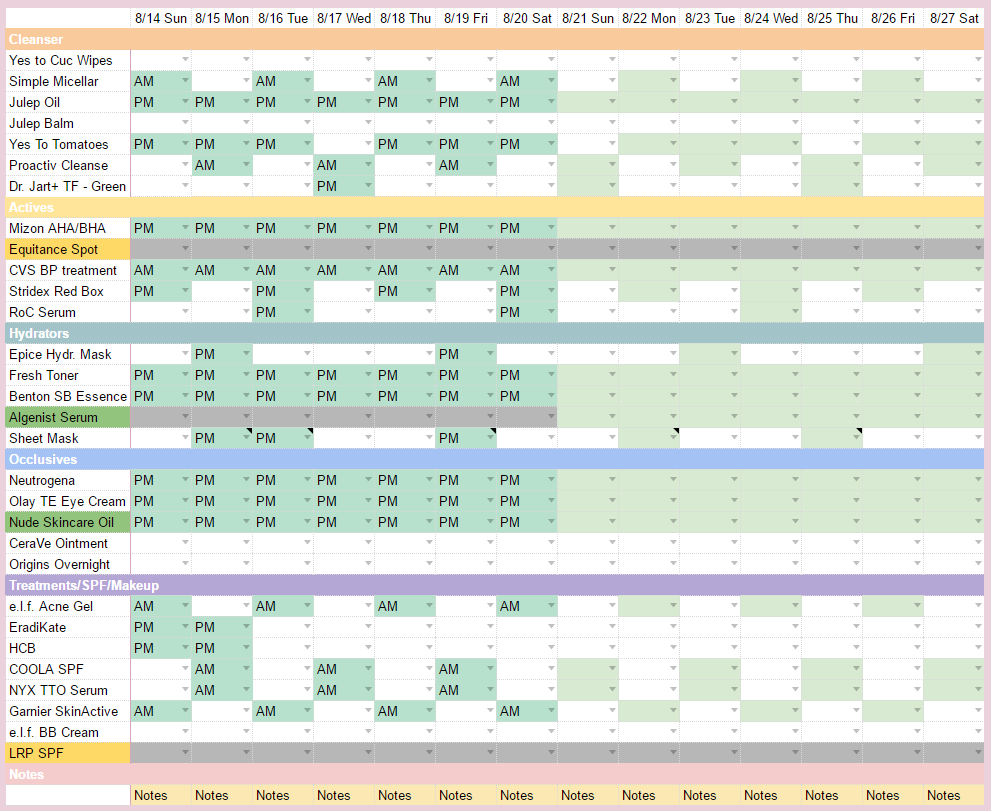 Last week I added facial oil back to my routine in the form of a deluxe sample of NUDE Skincare Progenius Omega Treatment Rescue Oil (currently on sale at Sephora). This is, I think, only the second or third product from NUDE Skincare that I've tried, and I've liked them both very much. I've been mixing this one in with my nightly moisturizer.
The NUDE oil doesn't have the retinol that the Palmer's oil has, so there's nothing I don't want here, but I didn't realize just how much I missed using a facial oil until I went a little while without it. The absence of it was also contributing to waking up with an oil slick on my face. Since I've added an oil back into my routine, I wake up less oily, and while I can't put my finger on it, my skin just overall looks… better, more awake. It's definitely a HG status product. There's probably going to be a cheaper alternative, and I still have a bottle of facial oil from Fresh that I haven't tried, but I think I definitely have some confirmation that including a facial oil in my nightly routine is not optional.
Looking at the week ahead… I've missed having Vitamin C in my routine, and so I really think it's time to add in the Equitance brightening serum & spot corrector that I got in an Allure box a few months back, but it'll wait one more week. I have this Algenist serum that has been hanging around my house for a while, and given its expense I'd like to add that in first, please and thanks. I'll probably alternate it with my Fresh lotion toner since I typically don't need a TON of extra hydration right now. I'll see how it goes.
I'm also going to be adding in more masks and spreading out the ones I'm already wearing a bit better. I'm going to try not to do more than one mask per night unless needed, but on nights when I don't otherwise have a mask I'll be adding a sheet mask as long as I have the time to do it. Why? Because TJ Maxx and Amazon and Big Lots exit, and maaaaasks…
I have issues.