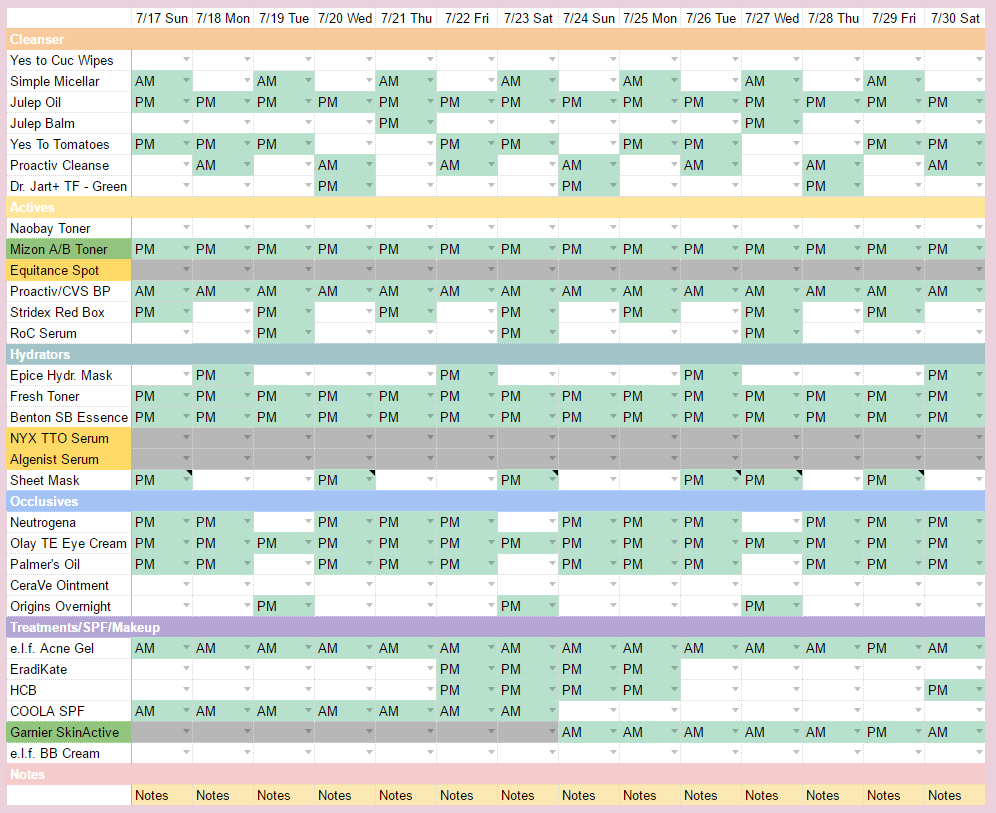 Where has the summer gone?! It doesn't seem like it should be the end of July. I'm sitting here pouring through school curriculum stuff and cleaning up my office (which is utter chaos) and turning it into a more functioning classroom for the 2015-2016 school year… Last year was fine, and I might have even gone a bit overboard out of fear that my kid was behind. (If the placement tests so far are any indication, we'll be starting her 5th grade year with 6th grade math and about halfway through her 5th grade language arts. Whoopsie! Sorry for being a drill sergeant last year, kiddo!)
This year I'm insisting on a more orderly office, and I will post some pictures as soon as boxes are unloaded and everything is in place. We even have new desks in here for the purpose of giving us more storage and function. As to my blogging… I've now got everything mapped out on my calendar, and I have a Sephora bag full of empties to go through and talk about. That should keep me busy for a few days, and yes I really need to get to work on continuing a few series that I started ages ago.
It seems that the one-week testing is working for me and helping me not only get through some stuff I wanted to use up but to also replace things that are running out that I want to replace with other products. Any problems with breakouts are typically detected in the first few days, so a week is more than enough time to make sure things aren't causing any problems, and I'm still keeping an eye on any positive effects over the course of a full four weeks.
I had noticed a little bit of purging after adding the Mizon toner, but that has already cleared up, and I'm really loving this stuff. I'll add a more complete review after I've been using it for a couple more weeks or once I've emptied the bottle. Ditto with the Garnier moisturizer. Both work really well for me, though I won't be repurchasing either– the Mizon toner due to the expense and possible discontinuation and the moisturizer because the silicone in it doesn't mix well with other products I enjoy using. So far, COOLA is winning where daytime moisturizers/SPF are concerned, but there's still a lot on my plate to try out and use up.
You can see I snuck an extra sheet mask in there. That would be one of the manuka honey masks I'm trying to use up. Adding extra bee product on top of my Snail Bee seems to give my healing skin a little extra boost. I might see about adding a propolis product to my routine for that reason, but considering I do have tree allergies, I will absolutely have to be careful with that.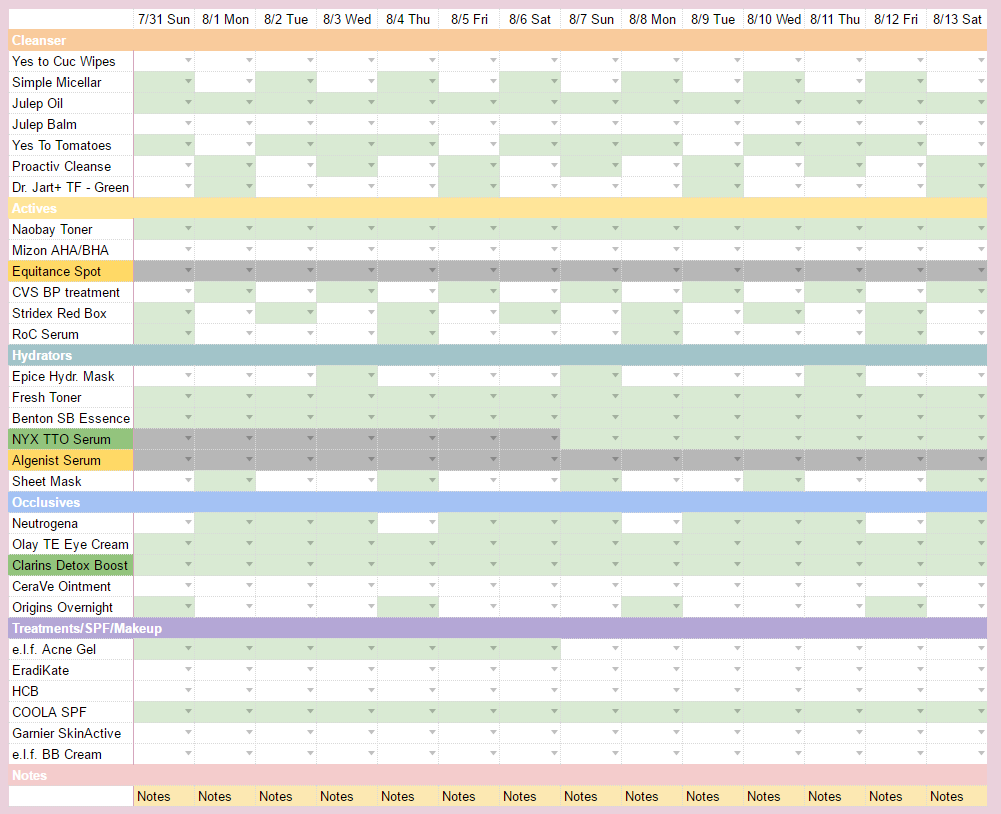 In the coming weeks, I'll be adding a Clarins booster that Influenster sent me to try and review and NYX Balance Skin Elixir as a potential tea tree fix. (I have two jars of the LJH essence, but I bought this first, so it will be tried out and used up first.)
Yes, I switched out the new products from the last two weeks to the old ones. I have a little bit left of each of the, so I really want to go ahead and empty them. You'll also notice a glaring omission. My Palmer's face oil is gone. It was emptied last night. I'm fine without it for now and in fact I've already said I won't repurchase it due to the fact that it contains retinol and I wanted a standalone retinol treatment. We'll see how the Neutrogena works on its own without that extra occlusivity boost. If it's not working for me, I can switch to the Origins overnight mask or add the CeraVe until I'm ready to introduce a new facial oil. How I do in the next week while testing out the Clarins booster will determine if I decide to add that before or after the NYX serum.