Happy Monday, folks! Yes, I know I'm late. The last three weeks have been hectic.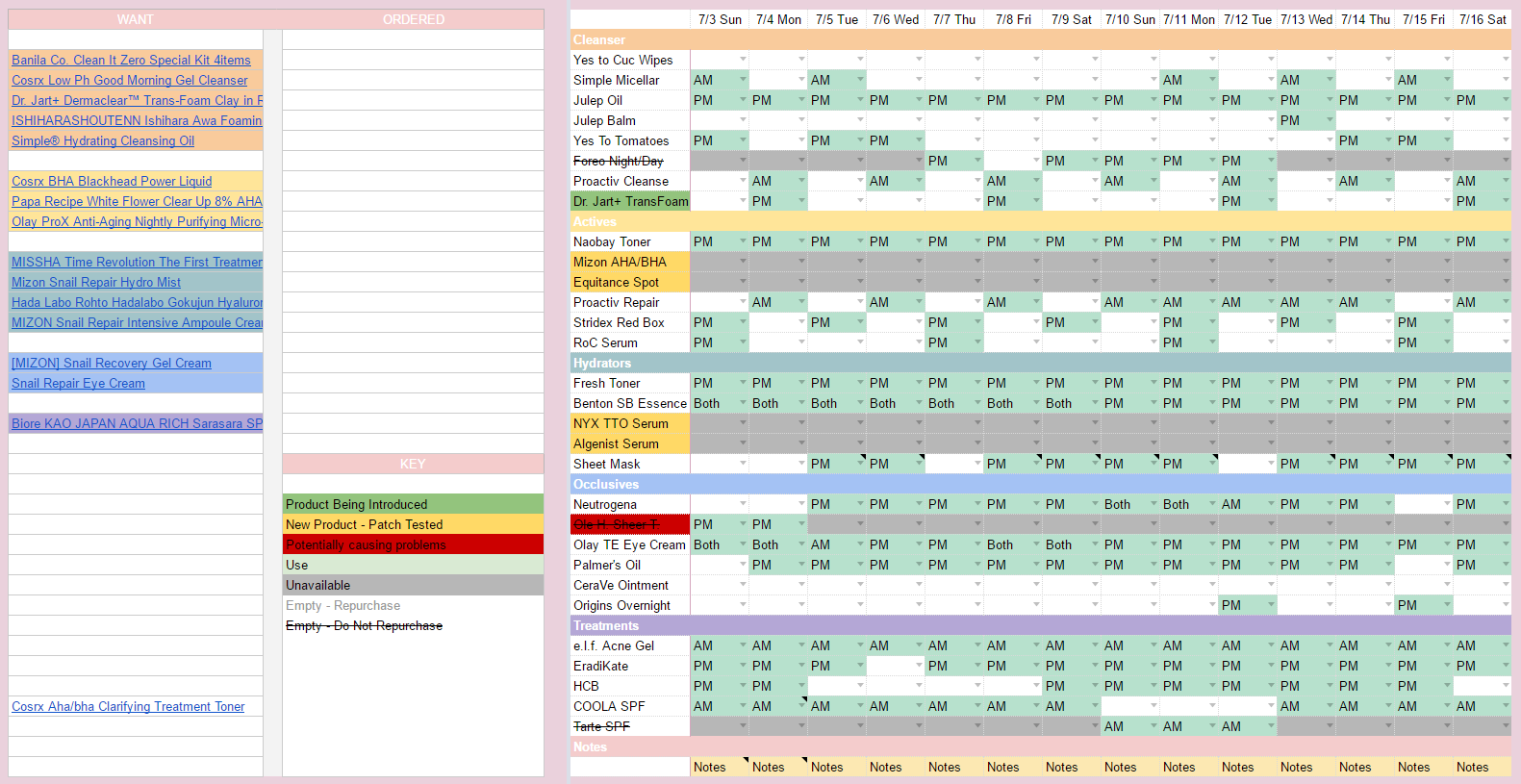 So, these past two weeks, it's been a little chaotic, as you can see. I decided to go back to using the Benton Snail Bee for both morning and night, and I experimented with not using the Fresh toner on a nightly basis. Neither seemed to do for me what I wanted it to, so I went back to my usual: Fresh every night and Snail Bee only at night. That seems to be what makes my skin happiest.
I also had to figure out which of the three most recently introduced products was causing me to break out, and the culprit was a surprise to me. As it turned out, the most recently introduced– the Ole Henriksen Sheer Transformation– was in fact causing the breakouts. I suspect it has something to do with over-exfoliation. I'm already using chemical exfoliants every other day, and I use an exfoliating cleanser the morning after that. (This of course will change once I use up said cleanser. I definitely prefer a foaming cleanser at night and no cleanser or micellar water for mornings.)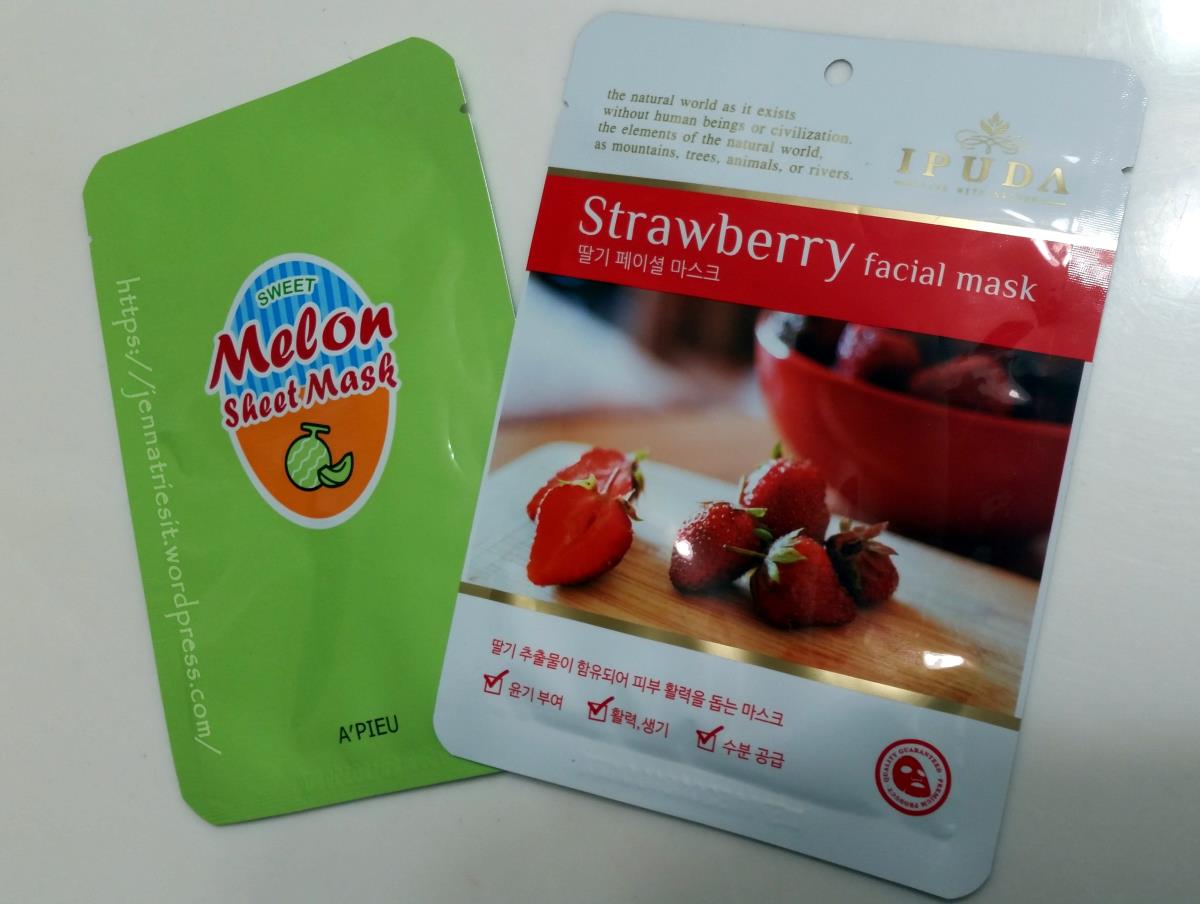 Masks I used…
A'Pieu Melon and Milk Mask (pictured above) – Both of the masks I used this week were received in my Beauteque Mask Maven subscription for June. (I skipped for July while I try out either the Memebox summer pack or a TONYMOLY set but will be resuming for August and September.) This had a pleasant melon scent to it. There were no notches (which I actually like) to adjust it, but despite that I really liked the way it fit.
Ipuda Strawberry Mask (pictured above) – Obviously, I was in a fruity kind of mood this week. Holy cow, this particular mask is hard to pin down! (Thank goodness for curated boxes, eh? My price was around $2 with zero hunting, thanks to that subscription.) That said, I feel like this was a little disappointing. There was a ton of leftover essence, but I was hoping for a strawberry scent that wasn't there, and the material of the mask felt a little cheap. I'd use this mask up if I had it, but I don't think I'd repurchase it.
Épicé International Hydrating Mask – This was in my May Ipsy bag, and I've been using it off and on since. I'm not sure what I think of it. It's definitely a little hydrating, but it doesn't seem to come close to my sheet masks. I'll probably use it a couple of times a week until it's used up, but I won't repurchase.
Dr. Jart+ Dermaclear™ Trans-Foam Clay in Refreshing Green – This is my new clay mask. I actually purchased the trio, which includes white and pink, to decide which one I like best. So far, I'm liking the green. It goes on like any other clay mask and then transforms into a foaming cleanser when you remove it. Very cool, though not as foamy as the Acure mask I loved. That said, I'm liking the effects. My pores definitely feel all fresh and happy after using it. This might be my new clay mask, but I kind of want to try the Boscia pore pudding, too. All in good time, of course.
By Nature Nourishing & Firming Face Mask – I'm a big fan of manuka honey, which I think works well with bee venom to make my skin sing. That said, I'm not a huge fan of these, which I got in a box of five masks in a TJ Maxx haul. They have an overwhelming floral scent, and I definitely prefer something I can leave on and massage into my skin over a wash off mask. They work well, and I'll use them, but I think I'll look for something else with manuka honey for my fix.
Lovemore Wine Yeast Mask – I really enjoy the feel and cling of silk. Very cooling and soothing. Definitely a favorite, but I wish the cutout for the mouth was a tad bigger and that there were slits around the face for a more customized fit. Lots of extra essence for use on neck and chest. I'm glad I've been able to try these Lovemore masks. I'll definitely be purchasing more when I can find them.
Jean Pierre Pearl Mask Sheet – Paper, I think? I'm impressed with how well this fits my face, and it really worked wonders for me, but I can't seem to find it for sale online anywhere.
Daylight and Hue Propolis Mask – This one stinks– literally. I didn't like the smell at all. That said, it worked really well for me, but it's another one I can't seem to find for sale online.
Upcoming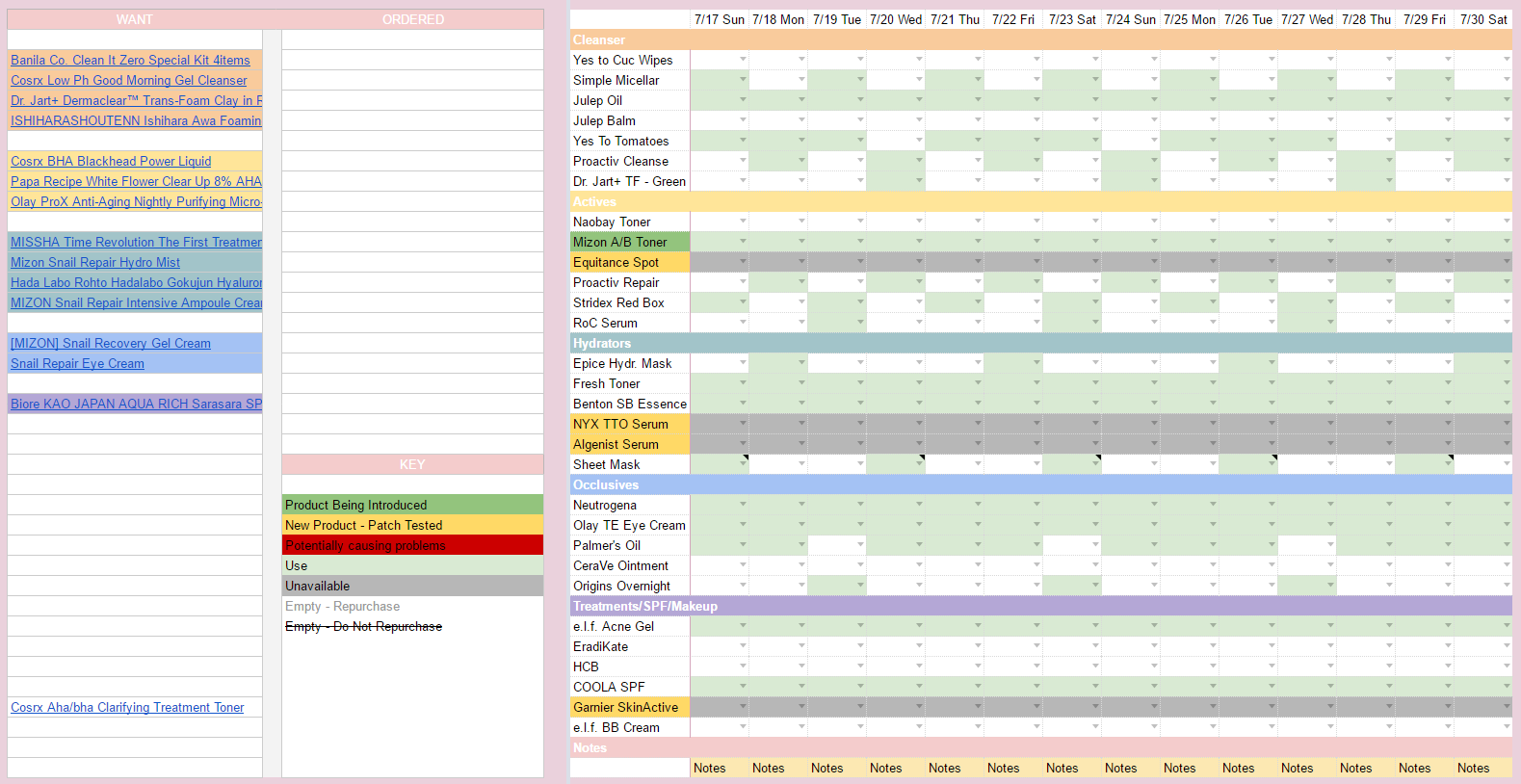 Over the next two weeks I'm introducing two new items– mostly out of necessity. I'm running low on my cleansing toner, so it's time to introduce the Mizon for a good seven days to see how it holds up. Ditto for my e.l.f. acne fighting gel, which is nice for tea tree boost, but I want something for my whole face, so it's time to let it go. I'll be replacing it with the Nyx Tea Tree Oil serum in the next week.
I think I've figured out the basics of how I want this routine to go.
Cleansing
I'm still trying to use up the Proactiv, which is getting the every other morning treatment. I'm really worried that if I try to use it more often I'll over-exfoliate. Otherwise, I like using the Simple micellar water in the mornings.
For nights, I start with my beloved Julep Cleansing Oil, which probably isn't going away anytime soon. I love this stuff, but the new Simple cleansing oil as well as Banila's brand of first cleansers are still on my list of stuff to try. At night that will usually be followed by Yes to Tomatoes until I use it up. The Julep balm cleanser is something I just occasionally reach for if I forgot to bring my Y2T into the shower with me. Otherwise, it'll be used up next. If I'm using the Dr. Jart+ TransFoam clay mask (1-2x per week), that goes in place of a foaming cleanser.
Actives
During the day, I'm using benzoyl peroxide in the mornings followed by the e.l.f. acne fighting gel, which I wear under my moisturizer and sunscreen.
At night, I'm starting with my Mizon toner, of course. I'll look into reintroducing a VitC serum as soon as I have these other items in yellow out of the way, so… Sometime in August, probably. For now, it's just AHA, BHA, and retinol. BHA is every other night, and my AHA/retinol serum follows that 1-2x per week.
Hydration
I'll start with the Epice mask a couple times per week since it's wash off and I don't want to wash off my other hydrators. Once it's used up, it's gone. Otherwise, I'm using the Fresh toner and then Benton's Snail Bee every night. Sheet masks are 2-3x per week bare minimum, though I'll use them more often if I really want to.
Occlusives
At night, this goes one of two ways… If I've used retinol, I'll go with the Origins sleep mask. If I've not used retinol, then I'll use the Neutrogena moisturizer with drops of the Palmer's face oil (which has retinol in it) to seal everything in. I'm also using up some Olay eye creams at the moment.
Sunscreen/Treatments
In the mornings, I'm still loving the COOLA moisturizer with sunscreen. This will soon be replaced by a Garnier moisturizer with sunscreen because I'm almost out and I need to use up the Garnier, but the COOLA will likely be back eventually. I really like it. Alternatively, I really like my e.l.f. BB cream on days when I'm not really going anywhere important but want a touch of coverage.
At night, I use the pink drying lotion and hydrocolloid bandages as needed. I really want to use up this EradiKate and get to trying out the Mizon drying lotion instead. EradiKate isn't really buttering my biscuit these days, but I feel wasteful if I toss it before I've used it up.