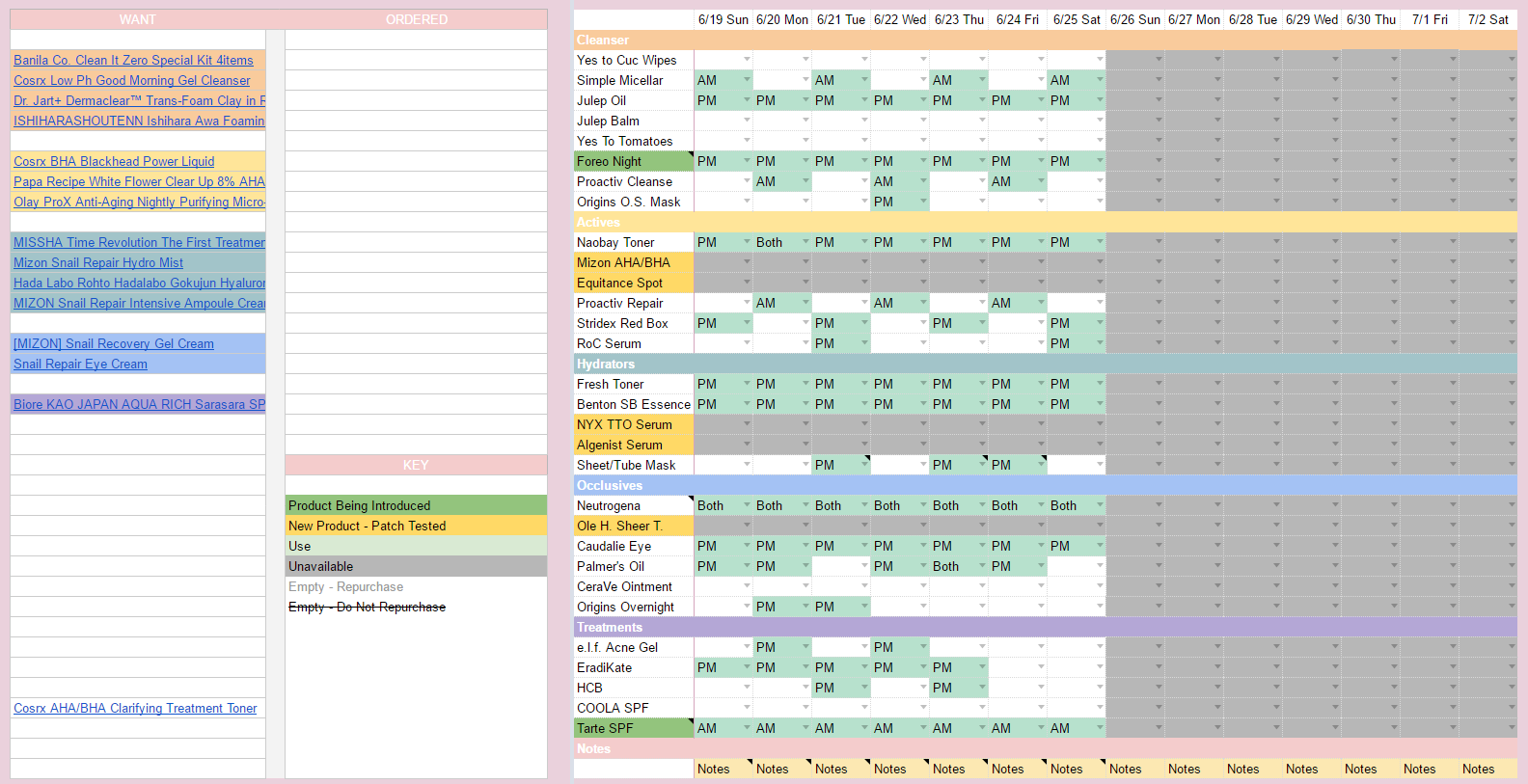 Last week was fairly uninteresting. I've simply introduced a cleanser sample and a sunscreen sample to give them a go and to 1. see if I like them and 2. use them up and clear two more items out of my stash.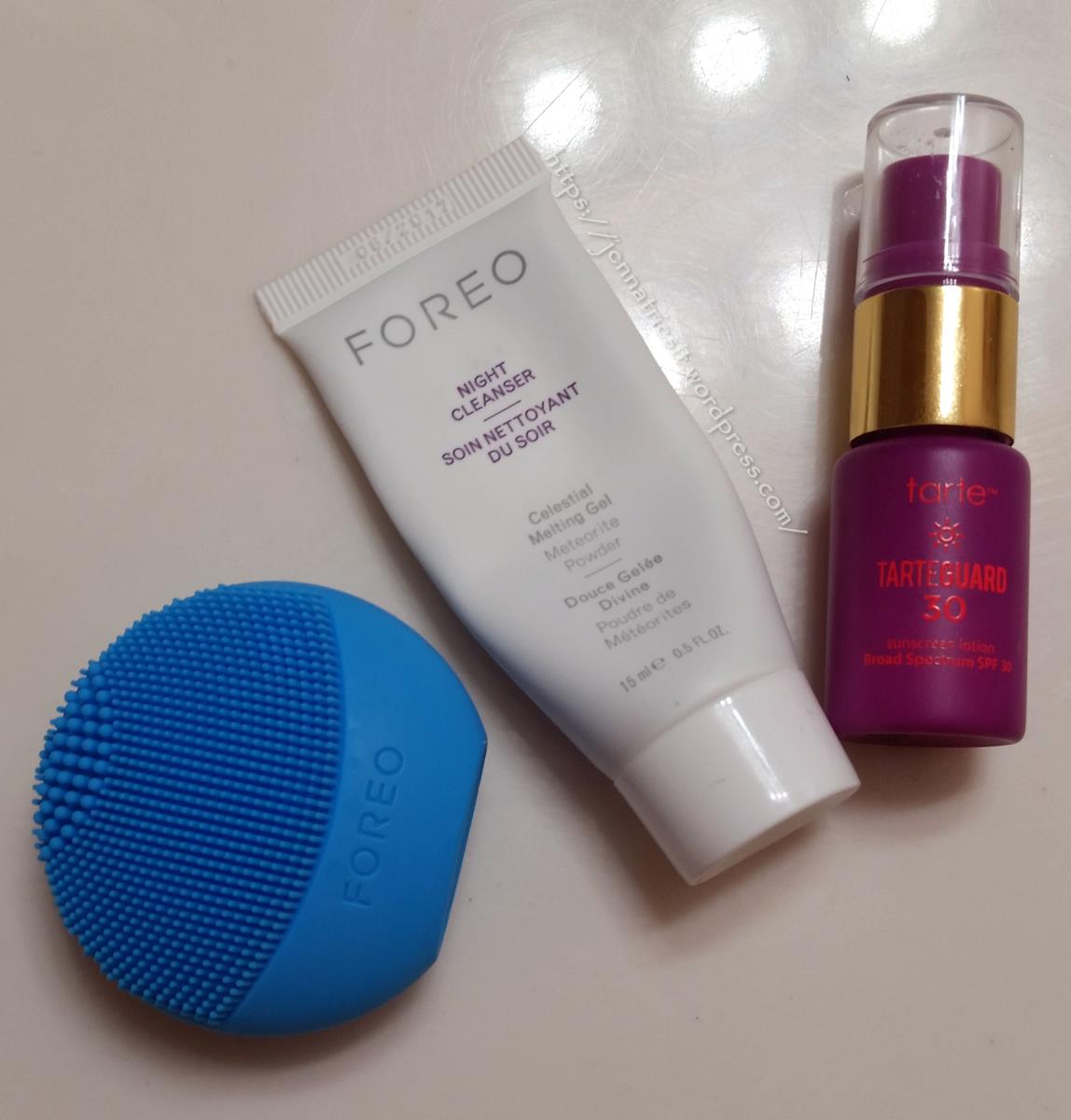 The Foreo Celestial Melting Gel Night Cleanser is one of those things where I'm still not quite sure what I think about it. It's definitely not a foaming cleanser (which I prefer), and while it smells nice I'm not really a fan of this stuff for use with fingers, konjac sponge, or brush. It's definitely designed for use with the Luna brushes, since that's the method that works best with this cleanser. The Foreo Luna Play I got in May's Allure box is okay-ish, and thankfully my face hasn't rebelled against it the way it did with the Clarisonic, but I'm not really all that impressed. I certainly can't say that I feel compelled to get a full sized version, and I just keep waiting for the battery to die on me so that I can repurpose it in my collection as a brush cleaner.
My face does feel nice and smooth after using the brush. I'll give it that much. But I think that's got more to do with the exfoliation from the cleanser. I get very similar results simply from using an exfoliating cleanser, and my pores seem to be responding well to the combination of BHA and AHA. So overall I don't feel like it's worth the money of any additional purchases.
The tarte Tarteguard 30 Sunscreen Lotion is also not going to be repurchased. My first impression was that it smelled nice, and it's absorbed well into my skin and hasn't been irritating. But I have noticed a couple of things over longer use. First off, it does leave a white cast. That's not a big deal for everyday use, but there are simply other sunscreens out there with a much more affordable price point that don't do that. It's also slightly greasy. I didn't notice this when first testing it out, but as I applied it to my face it was easier to see the shine left behind. Again, that's not a big deal on days where I'm less oily, but during the summertime I'm going to be oilier than normal, and there are a lot of good sunscreens out there for a lot cheaper that won't do that. So while I will use this up I won't repurchase it.
I also really hate the pump design. I have to pump several times to get the amount of sunscreen I need for full coverage, so I'd definitely prefer a tube or a pump that delivers more product.
Sheet Masks I used this week were the Leaders Broccoli Superfood Mask, Dr. Morita's Green Tea & Amino Essence Moisturizing Mask, and NO:HJ Manuka Honey Mask. I loved all of these. They were very moisturizing and cooling, clung well to my face, had tons of leftover essence, and the manuka honey mask did a great job of speeding up the healing process for a few acne marks left behind.
I also tried out the Epice hydrating mask that I got in my Ipsy bag last month and was a little surprised at how much I liked it. It goes on like clay, but it doesn't TIGHTEN like clay, and I definitely found it to be a nice hydration bump that I'll probably use in between sheet masks. Unfortunately, I used it before actives instead of after, and the hydration boost was lost during that step, resulting in me still using a sheet mask. Lesson learned. Next time I'll use it either after actives or on a day when I'm not using them.
So here's what I'm looking at for the next two weeks: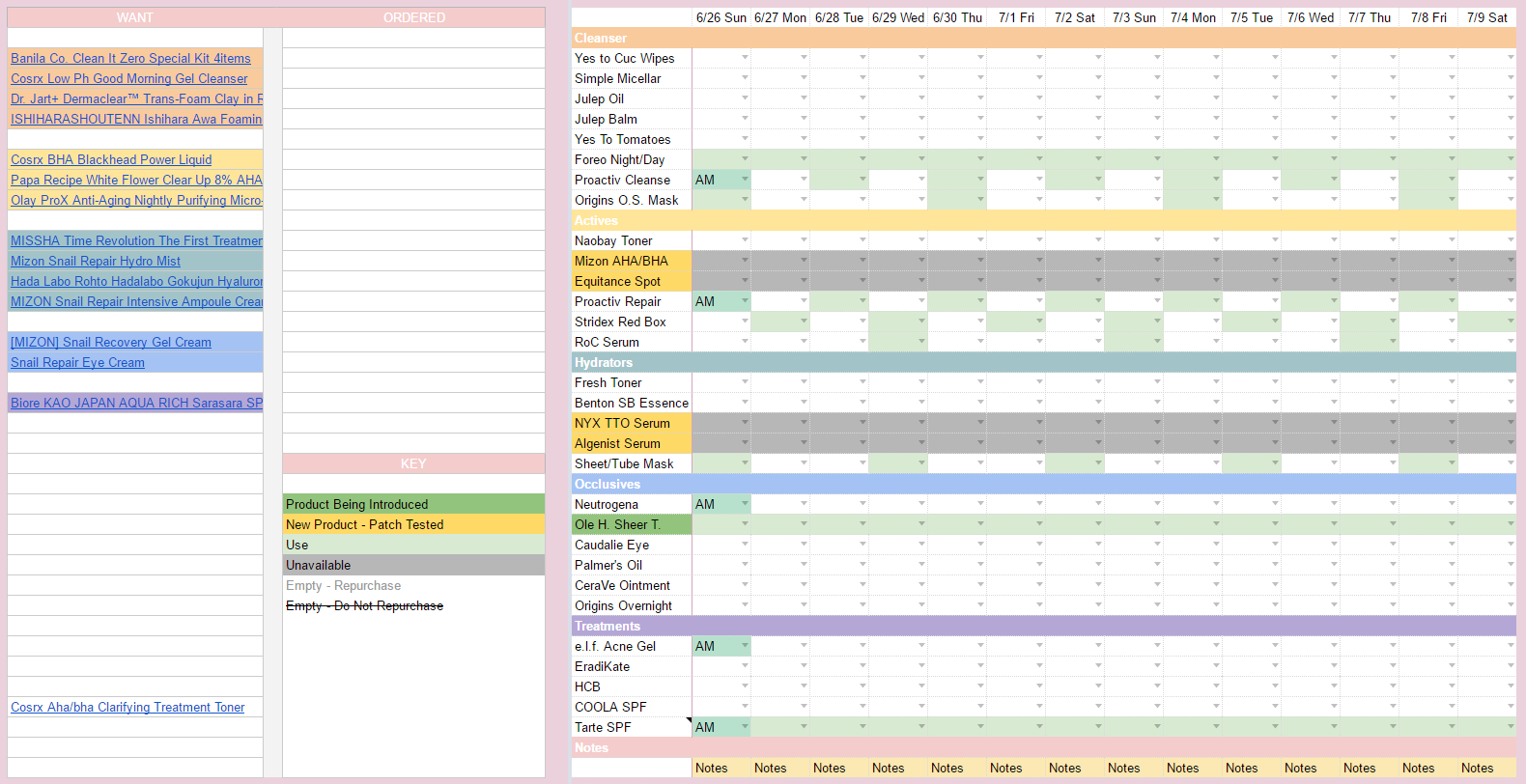 Again, it's a little less exciting than when I was putting together a more solid routine. I feel like I have that now, though not necessarily with the holy grail products I'd keep for various steps. Right now, I'm mostly in the "use it up" phase. I'm still using up the Foreo cleanser and the tarte sunscreen, and those should be gone by the end of this week. The new item I'm introducing is a deluxe sample Ole Henriksen's Sheer Transformation. Now, I've used this before, but I haven't introduced it by itself, so that will at the very least be getting several days to itself as the new kid on the block, and I even expect it'll be used up before the first week is out.
If/when that happens, I'm going to introduce the Mizon AHA/BHA Toner. My Naobay toner is down pretty low, so I'm going to need a backup ready to go soon. This one has an excellent reputation, so I want to give it a try, though I've heard it's being discontinued. If that's true, I'll probably move on to the Cosrx version, but that's a whole bottle of toner down the road from now. Worst case scenario, I like the Naobay toner and can repurchase it.
If I really feel like tossing in another item and I've had at least a week testing out the Mizon, I might try to use up another one of my many sunscreen samples. And of course, the first time I open a new bottle of anything (even products I've already been using), it's patch tested on my arm before it's introduced to my face.