First off… HAPPY FATHER'S DAY!!!
We're grilling out today because that's what the spousal unit wanted to do. I was going to broil steaks, but he wanted to use the new grill, and I feel like grilling ruins a steak, so… burgers it is! (I'll post my recipe tomorrow.) We also got some cheesecake and other goodies because his birthday lands at about this time. He can't decide on a $50 Amazon gift card or an Amazon Fire stick for his "dad cave" television. Meanwhile, my dad is getting a gift card to the Bass Pro Shop, since he's really tough to shop for and probably doesn't need any junk sitting around the house but loves to go fishing and hunting. My father-in-law is getting a mini drone with a camera because he's just as into toys as my husband.
So back to this… My skincare diary was getting a little spammy, so I figured I'd set it up to be a once per week thing instead of a daily thing. Here's how the most recent testing period ended: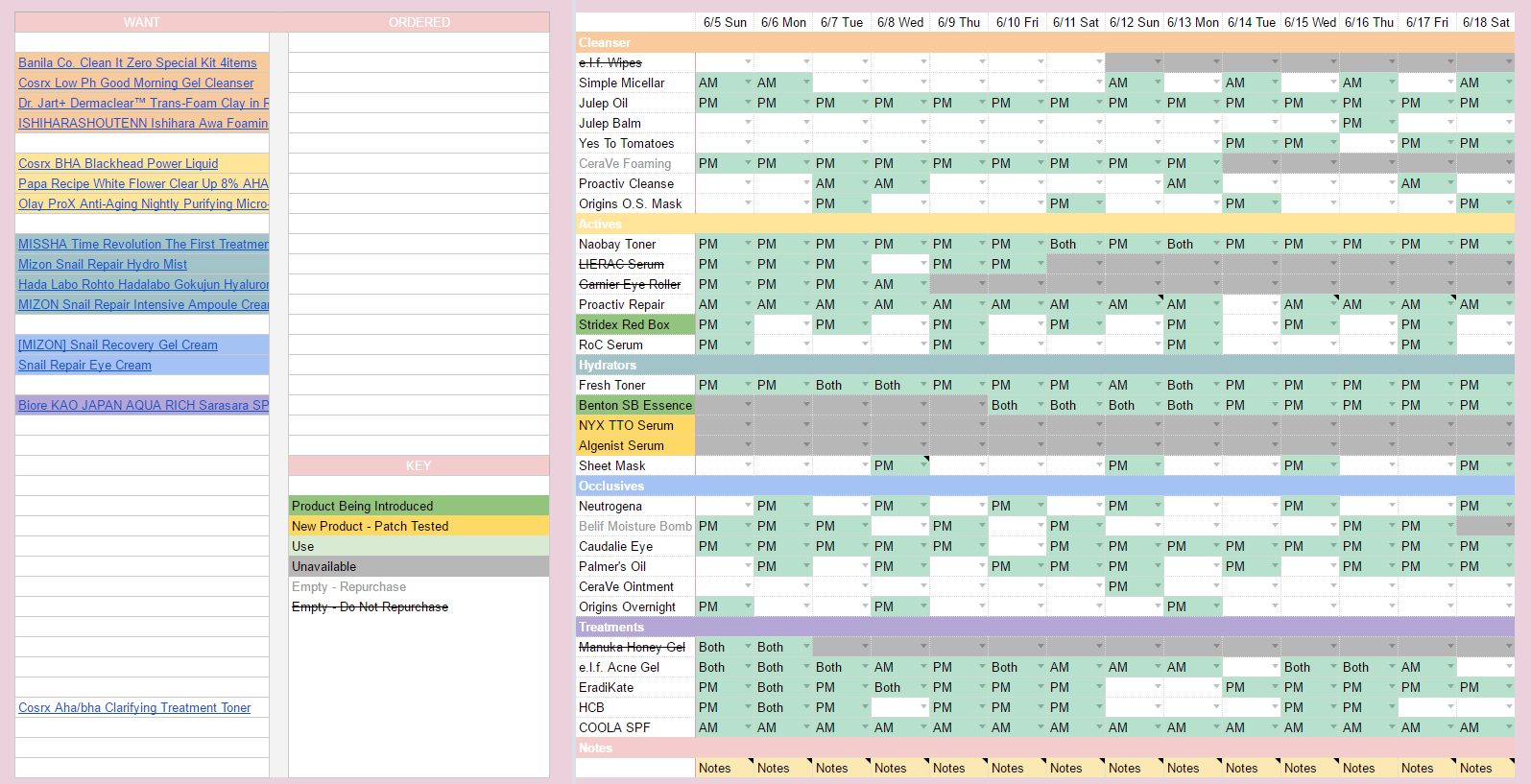 This ended up being a lot messier than intended, but I've set up a planning system going forward that should help better determine what product gets used on what days.
I'm definitely seeing fewer blemishes and really only playing Whack-A-Mole with potentials at the moment, hence the EradiKate useage. The Stridex has really helped clear things up, and I'm happy with it for now, though I really want to try out the CosRX BHA Blackhead Power Liquid to see if a gentler alternative can be just as effective. It's definitely on my wishlist, as you can see.
The Benton Snail Bee Essence is my new comfort blanket. It cleared up the purging acne like a spot-fighting ninja warrior. I needed a new comfort blanket, too, as I finally used up the CeraVe foaming cleanser. That sample lasted me a long time, and it's definitely on my repurchase list.
The Belif Moisture Bomb is also going on my repurchase list– but for winter. It's a little heavy for Alabama's spring/summer weather, but I hear that Belif has an Aqua Bomb moisturizer that's perfect for right about now, so I might be giving it a try later on, but I want to try out the Mizon Snail Recovery Gel Cream first.
Things that were used up and won't be repurchased..
The e.l.f. wipes were good enough, but I honestly can't think of a reason why I need to purchase wipes since my cleansing oil works just as well for a lazy cleanser. I'll use wipes if I get them in a box or something, but I won't be repurchasing them.
The LIERAC Serum was okay, but it's not what I'm looking for in terms of a Vitamin C treatment. I'm actually holding off on Vitamin C for now. There are other concerns I'd much rather address in the meantime.
The Garnier eye roller was also a big miss for me. It didn't seem to do much for me, and in the end it only just annoyed me to have an additional step, so it ended up de-stashed before I even finished using it.
I really liked the manuka honey gel, but with the introduction of the Benton's I feel like it's not really needed. I also have other products with manuka honey in them, so if it's ever repurchased it won't be anytime soon.
Here's what the week going forward looks like: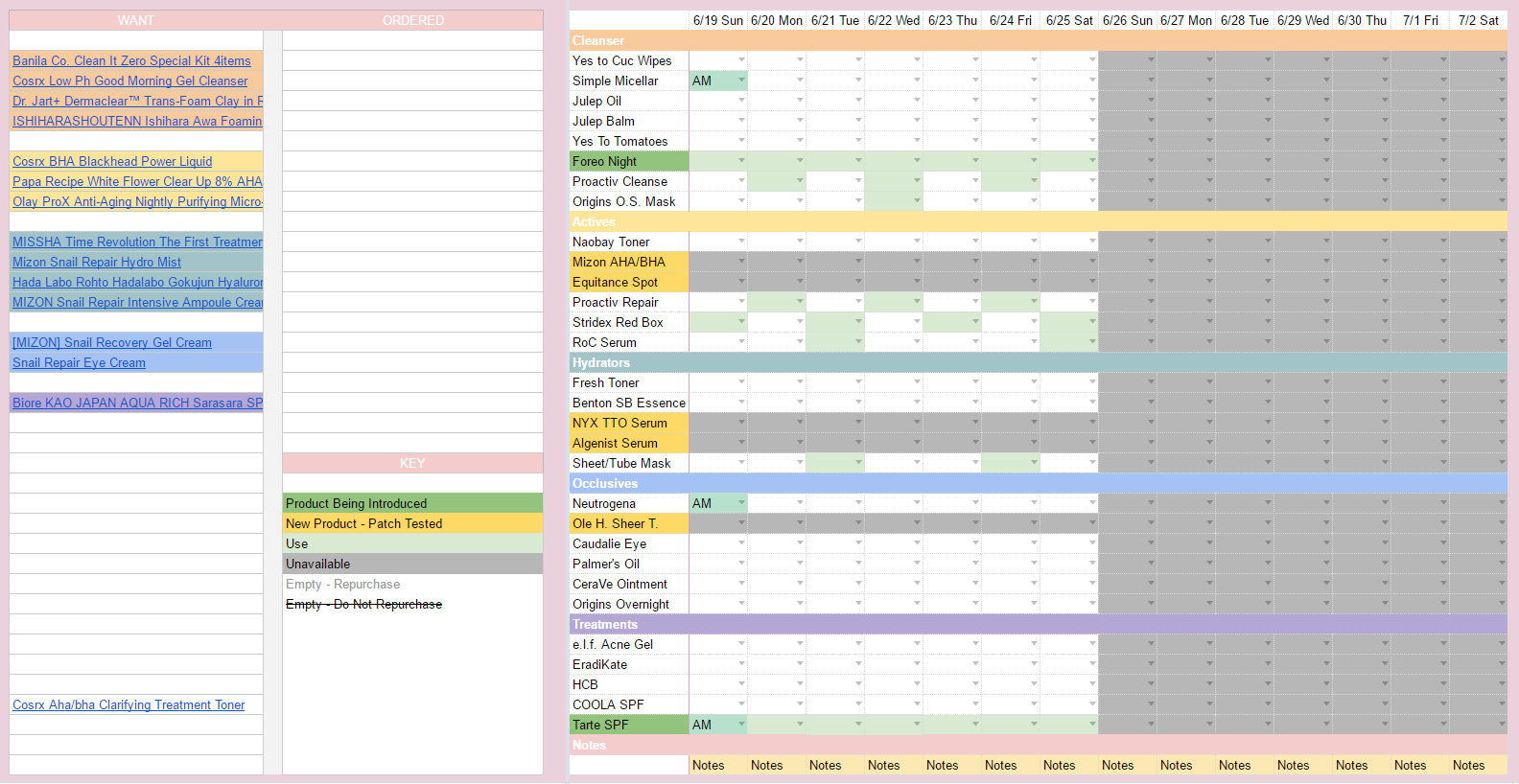 As the key indicates, the light green shows the days where I intend to use a particular product, and you can see there's a little bit more organization to it than in the previous weeks. I'm introducing two new products, the Foreo night cleanser and the Tarte sunscreen, both of which I think I can adequately test out within about a week. I'm mostly introducing these to use up the samples I have, as neither one is really on my repurchase list and won't be added unless I'm significantly wowed. Since the tarte sunscreen isn't a moisturizer, I'll also get the chance to use up that bottle of Neutrogena grapefruit moisturizer, and I have the Ole Heinriksen moisturizer and Mizon toner sitting on the sidelines in case I run out of either moisturizer or toner. Otherwise, one of those two items will be introduced in the next week's testing. I also have an e.l.f. moisturizer that's been tested and used, but it's not listed at the moment.
I'm antsy about the Foreo brush and maybe introducing it alongside the cleanser. I might save that for another week. My skin tends to not like brushes. The one and only time I tried a Clarisonic, it took me several weeks to clear up the breakout that followed. So I'd first like to see if my skin is okay with the cleanser and sunscreen. Then if I have no problems, I'll try it with the brush. This might for that reason turn into a two-week test instead of a one-week test.