Oh, Ipsy! I can't give you up!
This month's theme was "Rebel Rebel," and just look at this adorable bag! I'm just going to jump right in and cover all the fun stuff I got.
Urban Decay
Eyeshadow in Fireball Link
Full Size $19 for 0.05 oz
Sample Size 0.2 grams
Value $2.70
This is the featured item this month. Each subscriber was guaranteed to get one of four shadows, two duochrome shadows from Urban Decay and two matte eyeshadows from The Balm. I got Urban Decay Fireball, which I did not swatch because someone who wanted Fireball but got Lounge (and I wanted Lounge but got Fireball) offered to trade with me before my bag came in. I figured it'd be nice if I didn't run my finger through it before I sent it to her. Both shadows are duochromes, which basically means that you're going to see more than one color. Fireball is a pinky color that looks peachy and gold when the light hits it. Lounge is, well… You know how when you look at peacock feathers and they have all those gorgeous colors? That's what Lounge reminds me of. Depending on how you're looking at it or where the light hits, you might be seeing brown or gold or green or red. This is one of those shades I've been in love with for a while but have been holding off on buying because I have real issues with purchasing eyeshadow singles. (I hate it, but I was just about to grit my teeth and do it anyway.)
Most people reading this have, I assume, tried Urban Decay shadows, so I'm not going to sit here and crow about the quality. It's there. Urban Decay simply kicks ass at eyeshadow. My Naked 2 palette is my baby.
Japonesque
Solid Brush Cleanser Link
Full Size $20 for 2 oz
Sample Size 0.49 oz
Value $4.93
I've been really excited to try this since I saw the spoiler, and I even held off on brush cleaning JUST FOR THIS, though to be honest it doesn't take much for me to procrastinate when it comes to cleaning my brushes. I've been using the Beauty Blender solid cleanser so far, and I like it okay. I definitely prefer using a solid to a liquid cleanser. This one smells really nice, and it's actually a decent amount of product in the sample. This will last me a while.
Here's the Ipsy demo:
There are two things she does in this video that I don't recommend: 1. I don't use warm water to clean my brushes. I use COLD water. 2. I don't tip my brushes UP when rinsing. I tip them DOWN. The reason here is that I don't want to loosen the glue inside the brush that keeps the bristles in place. I get that this is a demo video for a product, but still… I've got my pet peeves to deal with here.
I find that I like this BETTER than the Beauty Blender solid cleanser, and this one is $6 cheaper per ounce. (I still intend to try out the Sephora solid that everyone raves to me about, but now that I have TWO cleansing solids it might be a while. This one is still $4 cheaper per ounce than the Sephora cleanser, so the Sephora one is really going to have to wow me.) The Beauty Blender solid reminds me a lot of a bar of Ivory soap. It even has a similar scent. The Japonesque solid is creamier, more of a balm. You don't remove it from the jar at all, and it has a fresh citrusy smell to it that isn't overpowering. I barely had to swipe my brushes through it, and it was enough to rinse away all the yuckiness. WIN!
VASANTI COSMETICS
Kajal Eyeliner in Black Link
Full Size $19
FULL SIZE
Things like this are why I can't quit Ipsy. I get items that I actually want to try out, and some of them are full size and/or pay for the cost of the subscription all by themselves. Granted, I'm guessing that this is full size. I can't find the size listing for a full size pencil, but Ipsy typically sends full sizes where these are concerned anyway.
I have a terrible time trying to find pencils that will stay put in my waterline. The best one so far has been Urban Decay's regular 24/7 pencil (not to be confused with Urban Decay's pencil from hell with a similar name) with Stila's Smudge Stick coming in a close second. I still typically will have them fade and move on within a few hours no matter what I do. So of course while I'm never really THAT excited about black eyeliners, I was excited to see whether or not this would stay put on my waterline and finally be that holy grail I've been missing in my life.
It wasn't.
Now, rest assured that this wasn't the mess that Lucifer's Waterliner created, but I did have a similar problem with application. It took several passes, and it still wasn't opaque. It did hang around for a bit, but not for nearly as long as the 24/7 pencil, and it didn't look nearly as good. So 24/7 remains my pencil of choice for my waterline. Damn you, Vasanti, for getting my hopes up!
Marc Anthony
Dream Waves Beach Spray Link
Full Size $6.99 for 4.2 oz
Sample Size 1.52 oz
Value $2.53
I don't really use sea salt sprays that much, but my daughter is DEFINITELY using them at the moment. She's likely going to have curls like mine eventually, but right now she has very wavy hair, and sea salt spray really works for her, so anything that keeps me from having to run to the store and grab more sea salt spray is okay by me.
It's about the same as any other sea salt spray, to be honest. I haven't noticed any difference with any brand I've tried, but the coconut scent is nice and my daughter likes it, so this is a win.
Seraphine Botanicals
Happy Hibiscus Blush Link
Full Size $18 for 0.07 oz
FULL SIZE
I'm not really excited about color cosmetics at the moment, but blush is one of those items that I really don't have as much of, so I could use a spare. Hoo boy, is this stuff shimmery and pigmented! I actually applied WAY too much when I tried it out because I'm used to having to use a heavy hand with my Tarte blush. It's not powdery, either, and it stayed put for the few hours I wore it until I took it off. So this was a pleasant surprise. Here's a swatch: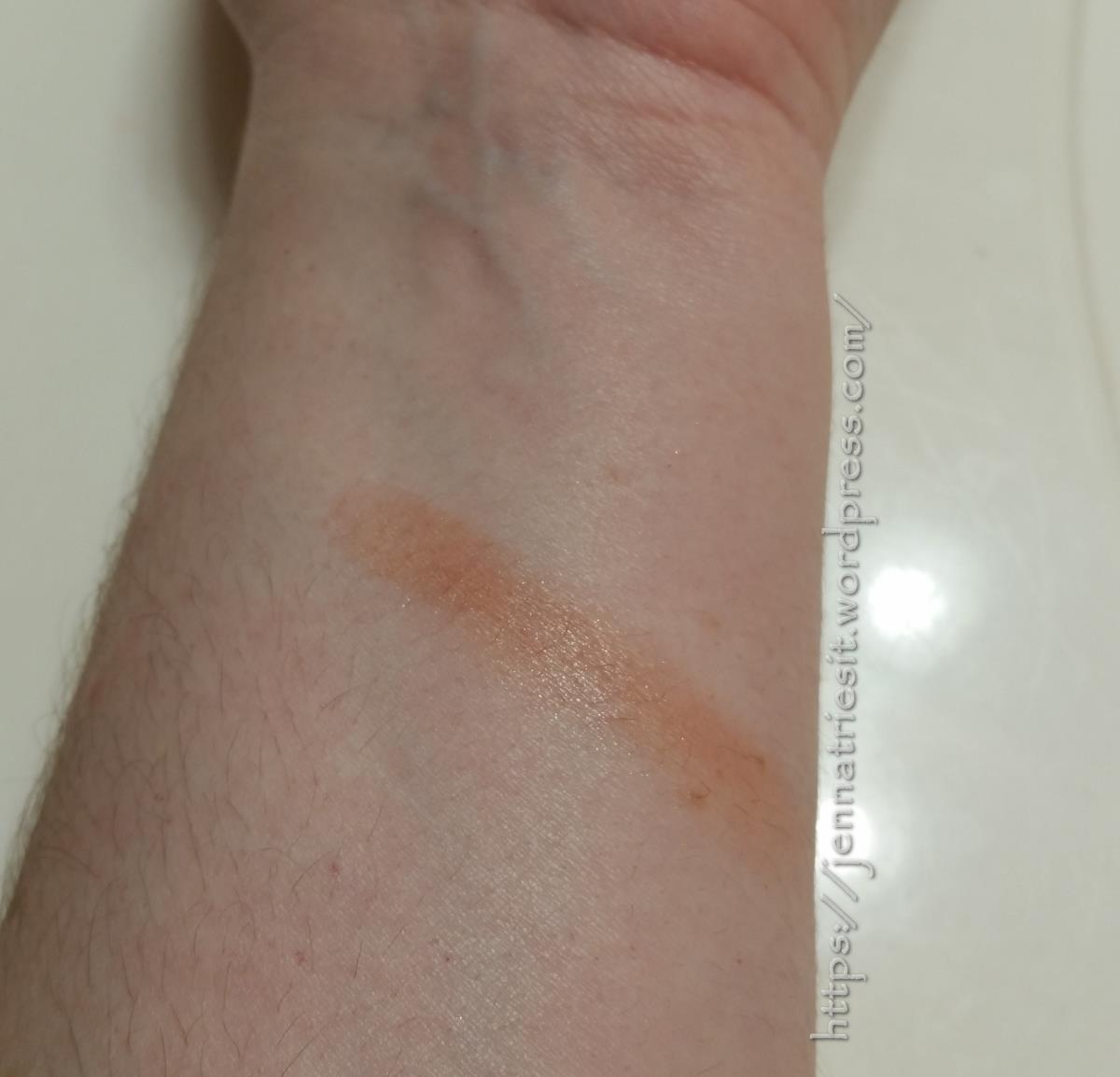 And you know… Looking at that swatch I'm thinking to myself that this could work as an eyeshadow, too. Very pretty!
My bag this month has a total value of $47.15, not counting the price of the bag itself. Believe it or not, this is actually the lowest value bag I've gotten from Ipsy in the past several months, with them usually hitting somewhere in the $60+ range. That said, I absolutely can NOT complain about getting a value of over four times what I paid for, and they really do seem to tailor the bags to my preferences. It's why Ipsy is my current favorite.
Ipsy is just $10/month. If you'd like to sign up, click here to use my referral link.
What are you getting this month?