This was starting to get a little too spammy for my taste, so I decided to turn a daily thing into a weekly thing. I meant to post this yesterday, but yesterday turned out to be a pretty full day. So here's what's been going on…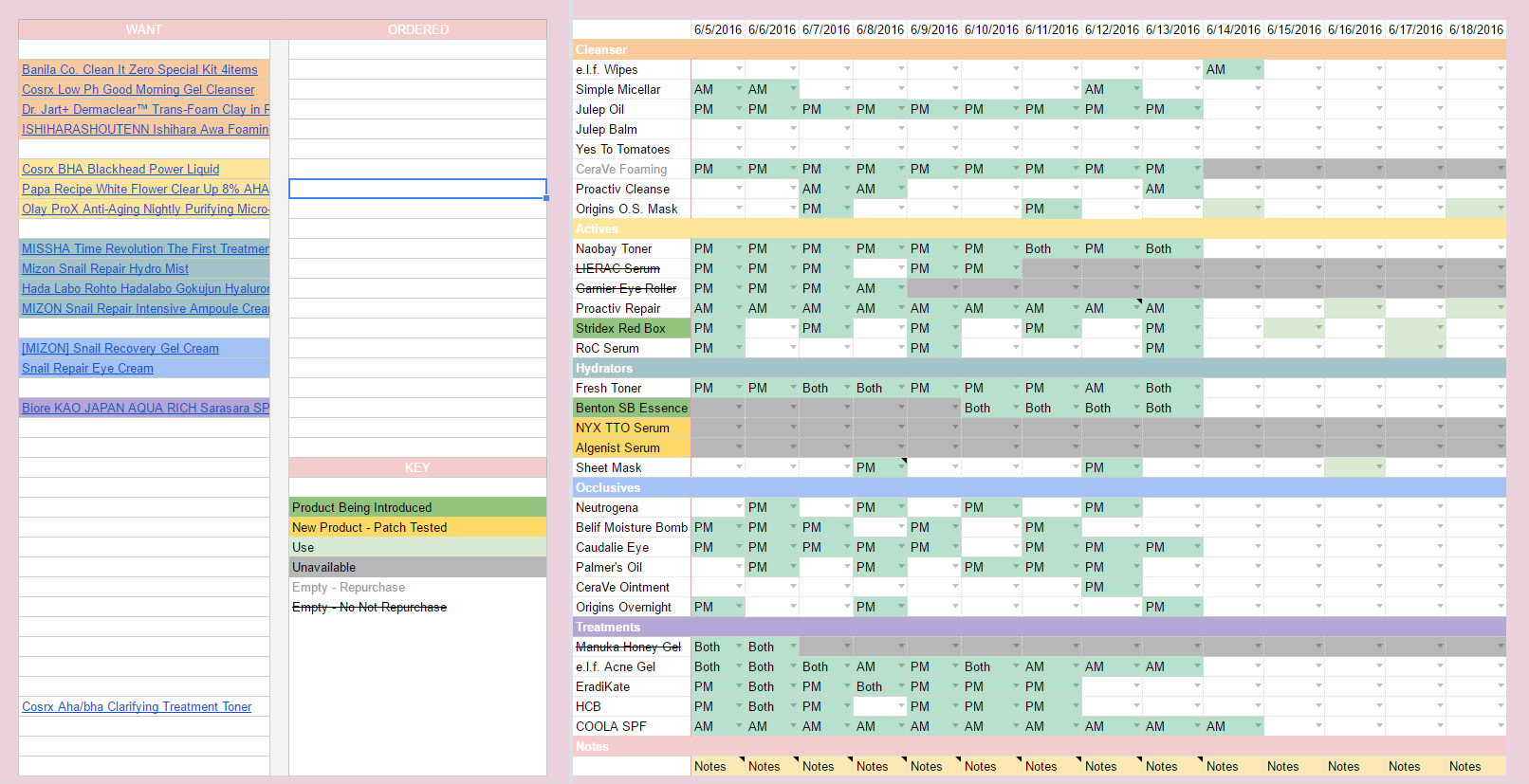 As you can see, I've made a few changes to my spreadsheet. I've corrected the dates at the top for one. I've also added a  shopping list to the side for things I want to try and to remind me if I have any products out there that I'm waiting on to be delivered. I also put in a key that applies to the products in my journal. The color coding to the far left indicates what category each product would fall in after it's ordered. The list and color coding are ideas I took from another spreadsheet I saw pop up on /r/AsianBeauty, though I can't seem to find the specific link. (The spreadsheet also includes tabs with a testing schedule and to keep up with my stash, but those aren't shown here.)
There's not really much new to report. I've fallen into a pretty solid schedule with my BHA/AHA/retinol, using the BHA every other night and using the AHA/retinol serum afterwards twice a week. That seems to have done the trick with my grit, and purging has pretty much stopped at this point. I'm considering eventually upping my BHA useage to nightly, but if I do so I really would rather try a gentler BHA treatment, like the CorsX. We'll see how things progress. Right now, I'm doing fine with every other night.
I did incorporate my Snail Bee essence earlier than I'd intended, mostly to help with the purging. I started out giving it a 48-hour trial after patch testing, and it worked so well that I just kept it in. I've been using it morning and night, but red marks from the purging acne are almost completely gone, so it'll be moved to nights only.
This morning I actually used the Simple Micellar Water Cleanser and not the e.l.f. wipes. (I just realized I clicked on the wrong thing.) The e.l.f. wipes were used up wiping foundation off of the back of my hand, and so now I'm left with the Yes to Cucumber wipes I got in my Target box. They'll likely end up being used up in the same way. I really prefer my Julep cleansing oil as a lazy 1-step cleanser. It requires about the same amount of effort as using a wipe and is kinder to my skin.
I would have and likely could have gone with a water cleanse this morning, but I had some gunk leftover from last night, so I went with the micellar water. Outside of that, I just used my COOLA moisturizer/sunscreen and patted on my beloved Touch in Sol Feel Like Honey Moon. My skin was looking THAT good! And if you'll notice… I haven't had to use a hydrocolloid bandage or my EradiKat spot treatment in two days!
I was feeling a tad dehydrated lately, so I cut the benzoyl peroxide products for a few days. When I start them back, they're officially banished to being used every other morning or less, though I've found that I can't cut it out entirely.
I've finally used up my CeraVe Foaming Facial Cleanser. I'm going to miss it, but it's on my list of things to repurchase once I've worked my way through my cleanser stash. I'll likely use up my Yes to Tomatoes cleanser next and then move on to my Foreo Night Cleanser after next week since its "use by" date indicates it should be used up first. I'm patch testing it on my arm starting tomorrow.