The last two days were a little crazy, and I didn't really feel much like sitting down to put together a post, but here's what you missed, in a nutshell: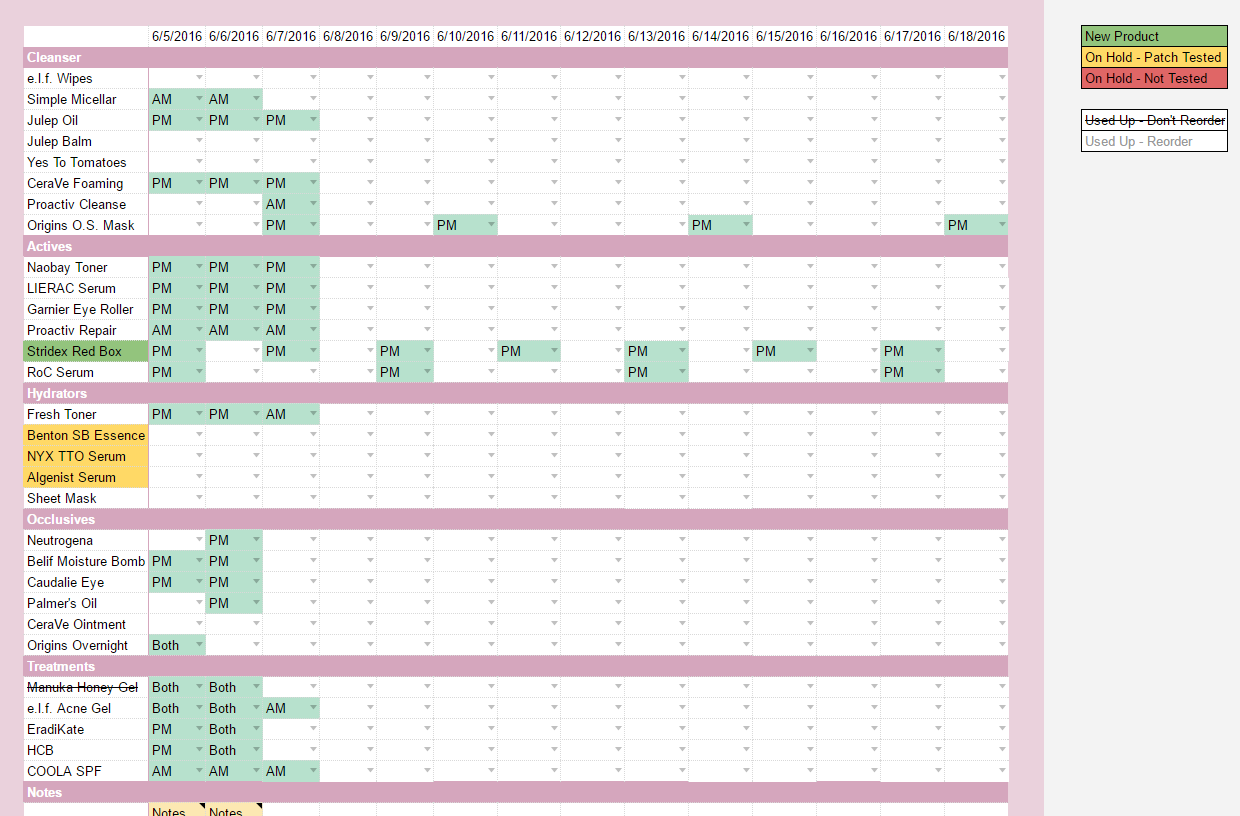 That, folks, is but a single page of my skincare spreadsheet– the "planner" tab. It spans two weeks, the amount of time I'd like to spend with a new product to assess it before introducing another. (I might need more time or less time, but two weeks is a good rule of thumb.)
As you can see, the product I've introduced has been the infamous red box of Stridex, and it's honestly my first attempt at putting a standalone BHA in my routine ahead of my AHA/Retinol serum. In truth, this should have been introduced before the serum, but I was already using the serum when I started all of this.
Boy howdy, it did something! I have to admit that my grit is all but gone and my skin is SMOOTH, save for what can't possibly be mistaken for anything other than a bit of purging. Hopefully that'll clear up soon. I'm getting no real breakouts on most of my forehead, which isn't all that gritty and only really ever sees breakouts around my eyebrows. The rest of my face, which typically would break out one or two painful cystic zits at a time, has had quite a few pop up but come to a head within a matter of hours and drained by the next day as opposed to the usual 3-4 day affair. There's no look or feel of irritation and no redness.
I've used Stridex in the past with no real results and no purging, and I'd say that's likely because in the past I've always slathered it on right after a cleanse with no regard toward my skin's pH and without giving it time to work its magic before I slathered on a moisturizer. Ditto for the RoC serum.
You might notice that I'm showing a few products being used in the future. I promise I don't have a TARDIS. That's me planning out how I'm going to use the Stridex with the RoC serum over the next couple of weeks. According to the box, the Stridex says it can be used up to three times per day. I'm not doing that ever, and I'm certainly not starting out using it three times per day, but I can try it out every other day at night. That said, I'm not planning on following up with the AHA and Retinol every time. I don't want to do any major exfoliation more than a couple of times per week, so I scheduled the serum for every other use of the Stridex. And because I don't want things to get too drying, I scheduled my clay mask for the days after I use the RoC serum. I'll use sheet masks and my overnight mask as needed for hydration, though I have to say… The black tea toner has been a major game changer. My skin no longer feels tight and itchy, and it hasn't been particularly oily.
I also used up all of my manuka honey gel, and I'm sad, but I have an even better product (I hope) that I'll introduce next. My Benton Snail Bee High Content Essence arrived today. I'm patch testing it over the next few days, so it'll be ready to go once I'm done making sure the Stridex is going to work out. My hope is that it'll take over the job the manuka honey gel was doing– aiding in healing my skin after blemishes.
AM
Proactiv Cleanser
Proactiv Repair
Fresh Black Tea Age-Delay Instant Infusion Treatment Toner
e.l.f. Acne Fighting Gel
COOLA Classic Sunscreen Cucumber Moisturizer
The skin felt a little thirsty after the benzoyl peroxide, so I added my hydrating toner to the mix. Again I say, this stuff has been a game changer for me. I've also taken to patting on the e.l.f. gel. The rollerball was annoying the crap out of me, and the tea tree oil formula is a little refreshing, so I've taken to using it more like an essence.
PM
Julep Love Your Bare Face Cleansing Oil
CeraVe Foaming Facial Cleanser
Origins Original Skin Retexturizing Mask with Rose Clay (10 minutes)
Naobay Calming Face Toner
LIERAC Mesolift Serum
Garnier SkinActive Clearly Brighter Anti-Puff Eye Roller (15 minutes)
Stridex Maximum Strength (20 minutes)
Fresh Black Tea Age-Delay Instant Infusion Treatment Toner
Caudalie Premier Cru Eye Cream
Belif The True Cream Moisturizing Bomb
Kate Somerville EradiKate to closed blemishes
Target Hydrocolloid Bandages to open blemishes