Since I've been doing a diary, I figured I'd give you guys a look at what's currently in my skincare wardrobe. Here's a look at all the things currently sitting in my skincare drawer: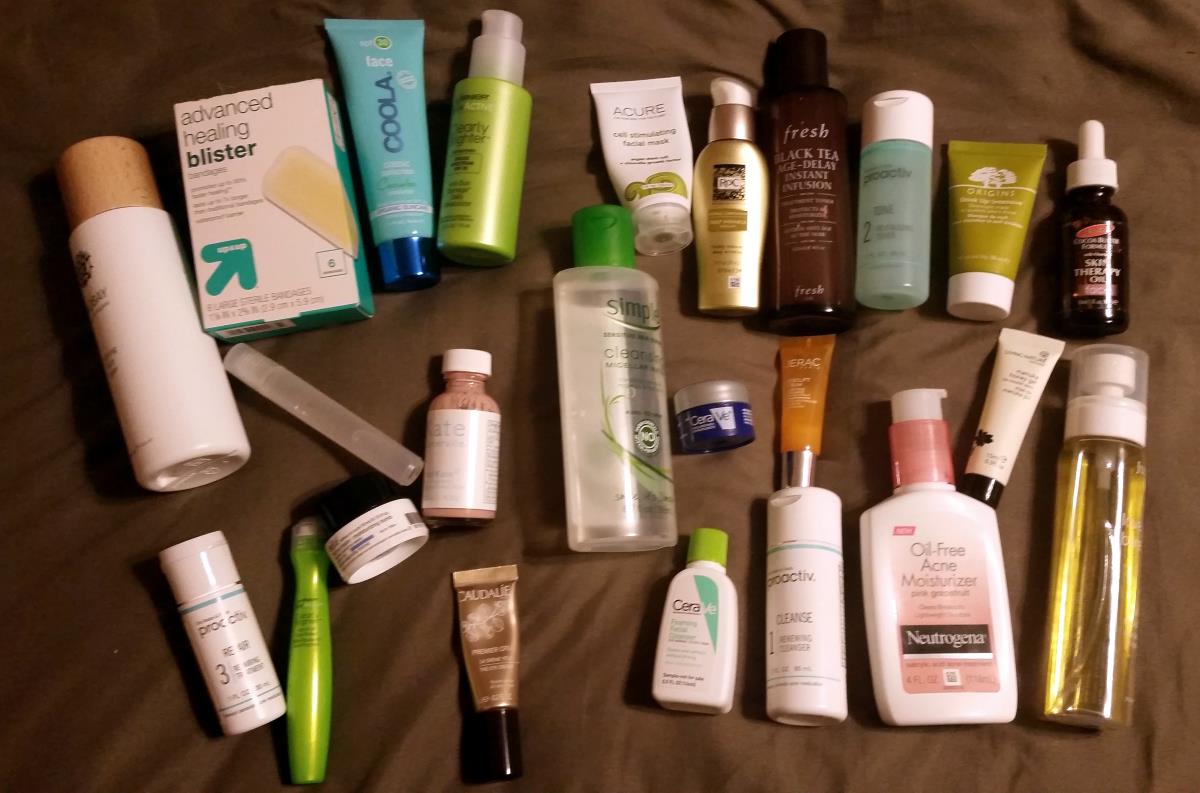 I apologize for the lighting and the blurriness. I literally just dumped everything in the drawer out onto my bed and took a picture, and my bedroom lighting is not the best. This seems like a lot, and there are some that aren't in the picture, but keep in mind that I don't use all of these things at once, and some of them don't get used every day.
Since there's so much to cover, I figured I'd cover the list of things I'm using, things I've got on hold, and things I want to try by category. Since I use them first, I figured I'd start with cleansers.
Current Wardrobe
e.l.f. Hydrating Water Cleansing Cloths
I don't use these very often ever since I heard that they're rough on skin. But I do use them on nights where I've been working late and really don't feel like giving it 100%. They're better than nothing. I tend to keep wipes around if I get them in a box, but I've stopped purchasing them because I have two other items in this category that can also be used as a "f*ck it all" cleanser. Right now, my goal is to just use these up. (Not pictured.) $4 on elfcosmetics.com
Simple Micellar Cleansing Water
This isn't used as often at night as the next cleanser I'll mention, but it's great first thing in the morning if I need a little something more than just water to cleanse my face. This is also a great 1-step cleanser if I'm lazy, but I have to use cotton pads if I have makeup on, so it's not my TRUE "f*ck it all" cleanser. $5.99 at Target
Julep Love Your Bare Face Cleansing Oil
This is my current holy grail in this category. Use 2-3 pumps on a dry face to remove everything, including makeup, and then rinse it off. I don't need any special tools or cotton pads, which is why this is my true "f*ck it all" 1-step cleanser. Usually it's my first cleanser that I use only at night, and I follow up with a second cleanser. $28 on Julep.com or $22.40 for Mavens or $10 in Julep Maven box
Julep Love Your Bare Face Cleansing Balm
This is a second cleanser that I use as an alternative to the CeraVe. I'm not as in love with this as I am the oil, but it's been tested on my face, it works, and I'm using it up. I can't for the life of me get any real foam out of this, even with a konjac sponge, but it has that same pleasant fragrance as the oil, and it's not drying. (Not pictured.) $28 on Julep.com or $22.40 for Mavens or $10 in Julep Maven box
Proactiv Cleanse
This was part of a 3-step kit I purchased, and I'm using it up. Right now, it's only used in the mornings (when I use benzoyl peroxide) and only when I feel like I need a little exfoliation. It can be drying, so I definitely don't use it every day. 1/3 of a $19.95 kit on Proactiv.com
CeraVe Foaming Facial Cleanser
This is just a sample I got in a subscription box, but it's lasted me quite a few uses. I love it because it's gentle and foamy, and by "foamy" I mean FOAMY when used with my konjac sponge. I will probably be repurchasing this once I've made it through most of my cleansers. $9.99 at Target
Acure Organics Cell Stimulating Facial Mask
This is an optional step, since it's a clarifying mask, and I use it in place of a second cleanser. I kinda love this one, and I see it becoming a staple. I use this 1-2 times per week with the occasional 3rd time if I'm really having some grit issues. This stuff is awesomeballs. It gets in and really clears out my pores and then turns into a foaming cleanser as you rinse it off. I will probably repurchase this. $9.99 at Target
Stashed Away
Yes To Tomatoes Liquid Deep Cleaning Facial Cleanser
I got this full size in an Allure Beauty Thrills box back in November/December. It's been patch tested and tried out, so it's good to go just as soon as I empty one of the cleansers above. It'll go in with my other second cleansers. $9.99 at Target
Foreo Night Cleanser
This is a trial size I got in my Allure Beauty Box in May. This has not yet been patch tested, but it will replace a second cleanser. $35.95 from Birchbox
Vasanti Brighten Up!
This came full size with a skincare kit I purchased with reward points from Birchbox. It's an exfoliating cleanser, so I doubt I'll use it every day. I've already patch tested it, so it's ready to toss into my wardrobe when needed. $34 from Birchbox
Biore Baking Soda Pore Cleanser
I'm just a tad uneasy about this one, considering it's a baking soda cleanser, but I've tested it a few times and it appears to have a pH of around 5.5. so… We'll see. I've patch tested it, and I've not reacted badly to it. $6.49 from Target
PTR Rose Stem Cell Bio-Repair Cleansing Gel
This was a trial size in a Sephora Favorites ("Power of the Petal") set and appears to be a nice foaming cleanser. This is one I'm definitely looking forward to using in place of the CeraVe, as soon as it's been patch tested and pH tested. $38 from Sephora
Foreo Day Cleanser
Like the night cleanser, this was a trial size that came in my May Allure Beauty box. It hasn't been patch tested, but once it has been it'll be a second cleanser. $29.95 from Birchbox
Wish List
Banila Co. Clean It Zero
This would be a first cleanser, and while I'm not sure which flavor I would like the most, there's a four-piece kit that I can grab to try all of them. $17.45 on Amazon
Cosrx Low Ph Good Morning Gel Cleanser
This is a second cleanser and one that I see people raving over a lot. I'd love to give it a try. Starting at $9.30 on Amazon