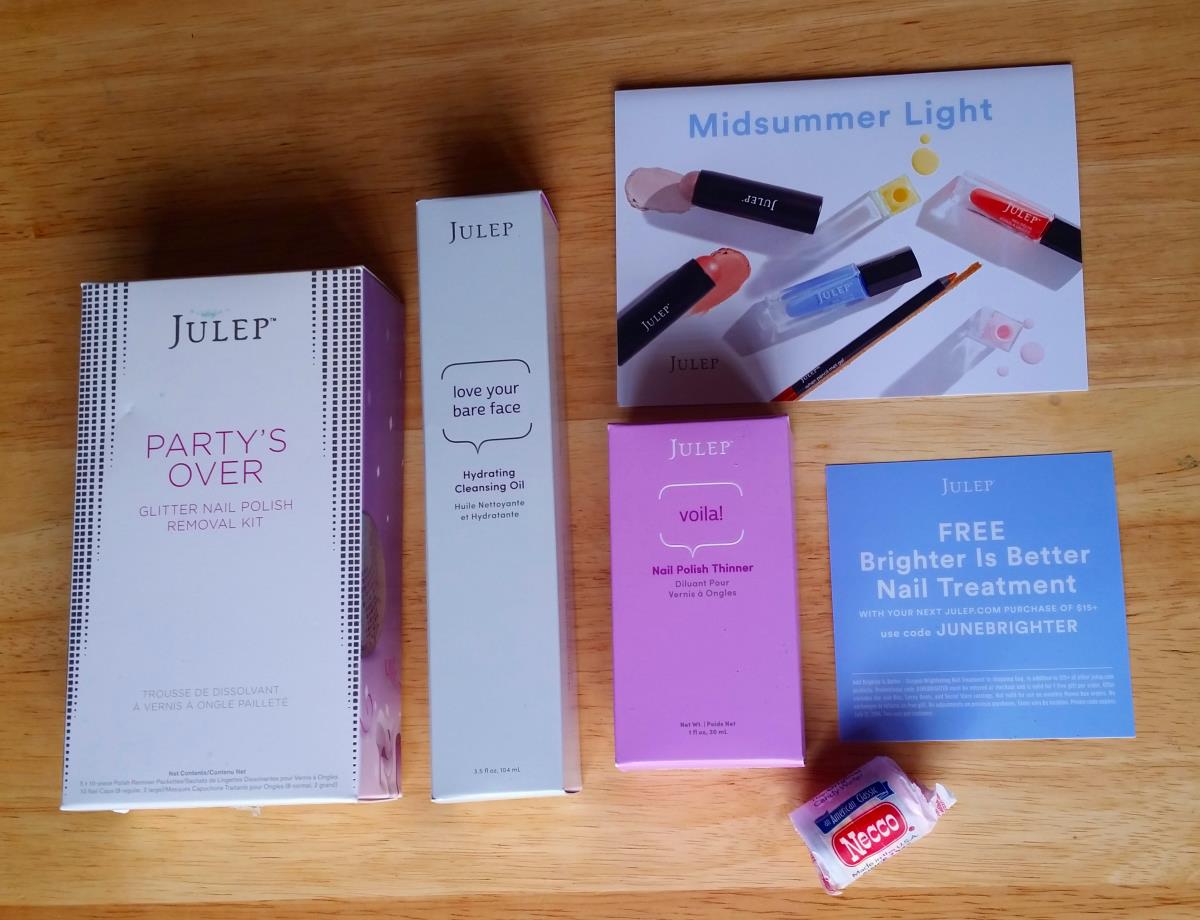 Julep Maven is a subscription box where every month you have the opportunity to receive $40 in items from Julep, including and especially from their newest releases. You might be familiar with Julep as a company that makes nail polish, but they've become so much more, expanding into cosmetics and skincare. You can pay per box at $24.99/box or take the prepaid route (my personal favorite) and buy three boxes at a time for $19.99/box. There's also a six box pre-purchase option for $16.66/box. Even with the prepaid option, you are not obligated to get a box every single month. You can skip boxes or even gift them to friends– which is a good option for any box subscription to have. You can also customize your box pretty much any way you like (from a long list of cosmetics, nail products, tools, accessories, and skincare) as long as the items you want are available to choose from that month.
I've been subscribed to Julep for a while now, and I certainly have my favorites. I just haven't really done a post on them in months because I typically won't get their featured item for that month. Lately I've been opting to get a box when I need to order more top coat, base coat, or cleansing oil, and posting a review every time I get them is redundant.
The featured item this month was four new shades of Julep's cheek colors. I liked the look of them, but I'm full up on cosmetics at the moment, so I swapped them out of my box. Here's what I DID get.
Love Your Bare Face
Age-Defying Cleansing Oil
$28 for 3.5 oz (or $22.40 Maven)
Link
This is my current holy grail oil cleanser. I love it. I've been using the same bottle since about February, and I still have about 1/3 of it left, so this backup might not be opened for a while. I use 2-3 pumps and massage into my face and neck while the skin is still dry. It takes off EVERYTHING, including makeup and sunscreen, and it rinses clean with a few splashes of water. It also smells citrusy and fresh, which I love. Now, lately I've been following through with a second cleanser, but it does make a good single cleanser if I'm lazy. And considering how long it lasts it's a pretty good bargain, especially since this is 1/2 of a $20 box, bringing the actual cost of this down to a mere $10. I had the opportunity to put two of these in my box, but there's another item that I don't have but have been meaning to get…
Party's Over Glitter Nail Polish Removal Kit
$28 (or $22.40 Maven)
Link
If you're not familiar with one of the most popular ways to remove glitter nail polish, let me catch you up:
This does work, and it's been my method for ages, though I know there are some newer products on the market that are supposed to work really well with glitter polish. This kit follows the same concept, except it saves me from having to cut out foil squares. I don't really care one way or the other for the remover wipes, but those reusable caps… Oh yeah!
Voila!
Nail Polish Thinner
$14 for 1 oz (or $11.20 Maven)
Link
I got this as an addon, since I had some Jules (Julep's version of rewards points) to burn. This was a new product this month that you add to your older polishes when they get thick and gunky. I've had a couple that have gotten in that condition, and I'm not quite done with them. My top coats are bad about doing it, in particular. Hopefully this will be a big help.
That's $70 of product ($56 Maven) for $20, when adding in the reward points item! (It's $56, or $44.80 for Mavens, without it.) Not bad. As long as I'm getting Julep products, I'll continue to subscribe. This is, to me, the best way to get Julep products if you're a fan or even if you just want to give them a try.
As per usual, Julep included a piece of candy, though I'm not really into Necco wafers, so my daughter snagged that. I also got a card with a coupon code (JUNEBRIGHTER) for a free nail treatment with my next purchase of $15 or more and expires on July 31.
If you'd like to subscribe to Julep Maven, you can do so by clicking on my referral link here. Right now, if you use the code FIREWORKS at checkout, you'll get a free Star Spangled 8-piece welcome box with "four patriotic polishes, a hot pink lip gloss, a peony pink blush stick, a bronze eyeliner, and white chevron nail decals" valued at $122.