Just in time for Father's Day, this month will include a box for men as well as the usual box of women's beauty products. Both boxes are on sale now. The women's box is $10, and the men's is priced at $5. You can find them by following this link. These both ship free, and if you got last month's box and still have the coupon that was included, you can use your $3 off coupon on the purchase of both boxes (or one box and enough extras to bring your total to $15), and it will absolutely stack with your 5% discount if you have a Target Red Card. 
Here's what you'll find in each one, as per the photo and description:
The Women's Box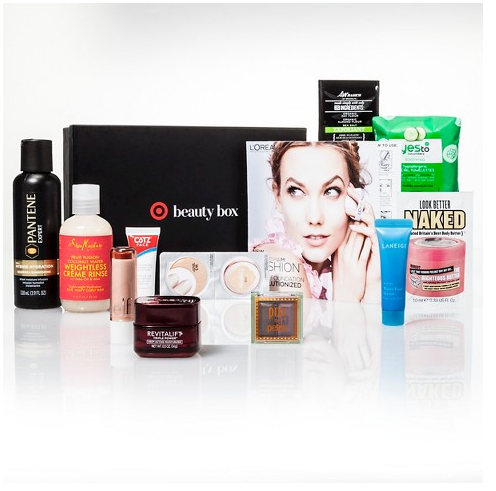 Pixi Mesmerizing Mineral Palette – Looks like you'll be getting two shades.
Laneige Water Bank Serum – I've started adoring all things Laneige, so I'm looking forward to trying this. They're usually good sized samples, too, though trial size. This looks like a 0.3 oz sample, so (considering it's a serum) probably good for a few uses.
Soap & Glory The Righteous Butter™ Body Butter – Foil packet.
L'Oréal® Paris True Match Lumi Cushion™ Foundation – I really want to try this one out, and I know a lot of you do, too. These typically come in a sample just big enough for one use with a few different shade options, though obviously I can't guarantee that's what this is. It looks like my W3 shade is included, though.
L'Oreal® Paris Revitalift Volume Filler Daily Re – Volumizing Moisturizer Cream – This looks like maybe a travel size, though at half an ounce, this is nearly a third of a full size 1.7 oz. Not bad.
S.W. Basics Exfoliant – Foil packet. I wasn't a huge fan the first time I tried it, but I'll give it another go.
Pantene Expert Intense Hydration Shampoo – 3.9 oz travel size.
Yes To Cucumbers Face Cleanser Towelettes – Might be full size. The picture makes it hard to tell. Target has included a full size of cleansing cloths before.
CoTZ® Face Natural SPF 40 – Trial size. Looks like it might be a 10g sample. It's hard to read, but if that's the case, it's officially twice the size of the sample I already got this month, so it should be good for a few uses.
e.l.f. Tinted Lip Balm – Full size.
SheaMoisture® Fruit Fusion Coconut Weightless Creme Rinse – Looks like a hefty 3.2 oz travel size. I'm a huge fan of all things SheaMoisture in my hair.
The Men's Box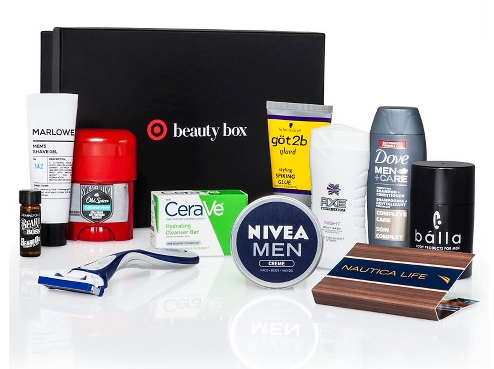 Dove Men+Care Fresh and Clean 2 in 1 Shampoo and Conditioner – Travel size.
AXE White Label Night Body Wash – Travel size.
göt2b Glued Styling Spiking Glue – Travel size.
CeraVe Hydrating Cleanser Bar – Travel size. The picture here really makes it hard to tell. There's a small chance this is full size.
Schick Hydro 5 Men's Razor – This is almost guaranteed to be full size.
Balla for Men – Travel size.
Remington Beard Boss Beard Oil – The sample looks tiny, but it's an oil, so it might be good for several uses.
Marlowe No.142 Men's Shave Gel – Travel size.
Old Spice Hardest Working Collection Sweat Defense Pure Sport Plus Antiperspirant – Travel size.
NIVEA Men Crème – Travel size, I think.
Nautica Ginger Eau De Toilette – Sample.
As always, if you're thinking of grabbing one, don't wait. These are extremely popular and tend to sell out within a few hours of posting.