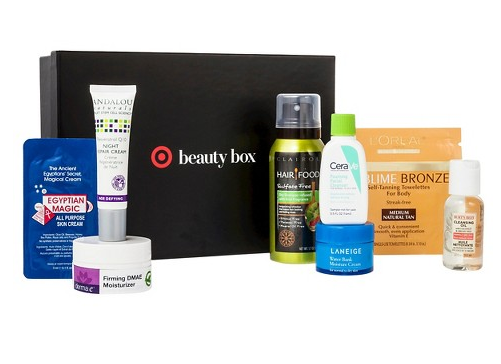 Don't wait if you want one. Grab it now. These things sell out within hours of being posted. This one is listed for $10 with a value of $47. Here's a list of everything in it, as listed on the Target website:
L'Oréal Paris Colour Riche Le Matte Lip Pen
The newest format in lip color, this sleek, sophisticated pen gives your lips rich color that glides on effortlessly in one precise stroke.
Hair Food Sulfate-Free Kiwi Dry Shampoo
A lightweight, sulfate-free hair refresher that absorbs excess oils and transforms oily hair into fresh hair.
Laneige Water Bank Moisture Cream
Infused with 6 skin-perfecting essential minerals, this moisturizing cream restores and strengthens your skin, and retains moisture for up to 24 hours.
Andalou Naturals Age-Defying Resveratrol Q10 Night Repair Cream
This rich cream combines a potent mix of antioxidants that improve skin's texture and diminish fine lines and wrinkles overnight.
CeraVe Foaming Facial Cleanser
A ceramide-rich cleanser that balances and replenishes skin in one easy step while helping restore and maintain the skin's natural protective function.
Burt's Bees Facial Cleansing Oil
Delivering luxuriously clean, healthy-looking skin without oily residue, this gentle facial cleanser gently dissolves dirt and makeup without stripping the skin.
Egyptian Magic All-Purpose Skin Cream
A healing skincare cream with powerful moisturizing and nourishing properties thanks to its unique mixture of all-natural ingredients.
Derma e 0.5 oz Firming DMAE Moisturizer with Alpha Lipoic and C-Ester
Rich in moisture and nutrients, this nourishing cream visibly firms, lifts and smoothes skin. 100% vegan and cruelty-free.
L'Oreal Paris Sublime Bronze Body Towelettes
Convenient and easy to use, these tanning towelettes create a streak-free, natural-looking tan. Perfect for at home or on the go.
If you're wondering what size you might be getting for any of these, the picture on the site (which I included above) is usually a good indicator of what to expect. Hair Food and Laneige are personal favorites, and I've been dying to try out the Burt's Bees cleansing oil. After a couple months of skipping on these, I'm getting one this time. Are you getting one?