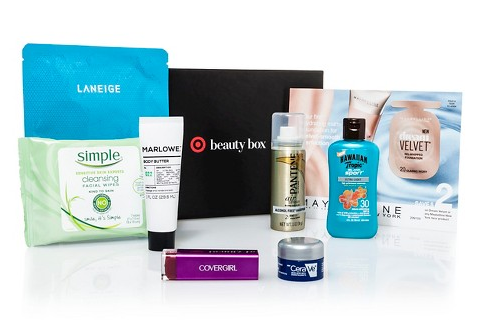 As always, if you're even a little bit interested, I recommend you click here to grab one now. These tend to sell out within hours of going live. This one is priced at $7 with a value of $26 and includes the following in the description:
CeraVe Healing Ointment
This healing ointment combines ceramides with a gentle, lanolin-free formula and a lightweight, non-greasy feel to protect and soothe dry, cracked and chafed skin.

Maybelline Dream Velvet Foundation – Ivory
New from Maybelline NY, Dream Velvet foundation is the first gel-whipped foundation formula, delivering a flawless 100% velvet-smooth finish.

Laneige Water Bank Soothing Mask
Infused with hydro-ionized mineral water, this unique hydrogel sheet mask provides intense moisture to soothe and cool your skin instantly.

CoverGirl Colorlicous Lipstick
This luxuriously rich lipstick is infused with shea butter for lasting color.

Marlowe. No 022 Body Butter
This ultra-rich body butter is made with a highly moisturizing formula of antioxidants and extracts that nourish, smooth and revitalize skin.

Simple Cleansing Facial Wipes
Perfect for when you're on the go, these facial wipes remove makeup, even waterproof mascara, and cleanse your skin.

Pantene AIRspray Hairspray (Level 2 Flexible Hold)
This non-sticky and ultra-lightweight hairspray delivers a smooth finish that leaves your hair feeling moisturized and silky soft for healthy body and bounce.

Hawaiian Tropic SPF 30 Island Sport Lotion
This water- and sweat-resistant sunscreen offers fast-absorbing moisture to replenish the skin, a light tropical scent and an oil-free, ultra-lightweight formula to keep skin looking and feeling beautiful.
There's not a whole lot here I'm finding particularly exciting. I've already tried the hairspray in a previous box, and I wasn't a fan. I still have a sample of the healing oinment from my Walmart box. I don't need more body butter, and I certainly don't need a lipstick. I can always use a backup travel sunscreen, and I love the cleansing wipes, but I really don't want to grab a whole box if I'm only interested in two items. (The mask and foundation both appear to be one-use samples.)
I can provide some insight regarding the products listed here:
The CeraVe ointment is about what you'd expect. It's comparable to Aquaphor.
I haven't tried the mask, but Laneige typically makes some wonderful products.
I got one of these CoverGirl lipsticks in another box, and I really like the formula. It's very moisturizing, and I did find it to be long lasting. (But ugh… Another red, and I have a lot of red lipsticks.)
Marlowe's body butter is nice. I actually own a tube that's sitting in a bathroom drawer this very second.
Simple makes a lot of my favorite skincare products, including a micellar water cleanser that is currently my caveman holy grail product. I use their wipes, as well.
Typically I love Pantene products, but I hated this hairspray the last time I got a sample of it. I couldn't get it to spray out properly, and what did come out didn't smell very pleasant.
I also typically love Hawaiian Tropic sunscreen, but I haven't tried this particular formula.
I'll likely pass, but if the products here interest you, you'll find that the Target box is almost always an excellent value. Included is a $3 off coupon, so if you shop at Target for your beauty products, it's like getting this box for $4. If the timing is right and the next box is released before the coupon expires, you can even use it toward that.
Will you be grabbing one?