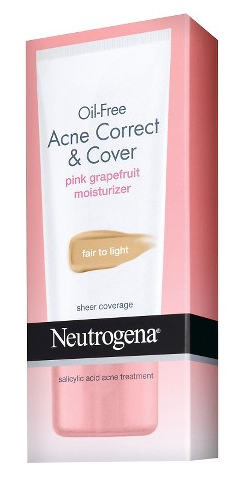 Product Link.
Priced at $8.99 for 1.7 oz
I've had this sample with an attached coupon hanging around for a while. I think it came out of a Walmart box, but I'm not 100% sure. Since I'm still cavemanning, I hate to use a full on foundation, but I did still have a few blemishes and I needed to step out of the house, so I figured I'd at least need to give it a go with a little something.
The description makes this sound like an anti-acne BB cream. It's basically a tinted moisturizer with a salicylic acid kick. According to the product descriptions I keep reading, it also has an SPF of 15, though the packaging itself makes no mention unless I've just completely overlooked it.
I used a brush to apply it. It went on evenly, and it was incredibly lightweight and absorbed quickly. I haven't really needed much in terms of moisturizer since I'm not using a cleanser on my face every morning and night, but this didn't make my face feel greasy, and my face felt hydrated. Nothing was left feeling clogged. Again, that's a good thing when you're not really using much in terms of a cleanser.
The coverage was sheer and even, but I did find that it was buildable with some stippling. In all, it works well for a little bit of coverage if you're trying to go (mostly) makeup-free.
This is probably the first time that I've tried a product and then that same day ventured out to purchase the full price version. Yeah, I liked it that much. I did notice some slight improvement to my skin at the end of the day after two uses, and while that can at least in part be attributed to my current anti-regimen I think it says something that I noticed an improvement from the time I put it on in the morning to the time I took it off that afternoon.