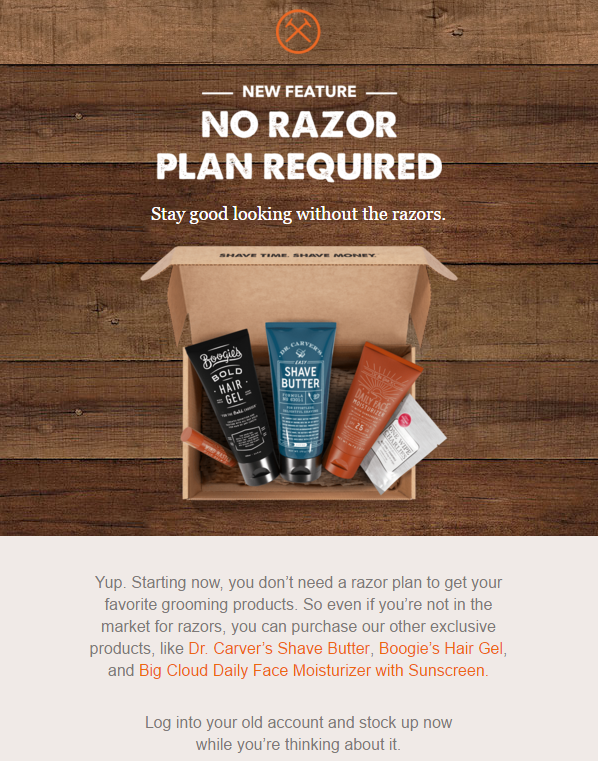 Note: Despite the date on this posting, this isn't an April Fool's prank as best I can tell. The email announcing the change was sent and landed in my box on March 31, and it appeared to be working on the website. If it's a one day thing only and I hear the words "April Fools," well… Not cool, guys. 
My very first review when starting this blog was on the Dollar Shave Club, and I'm still a fan. I absolutely adore their razors, but what I've found is that I don't have to replace them once a week. In fact, I can get several weeks out of a blade before it needs replacing. This is still great, as I'm still only paying $6 for four razor cartridges; however, it's left me with one itty bitty problem…
I love DSC's shave butter and use nothing else on my legs these days. I'm that addicted to it, and it works great with the Dorco razors sold by DSC. Problem is, I could only get my hands on the shave butter by grabbing another box of razor cartridges, and I've found that I'll easily finish a tube of shave butter before I'm done with a four-pack of razors. Solution until now was to simply order a second (or third or fourth) tube of shave butter with my razors, but I've still somehow managed to end up with a backlog of razor cartridges.
Add to that, you can actually purchase the Dorco blades for cheaper from Dorco's website as long as you buy them in bulk. But if you wanted the shave butter, you had to get your razors from DSC. (Personally, I still prefer to get them from DSC, as I really don't want that many razor cartridges hanging around my house for that long. I could use that space to stash more makeup.)
NO MORE! DSC has announced that you can now purchase their products all by themselves without even having a razor sub!
I love this. This is definitely for me. No more calculating how many tubes to order with my razors so that I will have enough to last me until my next razor order. I can simply go onto their website and grab what I need and have it sent to me. There are other products I enjoy, too. The Magnanimous Post Shave Cream is actually one heck of a moisturizer, and if you need something with SPF in it, I love the Daily Face Moisturizer with Sunscreen. I haven't yet tried the hand cream, but I'm sure I'll get around to it.
As to the razors… I know what you're thinking, ladies. These are MEN'S razors. Oh, hon. You have no idea what you're missing out on. We don't need no stinkin' pink handles and fancy shaving lotion bars! The pivot on these heads is fantastic, much better than I've experienced with women's razors, and it was only once I started using these that I realize men are totally spoiled in the razor blade cleaning game. Spoiled. Stinkin'. Rotten. I've also found that the blades are sharper (read: better shave with fewer nicks) and stay that way longer, too.
I personally recommend the 4X (Dorco's Pace 4) for ladies. (I've heard that the twin isn't that great.) My husband prefers the Executive for the trimmer edge. Click here if you want to give them a try. The 4X I love is only $6, and you can skip as often as you like.
For anyone who is already a member of DSC, all you have to do is head on over to the product page, Select "Add" for the product you want and how many.  You'll then be given the option to ship it in your next razor box or ship it immediately ($4 shipping or free with a $15 purchase). You then proceed to checkout.