Personally, I'm not a huge fan of perfume. I wear it sometimes, but I can't stand when people around me wear too much, and I always worry if I'm that stinky lady in the room on days when I wear any perfume at all. Mostly, I stick to a light spritz of fragrance mist from Bath & Body Works after my shower. (My current favorite is this one, a pretty inoffensive vanilla.)
That said, I did take notice of this when Sephora decided to toss it into my email inbox.
Sephora Favorites Deluxe Perfume Sampler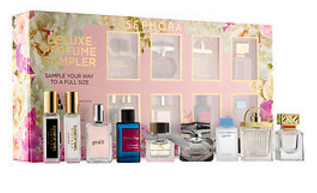 Product Link.
Priced at $65 for 9 deluxe perfume miniatures.
There are other perfume sets from Sephora, of course. This is merely one of them. If you go to Sephora's website, you'll notice a variety of samplers at various prices. But most (not necessarily all) of Sephora's fragrance samplers are done the same way. You get a sampling of fragrances to try, usually for quite a bargain. The above set is a $114 value, though I calculated $120 based on the prices of the full size items you can get. That's JUST for the perfume that you get in the set, so you're already getting a bargain.
The additional gem, however, is a certificate that comes with these that you can redeem for a full size of any of the included perfumes. With this set, the most expensive full size item you can redeem the certificate for is the Atelier Cologne 1 oz spray, which retails for $85. That's an $85 perfume you're getting as an added bonus for purchasing a $65 box.
So you try out the scents in their cute little miniature bottles, pick out a favorite, and then grab a full size of your favorite. That's a pretty darn good deal, and considering how expensive fragrance can be, it's a great way to be sure you're going to like what you get. It also makes these sets an excellent gift idea for someone who loves perfume.
Sephora has other similar sets here, though you should note that the Travel Perfume Sampler includes a voucher for a rollerball and the Discovery Collection Perfume Sampler does not include a voucher at all.
Again… I'm not really a perfume person, but if I was this would absolutely be the way I'd go about selecting a fragrance for myself.