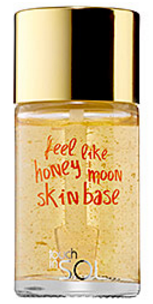 Product Link.
Priced at $24 for 1.12 oz.
I was introduced to this through my purchase of the Allure Beauty Thrills box back in November. These are, by the way, amazing deals on things you use every day, (skin care, body wash, shampoo, toothpaste, etc) and in the past a portion of each purchase has gone to charity. The last one was $49.95 plus shipping and had a value of $425. Another one of these for Spring/Summer 2016 should be coming soon, so keep an eye out. They do post ahead of time what's in the box, so you can determine how much of it you'll use and whether or not it's worth getting one. I still haven't finished clearing out everything from my Winter 2015 box, so I might split the next one with my mom or sisters-in-law. Seriously, folks… You get a LOT of stuff, so it's no wonder that when it goes live it sells out in minutes.
Anyway, this product confused the hell out of me at first because, aside from knowing it was a K-beauty product, I wasn't exactly sure what its purpose was. Is it a serum? Is it a base? Is it a primer? What does it do? It almost ended up going up on ebay.
Instead, I sat down and decided to watch some YouTube reviews on it first. They were a little lackluster, but the idea is that this is a skin brightening primer. You can wear it underneath makeup or without any makeup at all.
The consistency does take some getting used to, and the applicator is going to do you no favors. I really feel like the product would be better served with a dropper. It does in fact have a sticky consistency like honey. The gold flecks in the product don't stand out on the skin. I haven't found one yet. You literally take this paddle applicator and do your best not to make a mess as strings of it drip off (like honey). It even has a sweet honey smell to it.
I know this all sounds unappealing, and it is messy until you get the hand of it, but when you put this on your fingers and then pat it onto the skin, you do immediately notice a difference. My skin instantly feels firmer and more hydrated. I notice a healthy glow. It's glorious, and that's before I've even put on any makeup.
I do have a real issue with a lot of primers– particularly those made with silicone– where it actually causes my makeup to slide off of my face within an hour or two. I have not had that problem with this product. It's worked beautifully as a primer for me, and I'll absolutely be purchasing more once I've made it to the bottom of the bottle, which might be several months away judging by how little I've needed to use and how much is left.
I've also found this product from NYX, which I'm told is a good dupe. It's also only $17 compared to the $24 for the Touch in Sol version. I'll definitely have to give the NYX product a try in the near future.