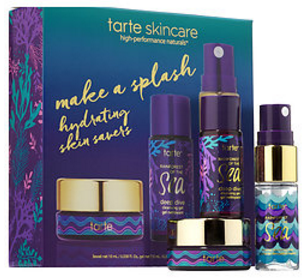 This is a new line from Tarte that features both skincare and makeup, and of course I wanted to give the skincare a try. Thankfully, Sephora has a nice little collection featuring trial size versions of three of these new products for just $10. (And of course, that set has now gone out of stock for the second time.) I was able to snag one for myself, so I figured I'd give you guys a short review on each of the three items included in the set in case you'd like to purchase them separately.
Rainforest of the Sea™ Deep Dive Cleansing Gel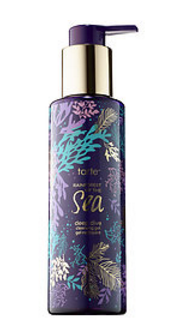 Product Link.
Priced at $25 for 5 oz.
As always, I really don't look for much in a cleanser. I want to know if it'll get my face clean without zapping it dry, and this does both, so I'm cool with it. While I'm not the type to plop down $25 for a cleanser, those of you who will would likely enjoy this.
This is your typical foaming facial cleanser. It's incredibly gentle, and I found that it only took a very small amount to get a good lather going. I actually used about three times too much the first time I used it, so while you do pay quite a bit for a full size bottle, it should last you a while.
I tend to not like fragrance in my skincare products, but if I find something I like with fragrance and it doesn't break me out, I'm fine with it. With this, I'm not sure if it's fragrance or simply the ingredients I'm detecting. I don't spot fragrance being listed among the product ingredients, though I notice various flower and fruit extracts. In any case, it smells lightly of all those "ocean" scented products you tend to see during the summertime, and I found it pleasant.
Rainforest of the Sea™ Drink Of H2O Hydrating Boost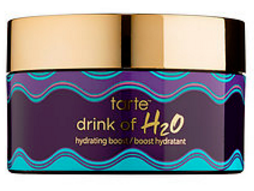 Product link.
Priced at $39 for 1.70 oz.
Again, I can't tell if this has added fragrance that I'm missing in the ingredients or if it's simply the fruit extracts and such that I'm detecting. There's a definite citrus scent to it, but it's not heavy.
This is a very lightweight moisturizer that can easily be worn on hot days. It has a gel-like consistency and absorbed almost immediately into my skin. I love the nautical theme to the packaging that these products have, since this is definitely the sort of thing I'd take with me to the beach. My skin felt hydrated all day and never felt greasy, so it's a good product for those of you who have really oily skin. This isn't going to contribute to the daily slicks, and it wears great under makeup.
It also runs at exactly the same price per ounce as another similar product that happens to be an old favorite of mine, so this is definitely going on my favorites list for a possible repurchase.
Rainforest of the Sea™ Marine Boosting Mist

Product link.
Priced at $25 for 2.5 oz.
Okay, gimme a minute because I'm going to roll my eyes. I've really had a hard time getting into the whole "spray bottle of water" fad. I don't get it. It really does nothing for me. I'm sure as hell not paying $10/ounce for your miracle water because I find that (if I need it) a little distilled water worked just fine for me. Normally, I wouldn't have even tried this, but it came with the set.
This is supposed to be a multitasker. Supposedly, you can use it as a primer, a makeup setting spray, a hydrating mist, and a skin refresher. (I'm really not sure what the difference is supposed to be between #3 and #4 there, so if you know, please enlighten me.) I'm picky about my primers, and I haven't liked a primer water yet, so I figure this will work best for me as a hydrating mist or setting spray.
The first thing you notice as you spray it on is an orange scent. Very energizing. I like. But hydrating? I didn't find it to be so much. It was cooling as I sprayed it on, but that was about it. It was almost, dare I say, drying. My skin felt tighter as soon as it started to dry. Not good.
Then my face started to itch. Also not good.
Judging from the reviews, not everyone had this same experience with the product, so it might work for you. As for me… I definitely won't be using the rest of the sample I have– much less purchasing a full size version.
Tarte has a few other products under their new Rainforest of the Sea line. I've heard good things about the foundation. I've had good luck with Tarte's foundations and concealers in the past, so I'm definitely going to be trying that one out. The eyeshadow palette also looks like it'd be a nice, affordable neutral palette if you're in need of one (I'm not), and it's gotten some pretty good reviews as well. The lip products, on the other hand, seem to have more misses than hits.
You can view the whole line here.