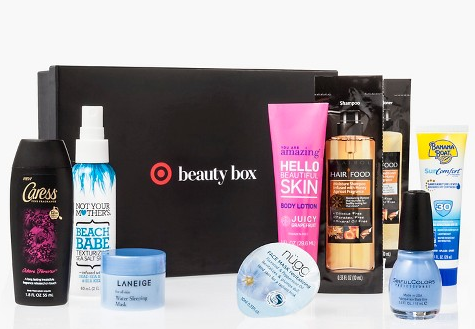 This post contains affiliate links.
I always say this, but just in case anyone is seeing this for the first time… If you want this, get it NOW. Do not wait until after lunch. These sell out within hours of going live.
Now that we have that very important statement out of the way…
To those unfamiliar, Target has a beauty box full of samples and usually one or two full size items that goes on sale roughly once per month for around $7. Sometimes it's more. Sometimes it's less. Sometimes there's more than one. In any case, they're almost always spectacular– full of things you'll actually use and can find at Target and worth considerably more than the price tag of the box itself. With a Target Red Card, you get an additional 5% off and free shipping. And if you've purchased the previous box, you'll have a $3 off of $15 coupon that can be used toward purchasing the next box. (You can buy the limit of two boxes and a small additional beauty item.) Obviously, since you're paying $7 for roughly $25+ worth of items, this is a great bargain. And with that, here's the box currently up for grabs:
Target Beauty Box
Link. Price $5.00 ($17 Value)
Hair Food Moisture Shampoo and Conditioner
Infused with honey and apricot fragrances, this paraben- and mineral oil-free duo gives hair a moisture-rich treat.
Not Your Mother's Beach Babe Texturizing Sea Salt Spray
This salon formula combines sea salt and sea kelp to give hair texture, hold and shine for tousled beach waves without frizz or flyaways.
SinfulColors Professional Nail Color
This long-wear, chip-resistant formula gives nails a professional finish and comes in endless vibrant colors. Color in Beauty Box will vary.
Laneige Water Sleeping Mask
Lightweight, ionized mineral water hydrates and restores skin overnight and has a subtle, calming scent.
Banana Boat Sun Comfort SPF 30 Lotion
This sunscreen provides broad-spectrum UVA and UVB protection that stays on through sun, water, wind, sweat, sand and more.
nügg Face Mask
A 94%-natural face mask that uses a blend of extracts and oils to intensely hydrate and soften dry skin. Mask included in Beauty Box will vary.
you are AMAZING Juicy Grapefruit Body Lotion
This moisturizing body lotion keeps skin hydrated all day long with a bright, citrusy scent.
Caress Adore Forever Body Wash
A unique body wash with fragrance-release pearls that give a burst of perfume each time you touch your skin.
This one is a bit of a toss up for me. The masks and the hair samples had me intrigued, as I use the conditioner already, but the shampoo and conditioner are foil packets, and the masks are either single use or travel size. The nail polish is a pretty color, but I'm not a huge fan of Sinful Colors' formula. (It's peeled right off my nails in the past.) Still… $5 isn't too bad to try out a new body lotion and the sleep mask I keep hearing about, and I get a bonus travel sunscreen. That plus the sea salt spray should more than pay for the cost of the box.
Will you be getting it?