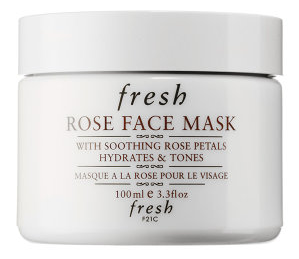 Product Link.
Priced at $62 for 3.3 oz.
One of the things I absolutely recommend folks do is join Sephora's Beauty Insider loyalty program. You're not really obligated to spend unless you want the bigger benefits that come with VIB or VIB Rouge, but you do get a free item for your birthday every year. This year's birthday gift is a choice between a mini skincare set from Fresh and a mini makeup set from Marc Jacobs. My birthday was in January, and since I have enough black eyeliner and red lipstick, I went right for the skincare set. 
My little 0.5 oz sample has only just now seen its last use, and I'm considering purchasing a full size.
I've started becoming more and more aware of my skin care routine since turning 30. Moisturizer and sunscreen are big deals to me, and I don't mess around with anything that's going to irritate my skin or suck it dry. I use a hydration mask to pamper my skin after I exfoliate 2-3 days every week. This one leaves me feeling pampered. It's super gentle, something I love about the other products I've tried from this brand. I'm treated to the smell of roses as it sets, and my skin is left feeling hydrated, smooth and supple. I also noticed brighter skin after the very first use.
It really is that good.
It's pricey. $62 is steep, but I'm also keeping in mind that the price covers a jar that's more than six times as big as my sample that lasted me for a good six weeks, so a full size is likely to last me a good nine months, likely more considering I tend to get mask samples from time to time.