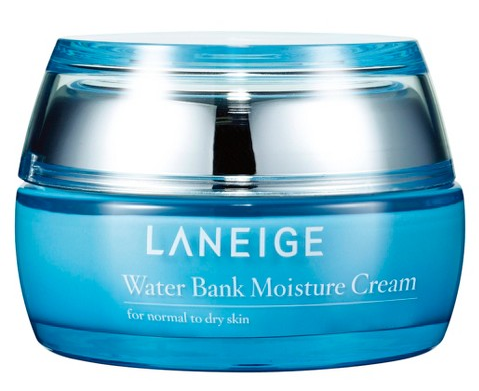 This post contains affiliate links.
Product link.
Available at Target. Priced at $32 for 50 ml/1.7 oz.
I was first introduced to this brand via Target through their Beauty Boxes, which is where I got my sampling of Laneige Water Bank Moisture Cream, and my first impression was that this stuff is a moisture bomb. After finally finishing off the sample I had in my arsenal, I can definitely confirm that my first impression was right.
How much of a moisture bomb is it? Well, the sample I had was a mere 20 ml/0.6 oz. I got it back in December. It's February, and I'm just finishing it. Of course, I've only been using it as a day cream, and I've had a few other samples that I've used here and there, but this has been my primary day cream for the better part of 10 weeks. When I review a product and say that "a little goes a long way," I mean it. I used about half as much of this stuff to cover my face, neck, and chest as I would with some of my other day creams.
One of my longtime favorite daytime moisturizers is Clinique's Moisture Surge Extended Thirst Relief. There's a weightless feel to it, and my skin feels soft even at the end of the day. I've slept in my makeup after using the it, and my face was still nicely moisturized in the morning, albeit absolutely filthy. (Bad Jen!) There's no greasy feel to it. Your skin is simply silky soft and supple.
The Laneige is very similar, though at $32 a pop it's hardly a low cost dupe. If you want the Clinique, you're pretty much better off spending the extra $7 and getting roughly the same amount of the Clinique product. The real dupe for the Clinique product is at Walmart, though I haven't tried it out just yet. If you've tried this, let me know how you like it and how you think it compares.
There's a mild fragrance to the Laneige, and I have stated in the past that I prefer my skin care items to be fragrance-free, though it's not a deal breaker. For what it's worth, the fragrance is mild and not unpleasant. There's also a slight greasiness left behind that I can detect. It's not bad, just noticeable for me, and it's definitely not something that I notice with my beloved Clinique. It does fade as the product absorbs into the skin, but what this means is that it takes a few minutes compared to the Clinique seeming to instantly absorb into my skin. If time is not your friend, again, you'll probably prefer the Clinique.
At the end of the day, I think it's a good product. It's not my favorite, but it's absolutely effective, and it's a good moisturizer for these cold winter months where we're battling dryness. Though we're approaching the end of winter, I know that here in Alabama I might be fighting cold/dry indoor heating spells for another couple of months if it's going to be one of THOSE years.