This post contains affiliate links.
A few Target and Walmart Beauty Boxes ago, I got a couple of new body lotions to try out. The idea of something to use in the shower intrigued me, as it seems like it'd be a bit of a convenience to go ahead and get my lotioning done before I ever step out of the shower. So how did these hold up?
First contender…
Nivea In-Shower Nourishing Body Lotion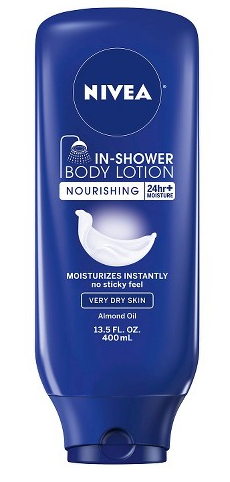 Product link.
Price $5.99 for 13.5 oz.
I got this in my Target Beauty Box back in January. The product claims to provide 24 hour moisture and have no sticky feel. According to directions on the bottle, you apply this to wet skin after cleansing and then rinse off any excess before towel drying.
The full size bottle is about what I'd expect for a bottle of body lotion, and I used about the same amount of the product as I would have with a body lotion. What I didn't like was the fact that I felt like I was essentially applying a bath/body oil to my skin– which is something I can find for much cheaper. It didn't leave me feeling sticky, but I did feel very slick. I can see why Nivea recommends not using this on the bottom of your feet. Once dry, however, my skin was left feeling nicely moisturized all day.
Jergens Wet Skin Moisturizer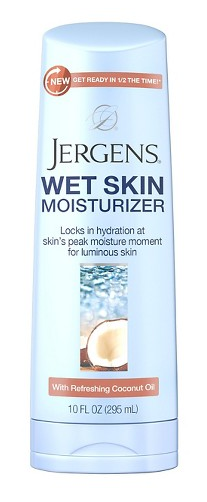 Product link.
Price $6.99 for 10 oz.
I might have gotten this in my Walmart Beauty Box, but I honestly can't remember. I might have gotten it in a Target Beauty Box, too. I had two of these samples. Just like with the Nivea lotion, you apply this to wet skin after cleansing. The difference here is that you don't have to rinse after applying the Jergens.
This stuff went on about as thin as the Nivea, and I did wonder if I was getting it everywhere I needed to. The product was VERY light. But there wasn't a greasy feel to it, and all I had to do after applying it was towel off. I did feel like I was done a lot faster than I would be using a regular body lotion.
Final Verdict
The Jergens was definitely the preferred product of the two, but it's also the more expensive of the two at just under 70¢/oz. I also think I could get similar results for mere pennies from using a body oil after showering, though I will concede that most of those do tend to leave me feeling a tad greasy compared to the lighter feel of the Jergens. (The Nivea felt just as greasy as any body oil.) But in-shower moisturizing is definitely a time saver if you're wanting to quickly slather something onto your skin, dry off, and go.