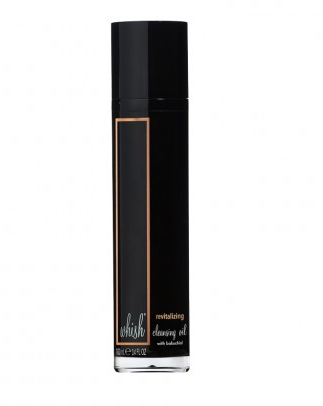 For those of you who haven't jumped on the cleansing oil bandwagon, let me implore you… Try out a cleansing oil. They're amazing. You don't need a separate makeup remover. You just smear a little bit onto your dry face and massage it in and then rinse it off. Your face if left feeling clean and soft and not zapped dry. Easy peasy!
When sample selection time came for Birchbox, this was one product I was determined to try out. The Julep cleansing oil is currently my favorite, and a little bit goes a long way. It's going to be a while before I replace the bottle I have, and when I do get around to it, as of now I'll be replacing it with another Julep cleansing oil. Of course, I also wanted to give another brand a try, though at $30 for a full size, this is a lot more expensive than the roughly $9 I shell out when I get a Julep cleansing oil in my Maven box.
Here's a product link and a few things from the bottle. First up, the product description:
Without detergents or water, our Revitalizing Cleansing Oil magically melts away the most stubborn makeup, oils and impurities to reveal incredibly soft, wonderfully balanced skin. Now that's putting your best face forward.
Claims:
gently cleanses: a rich combination of oils
moisturizes: organic olive fruit oil, organic rose hip oil, organic coconut oil
renews & soothes: bakuchiol, macadamia ternifolia seed oil
Directions for use:
Apply a quarter size portion of the gelled cleansing oil to dry face and spread gently and thoroughly over face. Add a few drops of lukewarm water to face to emulsify the oils and then rinse.
And here's what my sample looked like:
As the directions suggest, this is in fact a gel and not your typical face oil, which I found interesting. I followed the directions, though considering my past experiences with cleansing oils, I used a good bit less than the quarter-size recommended amount. It was more than enough to cover my face and cut through my makeup– even my eye makeup. So far, so good.
I added a little bit of water, and that's where the problems started. At this point, I'd normally notice the oil rinsing off. Nope. There was no change to the oily texture on my skin. None. So I added more water and started to massage in hopes of getting the stuff off. Nope. It wasn't coming off. I rinsed and massaged for another minute with no luck. The stuff started to feel like a thick layer of slime. Not only was it not coming off of my face, but it was leaving the makeup it "removed," too!
Thankfully, I do have other cleansers on hand, and the night I used this just happened to also be an exfoliation night. A bit of scrub took off he film and the makeup, and I followed up with a mask.
I don't think I've ever had this kind of experience with a cleansing oil. You can use regular olive oil or coconut oil and have really good results, so I'm trying to figure out how one manages to make a cleansing oil that will not come off. The closest description I could give is if you took baby oil gel and smeared it on your face, but even that would come off more easily.
But I digress… As a cleanser, a product has one job. Clean my face, preferably without zapping my skin dry. This cleanser didn't even cleanse. I had to use a second cleanser to remove it.
A secondary beef is the packaging for the product. The nice, big tube you see above was not a nice, big tube of product. It was mostly air. Why waste that much packaging on so little product?
While I still remain a huge fan of cleansing oils, I couldn't possibly recommend this product. It's just not effective. Even as a makeup remover, there are other products out there that do the job without zapping your skin dry or leaving an oil slick behind.