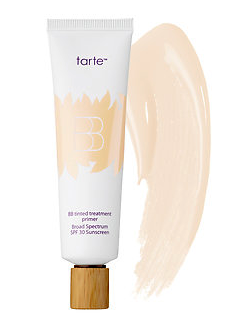 I'm in love, folks. I am truly, madly, deeply in love, and just in time for Valentine's Day.
I was already in the market for more BB anyway. I'm on my last tube, and I'm running low. I snagged a sample of this while checking out on Sephora's website, and I'm so glad I did.
The texture of this is what I'd describe as "fluffy." I actually wonder if it's whipped. It's very reminiscent of the Amazonian clay foundation. It's very light, and it glides on like a dream with my fingertips. My usual beef with a BB is that a lot of them feel more like a foundation than a moisturizer, but this felt more like an actual moisturizer. My skin felt instantly nourished.
That said, the coverage is amazing. I didn't need concealer at all, and even without my powder primer, I rarely needed to blot. Much like their Amazonian clay foundation (which I love), it seemed to adjust to my skin's oiliness as needed, and I never saw or felt any dry patches. It stayed beautiful and natural-looking all day, and I dare say I'd wear this as a regular foundation. It looked THAT good, even over a particularly stubborn blemish I currently have going on.
One thing I will note… If you can pull off the light or medium shades, I definitely recommend going with two of the travel size tubes over the full size to save yourself some money. You'll notice that the travel is half the size of the full size, and at $14 for a half-ounce, two of these will set you back only $28 compared to the $36 single-ounce full size.