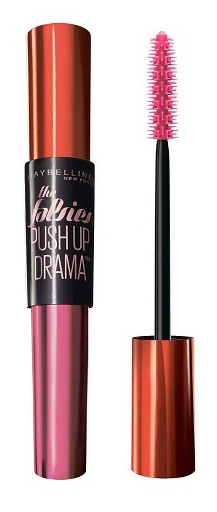 Hoo boy! Get ready for a rant, folks, and not a good one.
You see, I've just taken this with me on vacation in Gatlinburg, TN. I had the bright idea to bring one of my many chunkable mascara backups from my sub boxes with me. The idea was to travel with my cheaper makeup and leave the good stuff at home. (There's also a pileup situation going on at home, because EVERYONE wants to send me mascara these days, and I don't go through it that fast.)
This stuff came to me in a Target Beauty Box, which I loved because eye cream. And I'll admit I made the mistake of not testing this at the time as thoroughly as I should have. I swiped it once over the upper lashes of my right eye and deemed it doable enough, though not my favorite– particularly due to the brush. I dropped it into my backup bag and figured I'd have a disposable mascara for this trip.
What I didn't do… I didn't try applying it in the typical "jiggle" fashion from the base of my lash to the ends the way I normally would with almost any mascara, and I didn't wear it for an extended period of time. Now that I have, I have things to say… I have many, many things to say.
Let's start with the brush… Now, I know that many of you like the little short and spikey plastic bristles, and that's okay. I personally prefer the big and thick brushes with tons of bristles, and that's fine, too. You use what you like. But the brush here does cause some problems. You'll notice those little U-shaped areas in the picture above. They're designed to scoop up and lift lashes. Thing is, they also hold a ton of the mascara in them, and it's problematic because if you use this brush to do the wiggle we're all used to doing when applying mascara, you're going to end up with a ton of product deposited right at your lash line, and you really don't want that to happen with this mascara.
This formula is thick, wet, and easily smudges. When that brush deposits a ton of product on your lash line, it gets EVERYWHERE. I'm not being melodramatic here. It looked like I had taken the wand and just smeared it all over my entire eye. It got everywhere, and I had to redo my makeup TWICE before I finally realized that I couldn't wiggle the brush. I had to just use upward strokes. Even then, I was very  careful with it out of fear that it would transfer. I've honestly never come across a mascara this bad in my entire life. I was in shock at how bad it was.
So you're probably thinking at this point… "Well, yeah. You finally got it on and figured out the trick, so that's probably that. Not too bad." You would be wrong. After a mere hour of wear, this stuff started flaking and smudging, and I wasn't sweating or standing in the rain or anything like that.
Not cool, Maybelline. Not cool.
It ended up in the trash after a mere 3 days. That's got to be a record for me. Even the CoverGirl I hated lasted a week or two.