This post contains affiliate links.
I thought I could resist the boxes, this time. I was wrong. I was very, very wrong. I didn't just get one this time. I got TWO.
Target Renewal Beauty Box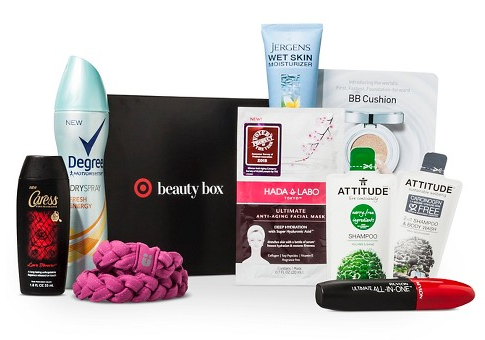 Price: $7

Caress Love Forever Body Wash
Value: $0.53
I've tried this in a previous box, but I can't remember which one. I love the scent of this stuff.
ATTITUDE 2-in-1 Shampoo & Body Wash
Value $0.66
I think I'll use this more for the body wash half of it.
Laneige BB Cushion
Value $6.80
I've heard a lot of good things about this, so I look forward to giving it a try. The sample contains three different shades and an applicator, but since I'm only really meant to get use out of one of those samples, that's what I'm basing the value on.
Scrunci No-Slip Grip Braided Headwrap
Value $5.99
I get so many hair ties from Target. It's nice to get a headband. I'll definitely get some use out of it.
Degree Women Fresh Energy Dry Spray
Value $4.99
This was a full size, which I honestly wasn't expecting for some reason despite the picture. I love these dry sprays, so I will definitely be using this.
Jergens Wet Skin Moisturizer
Value $1.39
I've only tried one in-shower/wet skin moisturizer, and I really liked it. I like the size of this sample, too. I should get at least 2-3 uses out of it, and it smells really nice.
ATTITUDE Volume & Shine Shampoo
Value $0.66
It's a shampoo. You guys know how I feel about shampoo. My daughter will get this.
Revlon Ultimate All-In-One Mascara
Value $8.99
It's a full size, but there's nothing shocking about that. That's usually the case with Target and mascara. I'm never really excited about getting mascara, especially since both Birchbox and Ipsy are sending me one this month, but hey… It's one for the backup stash, I guess.
Hada Labo Tokyo Anti-Aging Facial Mask
Value $3.74
I'm not big into sheet masks, but this will be used. Oh yes… This will be used.
Total value for Target Renewal Beauty Box: $33.75
Not bad for a $7 box.
Target Refresh Beauty Box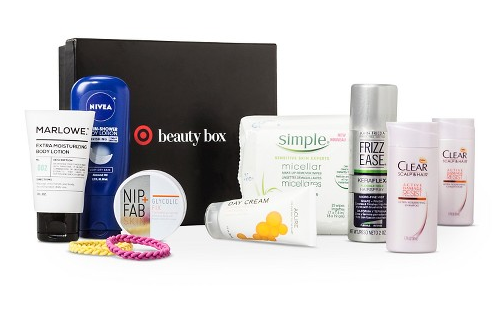 Price $7.
ACURE Day Cream
Value $9.70
This is more than half a full size. Yay! I've loved every Acure product I've tried, and this first item just paid for my $7 box all by itself!
John Frieda Keraflex Hair Spray
Value $8.99
I'm not a big hairspray gal, but I've used this before, and it'll certainly do for a travel size.
NIVEA In-Shower Body Lotion
Value $1.19
Another wet skin lotion… Love!
Nip+Fab Glycolic Fix Pads
Value $1.08
Now this is new… I'm definitely going to be giving these a try. These are little exfoliating pads you use after cleansing during your skin care routine. I'm genuinely curious.
Braided Elastic Bands
Value $0.95
There are always hair ties, and I will always use them and be thankful for them.
Simple Micellar Wipes
Value $6.99
And here again, I wasn't expecting a full size item but got one anyway. I already love these makeup removing wipes, and I go through them pretty quickly. This would make the second time I've gotten them in a box (with the first being in an Allure box), so I'm a happy bunny.
Marlowe Extra Moisturizing Lotion
Value $0.66
This is another good size body lotion sample, and it smells wonderful.
Clear Total Care Shampoo & Conditioner
Value $1.02
I can't find the ones I actually got. I ended up getting a sample each of the conditioner and the men's anti-dandruff shampoo (which my husband happily accepted). They both smell amazing, and I'm just happy to not have another conditioner on my hands.
Total value for Target Refresh Beauty Box: $30.58
Again, this ain't bad for a $7 box, and Target's advertised value of $30 for both boxes was pretty spot on. I'll use almost everything I got, so I'm incredibly pleased as always.
I'll try a few of these things out and maybe follow up with a more in depth review later on.