This post contains affiliate links.
These are up now for $7 each. You will have to pay sales tax, but they ship for free, and if you have a Target Red Card, you will get your usual $5 off. Grab one while you can if you want it, because these will be gone in the next couple of hours. As always, you'll notice that the size of the samples isn't indicated on the box description, but the picture is usually a good indicator of what you'll find in terms of samples and sizes. Here are the listings and links for the items included in each box:
Target Renewal Beauty Box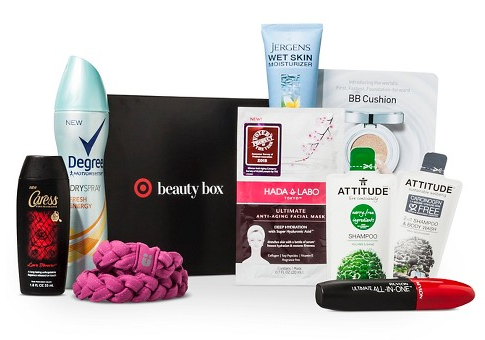 Link. Price $7 ($30 value)
Caress Love Forever Body Wash
It's the first body wash ever to use fragrance-release pearls with touch-activated technology. Release a burst of perfume every time you touch your skin—all day long.
ATTITUDE 2-in-1 Shampoo
This shampoo and body wash is vegetable based and biodegradable. Plus, it's formulated to be carcinogen free and hypoallergenic. Vegan, not tested on animals.
Laneige BB Cushion
Get 5-in-1 cushion technology that works to brighten, protect, cool and cover your skin while fending off shine.
Scrunci No-Slip Grip Braided Headwrap
A comfortable, stretchy band with a braided design for stylish, no-slip grip.
Degree Women Fresh Energy Dry Spray
This dry spray uses a 48-hour MOTIONSENSE formula that goes on instantly dry for a cleaner feel and better protection.
Jergens Wet Skin Moisturizer
Get 24 hours of soft skin with this instant-absorbing formula that gives you twice the moisturizing power in half the time.
ATTITUDE Volume & Shine Shampoo
Get healthy, beautiful hair with this volumizing shampoo. It is vegetable based, biodegradable, carcinogen free and hypoallergenic. Vegan, not tested on animals.
Revlon Ultimate All-In-One Mascara
This high-impact formula delivers 5 benefits in 1 product: volume, length, definition, lift and rich, intense color.
Hada Labo Tokyo Anti-Aging Facial Mask
A lightweight, deeply hydrating mask that drenches skin with serum to boost hydration, smooth fine lines and restore firmness and bounce to your skin.
Target Refresh Beauty Box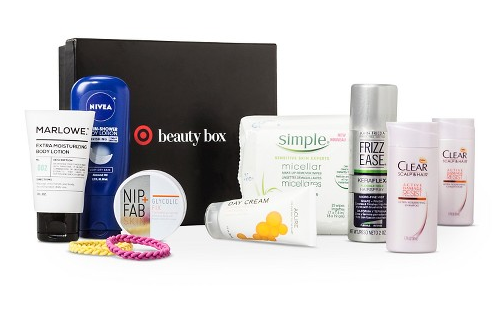 Link. Price $7. ($30 Value)
ACURE Day Cream
This must-have day cream contains gotu kola stem cells and chlorella growth factor to help your skin retain hyaluronic acid and fight environmental damage and free radicals.
John Frieda Keraflex Hair Spray
This versatile formula can be used while styling hair or to lock in a finished look. Its micro-fine mist delivers a soft, brushable hold.
NIVEA In-Shower Body Lotion
This skin-pampering, in-shower lotion is enriched with almond oil to give your skin instant moisture that lasts up to 24 hours.
Nip+Fab Glycolic Fix Pads
These radiance-boosting pads are soaked in exfoliating glycolic acid to help retexture and resurface to unveil younger-looking skin.
Braided Elastic Bands
Say goodbye to snags with these hair ties made without metal.
Simple Micellar Wipes
Gently remove makeup and impurities, leaving your skin cleansed and instantly hydrated, with these makeup remover wipes. No artificial perfumes, dyes or harsh chemicals.
Marlowe Extra Moisturizing Lotion
An intense moisturizer with a combination of revitalizing antioxidants and extracts to help soften and smooth dry skin.
Clear Total Care Shampoo & Conditioner
Make your hair more resilient to breakage with Clear's Active Damage Resist system. Infused with Omega 3-6-9, this specially designed complex of vitamins hydrates the scalp and hair, and helps restore shine, smoothness and strength from root to tip.
I'm on a bit of product overload, so initially I thought I'd skip this time around, but I think for $14 I might go ahead and grab both of them. It doesn't look like anything other than the mascara is full size, but most of these look like they'll be good size samples. Will you be getting a box?