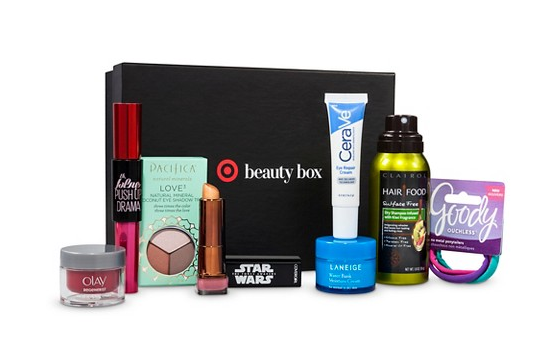 Disclaimer: This post contains affiliate links.
While there were two boxes available, I only got the one for the ladies. (Sorry, gentlemen. My husband wasn't interested.) Unlike most of the boxes I get, Target's box is not a subscription box, and you know what you're getting before you purchase it. Sometimes they're $5, but they've also gone for $7 or $10, depending on what's in them, and the products included are usually valued WAY more than the price of the box. This one was $10. Target plops them onto their website and then you get to fight a bunch of other frenzied shoppers to snag one before they sell out. It's not a process I'm fond of. Usually you have a few hours, but this time Target surprised us all by posting it on a Sunday. (Just about everyone had speculated that it would go up on Cyber Monday.)
So here's a roundup of everything that came with the box and the estimated value of all items.
Hair Food Dry Shampoo
1.7 oz Travel Size $4.99
Smells great and goes on clear while getting the job done, which is really all I ask from a dry shampoo. It's a little pricey at $10/bottle for the full size, but it's not obscene.
CoverGirl Star Wars Lipstick
Full size $5.99
I haven't gotten anything CoverGirl since trying out the mascara from hell, and now I'm thinking I need to go back and give some other things a try. I got #30, which is a shimmery cranberry (swatched below). It almost looks like a chrome finish. This is definitely going to get a workout over the holidays. I'm still geeking out so hard over this one! I'm also a little glad it wasn't one of the more interesting colors. I'm in my 30s, so outside of cosplay those just wouldn't work on me. The pigmentation is amazing, and it's very moisturizing. I was worried about the glitter being uncomfortable, but I don't even notice it. This might be my favorite thing in the entire box. It's GORGEOUS!
Maybelline Push Up Drama Mascara
Full size $7.49
It's not the best mascara I've tried, and I wouldn't repurchase it, but my lashes don't need much help, so it'll do.
CeraVe Eye Repair Cream
Sample $1.72
I have enough eye cream stockpiled to last me into 2017, and that's not an exaggeration. Everything I subscribe to has sent me eye creams and serums and gels, some of them full size. Publix had an Olay eye cream I like on clearance, and I used Birchbox points to get the Shiseido I liked so much. Do I feel like I have too much eye cream? No, I do not. Do I care that I have one more to add to the pile? No, I do not. Eye creams are my obsession.
Goody Ouchless Sweat Stretch Elastics
Set of 3
These are sold in packages of way more than 3, and I can't find this specific type of elastic on Target's website, so I'm going to estimate less than $1 on it's value. Still, my daughter and I both love these elastics, and we've been supplied with a good many of them through various sub boxes. These I really like. They're made with wicking material, which of course means they will be used for when I go running.
Pacifica Love 3 Eye Shadow Trio
Full size $9.99
The packaging is absolutely gorgeous, and I love it, but the shadow itself doesn't really perform well. It's not that pigmented and goes on very sheer. I had to really layer it to get anything at all to show up for a swatch. This, of course, means it's perfect for my daughter's makeup collection. As you can see, the shadow swatches were so light that I had to label them, and that's after three dips in the pot.
Laneige Water Bank Moisture Cream
Sample $12.80
Wow! This stuff really impressed me at how light it is and how little I need, and this sample is going to last me for a while. It reminded me a lot of a product I love from Clinique in that way, though I definitely feel that the Clinique is more effective, more versatile, and will only set you back another $7. That said, this will certainly do for now until I use it up. I really like it. It's just not my favorite product of it's kind.
Olay Regenerist Microsculpting Cream
Travel size $9.99
I'm guessing this is supposed to be a travel size, anyway. It's sold in this size, but there's also a much bigger version. I'm a big Olay fan, so I'm happy to have it.
There is also a $3 off coupon included.
Not including the coupon or hair elastics, this box was worth a little over the $50 promised, which is darn good for $10, but that's really not much of a surprise. With the exception of maybe one box, I've never had a "bad" Target Beauty Box. If you'd like a heads up for when the next box goes on sale, head on over to the right panel and click on the follow button. I try to get those out ASAP.