Now that I've had a chance to try out the items in my December Birchbox and Ipsy, I thought I'd let you guys know what I thought of the items included.
Birchbox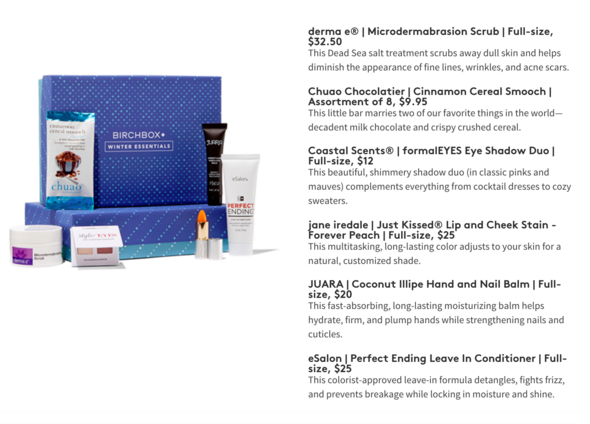 As always, my box came with a coupon. This one is a unique code for $10 off a purchase of $35 or more from the shop. I won't be including that in the value of the box since it requires a further purchase, but it's nice to have in any case.
derma e Microdermabrasion Scrub
Sample $8.12
This was a good-sized sample to play with. I'll get several uses out of it. It's citrus-scented, which I love. I'm normally not a fan of fragrance in skin care, but it's not a deal breaker, and it doesn't bother me as much with cleansers and scrubs. My main concern is whether or not they do their job and get my face clean or exfoliated without stripping my face of all moisture. This one did. My face is baby soft and smooth. I feel like it really went to town removing all those yucky dead skin cells. I don't know if I'm cool with the price tag, but it's a good product if you're comfortable paying it. Full size $32.50.
Chuao Chocolatier Cinnamon Cereal Smooch
Single $1.24
This was a 60-calorie treat that was gone in about 10 seconds after I opened the box. It was yummy, but I doubt I'd purchase 8 of them for nearly $10. I go to Godiva for that sort of thing. The 8-piece assortment is $9.95.
Coastal Scents formalEYES Eye Shadow Duo
Duo $0.60
Pretty colors but not as well-pigmented as I'd like. I've had e.l.f. shadows that gave me less trouble when attempting to swatch (below). It swatched okay, but while it was pretty I never did see the color appear true to what was in the pot. I gave it to my daughter. Full size $12.
jane iredale Just Kissed Lip and Cheek Stain in Forever Peach
Mini $7.50
This was the cutest little miniature lipstick, and it smelled all fresh and fruity, but I didn't see a weight listed on the sample, so I can't be sure as to how much it's valued at. The above is an estimate. It's very moisturizing, but I prefer something darker on my lips or cheeks. This is, however, a great subtle color for my daughter. She's at an age where she's interested in makeup but way too young to wear anything substantial. I let her play around at home, but if she's insisting on wearing makeup when we go out… I draw the line at a little something subtle on her lips, cheeks, and lids. This would be a good all over color for that. She gets to feel like she's a big girl using big girl makeup, and I get to keep things age appropriate. Full size $25.
JUARA Coconut Illipe Hand and Nail Balm
Sample $2.16
This was a much smaller sample than I'd have liked for a hand cream, but I can at least get 2-3 uses out of it. I adore the sweet coconut scent, and it absorbs well and leaves hands feeling soft, but I wouldn't pay $20 for it. Full size $20.
eSalon Perfect Ending Leave In Conditioner
Sample $3.00
I live for leave-in conditioners. This one had a light but pleasant scent, though I couldn't place it. By itself it kept my hair soft and seemed to control the frizz somewhat. When I used it alongside some Living Proof No Frizz Styling Cream, my hair stayed soft and frizz-free for three days before I finally decided to wash it– and only then because it had been three days. Granted, the Living Proof product is one I already knows is just fine on its own, but I do typically require a leave in conditioner AND a styling cream. The only exception I've found to that rule has been the SheaMoisture product I found recently through Target's Beauty Box. Full size retails for $25.
The total value of my Birchbox, not including the coupon, was just a little over $20. I'm estimating due to the lipstick not having a weight on it. It's better than what I paid for it, but I'm a little underwhelmed this month, considering the last two boxes were amazing and were worth WAY more than that. Even my Target Beauty Box (also $10) was worth more. Still, $20 is twice what I paid for it. Even subtracting the items I gave to my daughter, I got what I paid for out of this box.
If you'd like to give Birchbox a try, you can get $5 off your first box. Just click here (referral link).
Ipsy
So here's what I got…
Clark's Botanicals Deep Moisture Mask
Sample $21.17
Masks are my jam. This one is super moisturizing, and this is a decent size sample. I'll get about five or more uses from it. It does need to be removed with a washcloth because it's so thick, but it did leave my skin feeling super soft. Full size is $72.
Peter Lamas Spa Sensuals Intensive Repair Hand Cream
Sample $5.25
This is the time of year for hand cream, and I have tubes of the stuff in every room of the house. This has a nice citrusy scent, absorbs quickly, and packs a wallop with not a lot of product, which is always nice. Full size is $21.
ModelCo LIP ENHANCER Illusion Lip Liner
Full Size $20
I genuinely can't tell whether or not this is full size. It looks nothing like the picture on their website, and there's also no weight listed that I can find. I does look like a full size pencil. It's not one of the minis I've had sent to me, so I'm going to go with full size unless someone tells me otherwise. If I'm reading the description correctly, the product itself is meant to be used to overdraw lips and give them a fuller look. It does go on smooth and creamy with no problems. I can't attest as to whether or not it goes with ALL lip colors, as it claims, but it went well with what I tried, and it goes great with the lipstick I got. (See swatch below.) It reminds me a lot of MAC Spice, but since I used up my pencil ages ago and haven't gotten another one, I was unable to compare the two. That said, the MAC pencil is actually cheaper.
FORMULA X Nail Polish in Revved Up
Sample $3.41
I prefer Julep polishes now that I've been spoiled, but I don't hate the formula. This is a gorgeous rose gold, which looks great on me considering how pale I am. Full size is $10.50.
Pacifica Power Of Love Natural Lipstick
Full Size $9.99
I was not a fan of the Pacifica eyeshadow I got in my Target box. That said, this wasn't half bad. My main beef is that, like most natural lipsticks, it smells and tastes like dirt, and I really hate that since, if a product is going to be on my mouth and sitting that close to my nose, I don't want it to smell or taste bad. It's also not as creamy as I prefer my lipsticks, but it's not bad. It did go on smoothly, and the color is pretty. It's labeled "Nudie Red," though it's really more of a brown, if you ask me. It's still a good sheer nude color, very moisturizing, and it went well with my pencil.
This brings the total value of my Ipsy bag to $59.82, which is insane for a $10 subscription, and I'll use everything here. That's also not including the cost of the bag, but it is assuming that my lip liner is full size. This is the first time in a while Ipsy has beaten out Birchbox, but I think we have a clear winner. Both boxes are a great way to try out new products or just have products on hand that you'd probably grab anyway. If you'd like to sign up for Ipsy, you can grab my referral link here.