So here's what I'll be getting in my December Birchbox and Ipsy deliveries. I'll of course be posting a follow up after receiving them and trying out the items included.
Birchbox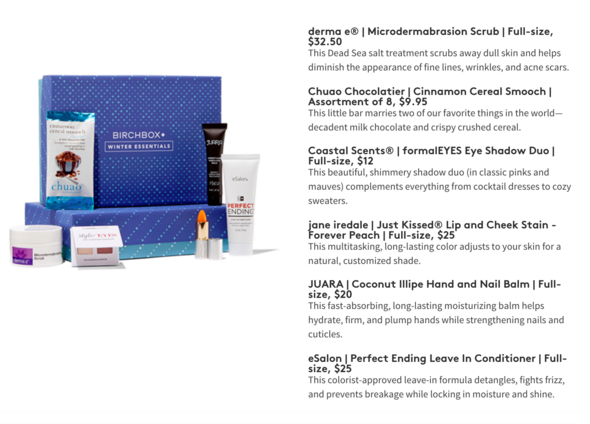 This month, I chose the curated box, and I'm very excited to try almost everything in it. I'll have to wait for the box to get here to determine the value, but here are the products included:
derma e® Microdermabrasion Scrub
I'm a little full up on scrubs at the moment after nearly running out of them, but I don't mind having a backup. Full size retails for $32.50.
Chuao Chocolatier Cinnamon Cereal Smooch
Chocolate. I have no complaints whatsoever regarding this being included. The 8-piece assortment is $9.95.
Coastal Scents formalEYES Eye Shadow Duo
This is probably the only item I'm not too terribly excited about. I love eyeshadows, but I already have plenty in similar colors. The full size palette retails for $12.
jane iredale Just Kissed Lip and Cheek Stain in Forever Peach
This intrigues me, and I look forward to trying it out. I adore multitaskers. Full size retails for $25.
JUARA Coconut Illipe Hand and Nail Balm
My hands can always use a drink this time of year. I look forward to getting this, and I pray it's not a foil pack. Full size retails for $20.
eSalon Perfect Ending Leave In Conditioner
This curly girl has rarely met a leave in conditioner she didn't like. Full size retails for $25.
Birchbox is just $10/month, and the value of these boxes is usually way more than that. I've also had to spend less of my money on skin care, hair care, and makeup as a result of these subscriptions. If you'd like to give it a try, you can get $5 off your first box. Just grab my referral link here.
Ipsy
I'll admit that for the third month in a row I'm not as excited about my Ipsy bag as I am about what's coming from Birchbox. The skin care items look promising, and the lipstick could be fun, but I could use fewer pencils and polishes. (I say this mostly because I'm hooked on Julep. Also, I have more pencils than an elementary school supply closet.) If Sephora and Macy's hurry it up with their beta testing or if I skitter off toward Allure, Ipsy might be the subscription that gets the boot from me.
I do love the bag this month, though. I'm all about everything red in December. So here's what I'm getting…
Clark's Botanicals Deep Moisture Mask
I like masks. These are always welcome. This one is an anti-aging mask, so I look forward to giving it a whirl. I liked the last mask that Ipsy sent me. I'm getting 0.5 oz, and the full size retails for $72 for the 1.7 oz full size, valuing my sample at $21.17. So the first item, and one I will appreciate, is worth double what I pay for my bag. I have no complaints.
Peter Lamas Spa Sensuals Intensive Repair Hand Cream
I keep a lot of hand cream around the house this time of year, too, so this will be nice to have on hand. I'm getting 1 oz, and the full size retails for $21 for 4 oz, valuing my sample at $5.25.
ModelCo LIP ENHANCER Illusion Lip Liner
At least the pencils I've gotten from Ipsy have been full size, but I'm just kinda underwhelmed about getting another pencil. I can't tell if mine is full size just yet, and I don't even know what color it is, but the one listed on their website retails at $20.
FORMULA X Nail Polish in Revved Up
I repeat… I'm a Julep junkie, but at least this is a good brand, too, and the color looks pretty. Retail value for full size is $10.50, making my 0.13 oz sample worth $3.41.
Pacifica Power Of Love Natural Lipstick
I won't know what color I'm getting until it arrives, but I have a hate/hate relationship with natural lipsticks. Every one I've tried has smelled and tasted horrible. It retails for $9.99 at full size, and this appears to be full size.
Ipsy, like Birchbox is also just $10/month, and again the value of the items included tends to exceed that. Both boxes are a great way to try out new products or just have products on hand that you'd probably need anyway. If you'd like to sign up for Ipsy, you can grab my referral link here.
What are you getting this month?