I seem to be the only blogger not doing this, so I'll start with a monthly edition.
Julep Nail Products
There were so many things from Julep that I've recently become familiar with and just love… I figured I'd cram them all into one category.I've really gotten into my Julep Maven subscription, and while I was never much into caring for my nails before, I've really established a routine. Something I tend to use a lot and will definitely reorder when it's time… Vanish Cuticle Softener & Remover and Oxygen Performance Top Coat. Favorite nail color this month is my pick from November– Linnea. This is such a pretty pinky, shimmery neutral, and it lasts me all week.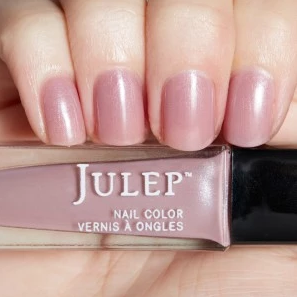 My pick from October, Jocelyn, is another favorite. This is such a pretty color, the dark cranberry with shimmer, and it feels smooth on my nails, not bumpy and annoying like most polishes with glitter. It's very festive and perfect for holiday parties. I might wear this on into the new year!
Sriracha
Do I need to say more? I'm using this stuff like ketchup.
Julep Cleansing Oil
You can get this here. My regular skin care routine has me washing my face only once per day– at night– while only gently rinsing my face with cool water or wiping with a cleansing cloth in the morning. I used this for the first time at night. It was my first time trying a cleansing oil, and I was so impressed with the way it removed EVERYTHING that I've added it to my list of favorites and will be ordering more when I run out. It's also so gentle that I'll probably use this in the mornings, too.
NYX Soft Matte Lip Cream
My Canadian evil twin recommended this to me when I mentioned my issues with finding a good long-lasting, transfer-resistant lip color that doesn't feel like I have dried, caked mud on my lips, so I grabbed one at Target. As it turns out, she's a freaking genius! While I didn't care for the color I grabbed, I do love the matte finish, and it's seriously comfortable, even after it's dried. I even forgot I had it on. It also managed to stay on my lips and off of my glass. I like to wear dark shades since I wear glasses, so transfer-proof is a big deal for me most times. When I eat, I have a tendency to end up with lipstick on my chin. Not so with this fabulous stuff.
Too Faced Melted Liquified Long Wear Lipstick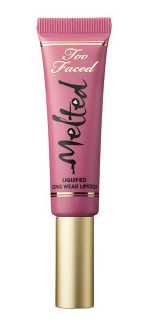 This is another long wear lipstick I've fallen for. My one beef with it is the applicator. I think this would be better served by a wand, and I hate that I can't tell how much product I have left. But that said, the applicator does help this stuff go on without any gobs of product that need to be smoothed out. While it's not transfer proof, it smells fantastic, wears comfortably, and looks beautiful for hours. My color right now for fall is Melted Fig. Get it here.
Shiseido ULTIMUNE EYE Power Infusing Eye Concentrate
I already mentioned this stuff when I got it in my Birchbox and tried it out for the first time. I've fallen in love. The full size is $65, and I don't think I've ever considered spending that much on an eye cream before now, but it's super concentrated, and a little bit goes a long way. Plus, I have Birchbox points I can use to get it, so I might as well.