This post contains affiliate links.
I'll admit that at heart I'm a big freaking kid who loves to sit in the corner and color with all the crayons. I used to always want that gigantic box that has all the colors and the bonus sharpener on the side. Now that I'm an adult, my face is a canvas and makeup is my medium. Makeup is freaking FUN!!!
Of course, you've also probably noticed that makeup can be pretty expensive. How many people have walked out of Sephora cringing at their receipts? I know I have. If you're on a budget, this can be a problem, but you're also probably wondering if that old adage that you get what you pay for rings true, and if it does, you're probably not going to want to cut corners when it comes to what you're putting on your face.
The good news? That's not necessarily the case. You can, in fact, get great products without spending yourself into a hole. When it comes to ingredients, they only account for a very small percentage of the cost of your makeup. The rest goes into things like marketing and packaging. There are of course some differences in texture and pigmentation, but you'll find them all over the map whether it's with high end products or drug store products. It's safe to assume that when purchasing high end makeup, a good chunk of what you're paying for is the ability to have a consultant work with you and a return policy– and that's fine, but you may or may not always need those things.
So this will be a new series. I'll hit various categories and give reasons why I think you should splurge or save as well as a few suggestions for both high end and drug store items. I'm starting with foundation because I'm currently in an in-between phase with foundations, myself. I already posted one review for a foundation, and I have another one on the way.
Foundation creates the canvas upon which the rest of your makeup will go. You want one that will match your skin tone, last a while, and provide the coverage and finish you're looking for. That's why I think it's a good idea to spend a little extra, so this is one thing that does land squarely in the "splurge" category for me.
Sit down with a consultant at a makeup counter, have them work with you and try out different shades and formulas to find the one that's going to work the best for you. Get samples if you can and try it at home under various circumstances. Does it wear long enough and stay pretty? Does it require a lot of blotting? Does it look better when applied with a brush or sponge or fingers? Does it look better with a certain primer (or none at all)? If you can't get enough sample to make up your mind, make sure you're familiar with your store's return policy. Stores like Sephora let you return makeup, even if it's used, so if it doesn't work out and you want to try something else, you're not COMMITTED to that one bottle you purchased.
Now, that said… There are some drug stores where you can also return opened makeup items. CVS has an excellent return policy on beauty purchases, so if you don't have $30-50 to plop down on a high end foundation, consider plopping down $10-15 on a bottle or two at your drug store, and if it doesn't match, you can take it back and exchange it. Target and Rite Aid also have excellent return policies for drug store brands.
I also really want to talk about Ulta in my first "Splurge v. Save" post. I do most of my high end makeup shopping at Sephora because I'm enrolled in their Beauty Insider loyalty program, but Ulta is a great retailer to consider simply because they offer both high end and drug store brands, which doesn't limit you to one or the other. They also have a great return policy and a loyalty program to boot! So this is where I get a lot of my drug store products. The down side, for me, is that the closest store is about a 30-minute drive away through horrendous mall traffic, but there's always the online site if you're in that particular pickle.
I keep on hand about 4-5 foundations at a time, because I like wearing different things on different days. Depending on your needs, you might want something else, but these are mine:
A Full-Coverage Long-Wearing Matte or Semi-Matte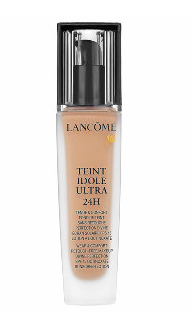 When I'm working, I need something that is going to last me all day, because I do sometimes work all day. I'm also running around and sweating a lot, and I can get oily, so I need something to fight that and stay put. This is the main reason why I go with a full-coverage foundation. If by some chance it won't stay put all day, it can be blended back into my skin for medium or light coverage to finish out the night. (I also take a full travel makeup kit into work with me for touch ups, but that's another post for another day.) Full coverage is also what I prefer to use for pictures, so I wear it to any event where pictures will be taken– like family Christmas parties.
I've been using Lancôme Teint Idole Ultra 24H, which is what I refer to as my powerhouse, though I'm currently experimenting with a few others. So far, this is the only thing I've found so far that will stay on and stick with me all day, and it covers everything beautifully. But I do find myself having to blot it a lot, and it provides a look that's a little too perfect, if you catch my meaning. For shorter bursts, I've been enjoying tarte's Amazonian Clay 12-Hour Full Coverage Foundation (see my full review here). I like the finish on this much better than with the Lancôme, and I don't need to blot it so darn much, but the staying power is lacking. I also love Clinique's Beyond Perfecting Foundation + Concealer, but I can't for the life of me get a shade to match me.
If you're going the drug store route, look for long-lasting over full-coverage, as the cheaper price is going to allow you to use more makeup for heavier coverage, if that's what you need. Your real task here is finding something that will last you all day. Revlon makes a good one, but I think the award for my favorite in the drug store category is L'Oréal Paris Infallible Matte Foundation.
A Medium Coverage
If I don't need the heavy artillery but still feel like wearing makeup, I tend to lean toward a medium coverage foundation. I keep 2-3 of these on hand and use one depending on the finish I'd like. Since this is more of an every day makeup, I usually go for a drug store brand. My favorite tends to be e.l.f.'s Flawless Finish Foundation. It provides decent coverage with sunscreen, and it tends to last a while on me despite not necessarily being a full coverage or long wear foundation. The finish is a little too smooth for my liking and can look a bit unnatural at times, and it does require some blotting. It also has a limited range of shades, and occasionally you'll get that lucky rare bottle that has a horrible pump, but it's only $6, so you can definitely mix shades, and if the pump doesn't work you can unscrew the top. My second choice here is Maybelline. Their Fit Me line has more shade options and finish options than e.l.f. and will also run you about $6 per bottle. As a matter of fact, I just got a brand new bottle of this from Target last week.
If you can afford the higher end options for a more every day look, I really like Clinique's Even Better Makeup. This feels absolutely HEAVENLY on my skin. I have a difficult time describing the reasons why I love this, and maybe I should do a full review on it, but I really feel like it improves the overall quality of my skin, and if you're going to wear something every day, wouldn't you want it to? At $27 it's one of your least pricey options for a high quality foundation.
A BB Cream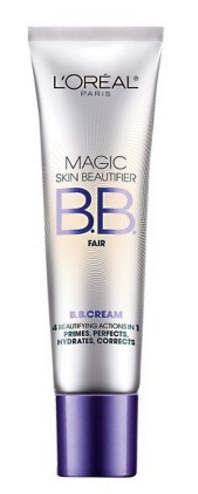 BB Cream is one of my favorite things on the planet, and I usually have at least two in my home– one that I'm using and one for backup. I tend to wear this in addition to another moisturizer, but you can bet that if I'm not wearing anything else, I'm wearing a BB cream. This is my light-coverage tinted moisturizer, and I have worn it either by iteslf or as a primer under another foundation. BB is just so darn versatile.
I've used products from drug stores and from department stores. I'm not loyal to any particular brand when it comes to BB, but I do have my favorites. For drug stores I like L'Oréal Paris Magic Skin Beautifier BB Cream. (Some of you are probably already sensing a theme here with me and L'Oréal products. Yes, I'm a huge fan.) I also like e.l.f.'s version, which has a SPF 20 sunscreen. That's important if, like me, you've been using anything with retinol in it. Garnier also has a good one, also with a sunscreen.
I've seen Laneige BB Cushion in Target and included in Ipsy bags, and I think it was in a Target Beauty Box at one point, but I haven't tried it myself. This isn't one I'd lump in with other drug store brands, as it goes for well over $30, and at that point you might as well be getting something from a department store. I've heard rave reviews on it, though, so I'm tempted to give it a whirl.
BB is something that falls into that overlap between skin care and foundation, though, so if you can afford it, I absolutely recommend going to a department store counter, getting a ton of samples, and finding what works best for you. Skin is your largest organ. Take care of it early and often. While I've found a few cheaper BBs I love, I do have a few higher end favorites, too.
My top pick is Clinique Moisture Surge CC Cream Hydrating Colour Corrector. This stuff… Wow! Here's the part where I shut up and let Wayne Goss gush about it instead.
Dr. Jart+ BB Dis-A-Pore Beauty Balm is probably a close second. I haven't noticed any real difference with my pores, but it does make my skin feel wonderful, and I'm not as shiny. Coming in third would be Dr. Brandt Skincare Flexitone BB Cream, as I love all things Dr. Brandt and have since I first tried a cleanser I got in a Birchbox.
So those are my thoughts and recommendations at it stands regarding foundation. I'll move on to concealer next week, as I have some strong opinions on concealer as well. What should you go with? The short answer is that you should go with whatever works for you. If you find that you can't live without your Tarte foundation, then buy Tarte foundation. If you like Wet 'n Wild foundation, buy Wet 'n Wild foundation. What you like is really the most important thing at the end of the day.