Disclaimer: This post contains affiliate links.
UPDATE: Both boxes now appear to be sold out.
It's odd that this went up on a Sunday. Most sites that track this box had guessed it was going to be a Cyber Monday deal. Normally I have these up much earlier in the day, but I slept in and almost missed it. Sneaky Target…
These tend to sell out quick, so grab it now if it's something you want. I did my best to provide per item value, so you can see whether or not the items you're interested in make this worth your while.
The women's box (click here) is $10 and the men's (click here) is $5. Going by the pictures, it looks like everything included in both boxes is going to be either travel or full size!
Target Her Holiday Beauty Box ($50 Value)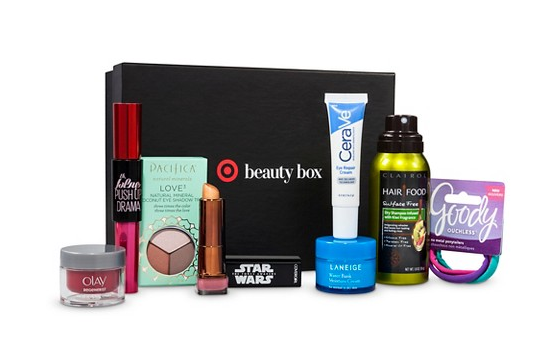 Hair Food Dry Shampoo
I've never used the dry shampoo, but I did get the full size hair mask in a previous Target box, and I've loved it. This appears to be the travel size or a little bigger. The picture says 1.8 oz while the travel is 1.7 oz. It's valued at $4.99
CoverGirl Star Wars Lipstick
The color shown appears to be Gold, but colors can always vary in these things. It will likely be full size, and it's valued at $5.99.
Maybelline Push Up Drama Mascara
Also looks like it's full size. Valued at $7.49.
CeraVe Eye Repair Cream
Another full size, according to the picture. The 0.5 oz is priced at $13.99.
Goody Ouchless Sweat Stretch Elastics 3 ct
I can't for the life of me find a link to these on Target's website, so if you see it, let me know. They've been sending out Goody Ouchless Elastics for a while now, and they're always great to have around. They tend to com in packages with a lot of them for around $5, so I won't value this at anymore than $1.
Pacifica Love 3 Eye Shadow Trio
Also appears to be full size! Valued at $8.99.
Laneige Water Bank Moisture Cream
Appears to be travel size. Since it doesn't give a size on the box's page, I can't value it based on price per ounce. Full size is $32.
Olay Regenerist Microsculpting Cream
At only 0.5 oz, this appears to be a travel or trial size, but there is a 0.5 oz on Target's website valued at $9.99. I'm a fan of all things Olay, but I've not used this particular product, so we'll wait and see.
I'm calculating a value of $51.44, not counting the elastics and Laneige moisture cream, so this is obviously a great deal for only $10. This is going off of the value of the items pictured and described. What actually comes in the box could be different, but the picture is usually a good indicator.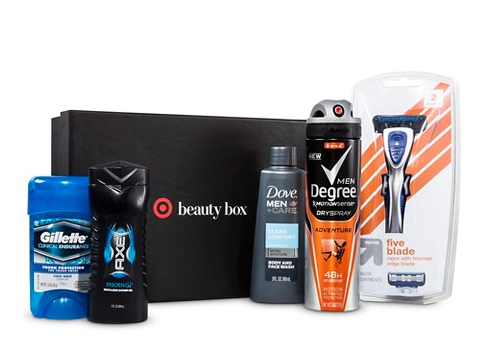 Target His Holiday Beauty Box ($25 Value)
Gillette Clinical Cool Wave Deodorant
Full size. Valued at $7.99.
Axe Shower Gel
This appears to be a 3 oz. travel size. The full 16 oz. sells for $3.99, valuing this at about $0.75.
up & up 5 Blade System Razor
Looks like full size, which is valued at $8.19.
Dove Men + Care Body & Face Wash
Travel size. Sells for $1.54.
Degree Men Adventure Dry Spray
Another one I couldn't find a Target link for, but it does appear to be full size. Amazon lists it at $4.22.
I only came up with a total value of $22.69, which is still a good value for only $5, but it's not the $25 value Target is advertising. Of course, this is just going off the picture and description on their website, so this could be off. My husband decided to pass. He uses Dollar Shave Club for razors and has hated everything Axe he's tried, so he really couldn't get excited about a travel body wash and two deodorants. I think he still has the razor he got from the last men's box I got him.
Between this and my Allure Beauty Thrills box, I'm going to have a lot of skin care items to test out and review. I might get to all of it and I might not, but if there's anything in particular you guys would like me to review, please comment below.