Disclaimer: This post contains affiliate links.
While I keep a few different kinds of foundation on hand, my go-to for my long-lasting all day powerhouse full coverage matte… You get the idea… I like Lancôme's Teint Idole Ultra 24h. That's seriously my holy grail foundation for when I need really good coverage, and I'm working all day in a hot mess of an environment. This is obviously not what I wear EVERY day, mind you. I'm too cheap to wear a nearly $50 foundation every single day. For every day, I tend to go back to my old drug store favorites– e.l.f.'s Flawless Finish Foundation
 and Maybelline's Fit Me Matte Plus Poreless Foundation.
Also, while I adore drug store makeup, I've yet to find anything that even remotely compares to Tarte's Maracuja Creaseless Concealer for under my eyes. I can use just about anything for blemishes, though I usually just go for a better coverage foundation if I have an issue cooking, but under my eyes is a whole other situation.

I've been told that Maybelline has some great concealers, but I honestly haven't gotten around to trying them. I've tried nearly everything e.l.f. has put out in terms of concealer, and none of them have really impressed me. L'Oreal has come the closest so far when it comes to drug store brand concealers. I just kind of feel like I'm flushing money down the toilet whenever I try to find the right match with drug store foundation/concealer/powder. By the time I'm done finding a good match, I might as well have paid the extra money for the department store brand. I got VERY lucky in finding the Maybelline and e.l.f. foundations, and e.l.f. is cheap enough that I can play around finding a good color.
Now, all that said… I have a family Thanksgiving party to go to tomorrow, and I was trying to put off a trip to Sephora until AFTER this weekend. But my chin has decided to break out because I have a nasty habit of resting my chin on my hand, so I can't wear my light-to-medium stuff without every female relative I have asking me about it. My poor little tube of concealer was reaching it's limit, and I was seriously considering breaking open the bottle of foundation and using the inside as a makeshift palette for my foundation brush. But I was being stubborn. I finally realized this morning that I'm not going to make it, so we headed out today for last minute groceries and (for me) a trip to Sephora.
My local Sephora is inside a JC Penny. The others around me are too far away to even bother– at least for today's trip– but I realized too late that my JCP Sephora doesn't carry my usual Lancôme foundation. They do have my Tarte concealer, so I at least got my hands on a replacement for that, but for foundation I was a little screwed. So this then turned into me trying on every damn foundation in the store until I came across something I liked, and then me asking for a sample to just get me through the weekend.
What I ended up with was this stuff.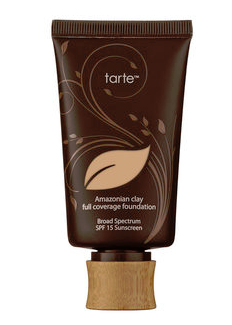 This is Tarte's Amazonian Clay 12-Hour Full Coverage Foundation. (Tarte has also started their Black Friday sale, and you can get 25% off and free shipping of orders of $25 or more through 11/27, so if this is your jam, now is a good time to grab it.) It's not new or anything, and there are probably plenty of reviews on it, but I haven't tried it myself before. I haven't worn it a full 12 hours, so I can't give you an opinion of that just yet. I'll post an update when I've had it on longer– particularly if this becomes my new full coverage. But this definitely feels very comfortable for a long-wear foundation. I keep forgetting that I'm wearing anything at all. The sales associate forgot to moisturize me first, and despite that this hasn't gotten dry or cakey, and I'm not shiny. For a full-coverage foundation, it doesn't look unnatural, so… So far so good.
We'll see how well this performs tomorrow, and I'll absolutely post an update while I'm deciding whether to reorder my usual or switch to this.