First off, HAPPY THANKSGIVING!!!
While you're enjoying your turkey or ham or venison or tofurkey or whatever you prepared this holiday, you're probably wondering what in the holy hell you're going to do with what's left. Well, here's what we do…
Black Friday is a bit of a tradition in my house, but not because of shopping. Oh, HELL no. We're a family of people who don't do well in large crowds. Black Friday is popular in our house because that's the day I dump all of the Thanksgiving leftovers into one pot and make cottage pie. In fact, it's probably looked forward to a lot more than the Turkey Day feast itself.
This started off as a recipe from Publix Aprons and an idea for St. Patrick's Day. I just took that and modified it. You can view the original recipe here. It's a good one.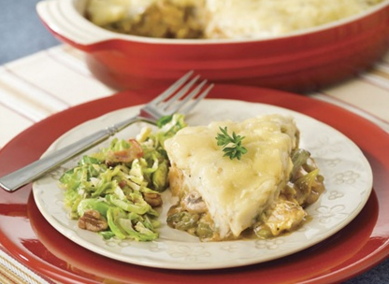 And honestly… I don't really measure when I do this, either. I just start dumping things into a casserole. I know about what I'm looking for, but here's roughly what you'll want from your Thanksgiving leftovers:
2 cups chopped leftover turkey
2 cups green bean casserole
a bag of shredded cheddar cheese
leftover mashed potatoes, enough to cover everything
Since you're using leftovers here, you'll notice I left out the seasoning. Chances are your turkey and green bean casserole are already seasoned just fine. You can also add some leftover vegetables to this. Go nuts. Mine is different every year.
Combine the first two ingredients and pack them into the bottom of a casserole dish. (If you used a little bit more than what I listed above, you'll need a bigger casserole dish. Just eyeball it. Spread the mashed potatoes over everything in a thick layer to cover. Sprinkle cheese over the mashed potatoes. You're probably not going to use the whole bag. Pop it into the oven on 350ºF for about 20-25 minutes or until everything is heated through. Ta-da!
By the way, the sprouts recipe above goes really well with this, but you can also just roast some up instead. I like to cut mine in half lengthwise, toss in a little sesame oil, salt, and pepper, and roast on 450ºF for about 15-18 minutes. There's a lot less prep time and babysitting with this method than the stovetop method, but you've probably got more than enough sides at your fingertips after Thanksgiving without having to do anything else anyway.