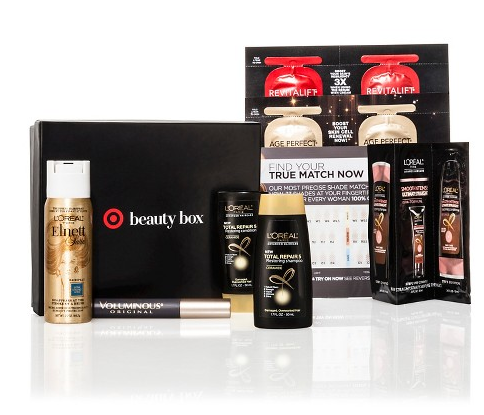 These will sell out quickly (as in, within a few hours), so snag one while you can. Here's the link.
Good news for all the straight haired ladies who got left out last month, this one seems to have a lot of samples that might interest you, with a few night cream samples and a mascara thrown in. Cost of the box is only $5 and has a $16 value.
Here's what is included:
L'Oréal Paris Voluminous Mascara This appears to be full size.
L'Oréal Paris Advanced Haircare Total Repair 5 Shampoo The picture also shows a conditioner. Travel size for both.
L'Oréal Paris Elnett Satin Hairspray Travel size.
L'Oréal Paris Age Perfect Cell Renewal Night Cream Foil samples.
L'Oréal Paris True Match Shade Strips
L'Oréal Paris Revitalift Volume Filler Foil samples
L'Oréal Paris Advanced Haircare Ultimate Straight Foil samples.
I won't be purchasing it myself because I have no use for most of the hair care items here, I'm full up on mascaras, and the remaining skin care samples just aren't enough for me to justify purchasing the whole box. That said, I was more than pleased with last month's box aimed more at my hair type, so it's time for someone else to have a turn.